What It's Like Working With Weird Al, According To Daniel Radcliffe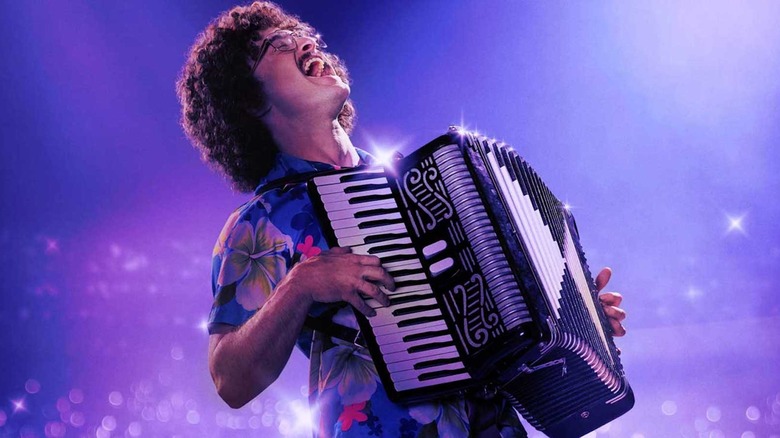 Roku
Historical fiction can be a hard road to travel for filmmakers. Sometimes there can be a delicate balance between depicting people and events accurately while still presenting an entertaining story. And it can be especially difficult if the subject of the project is still living because it's a crapshoot whether they'll be receptive to their portrayal or not.
That's why the subgenre of biopics can be tricky. People like Mark Zuckerberg, Hunter "Patch" Adams, David Letterman, and Lil' Kim are just a few people that have disliked their onscreen counterparts. That's why a number of influential figures opt to get involved whenever their own stories are told. Eminem and Howard Stern are just a few performers that have starred in their own biopics.
That's where people like "Weird Al" Yankovic come in. Rather than stepping into his own shoes for this project, he's entrusted a younger, more experienced actor to play the part of himself in the upcoming movie, "Weird: The Al Yankovic Story." This seems to be a move that has paid off, as critics and fans alike are raving about Daniel Radcliffe's performance as the beloved musical parodist following the film's debut at the 2022 Toronto International Film Festival.
While it easily could have been a high-pressure situation with Yankovic so heavily involved, the former "Harry Potter" star recently shared his positive experiences behind the accordion. And though he received a good bit of feedback, it doesn't seem like he took any issues at all with the "Eat It" singer's notes.
The saga continues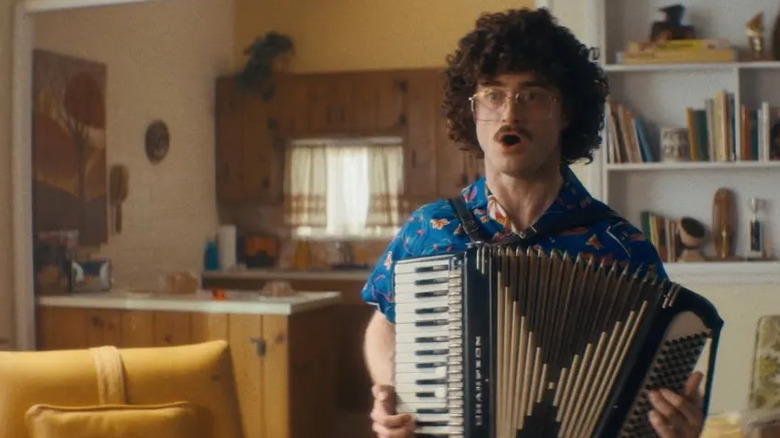 Roku
In an interview with Collider during TIFF, Radcliffe shared that he was given a fair amount of freedom with his interpretation of Weird Al. The actor was able to take some liberties since the subject of the biopic wasn't watching him like a hawk constantly critiquing every aspect of his performance. Although, when it comes to Al's trademark squeeze box, that's where the most intervention came in from the film's subject and co-writer.
"Most of the notes that I got from him were musical, and particularly about the accordion. He was like, 'Can you be a bit more expansive in how you're pumping it? Because you're a bit cautious with that,' and he's very expressive with it. So, I think he was a bit concerned that I was gonna make him look like a shy accordionist. So yeah, there was that, but generally speaking, it was intimidating but also, as Evan said earlier, when you would see him laugh at something, you'd be like, 'Okay, great! I can go home.' It's a very good seal of approval."
The Evan he refers to in the quote is Evan Rachel Wood, who plays Madonna in the movie. The Queen of Pop wasn't as involved in the production as Weird Al, so it will be interesting to see her reaction to being the central antagonist of the story. Radcliffe and Wood will also be joined in the cast by Rainn Wilson as Al's mentor Dr. Demento, Julianne Nicholson as his mother Mary, Toby Huss as his father Nick, recent Emmy winner Quinta Brunson of "Abbott Elementary" as Oprah Winfrey, and many more.
Regardless of what the real people being depicted in the film will think, "Weird: The Al Yankovic Story" premieres on the Roku Channel on November 4, 2022.