Filming For Weird: The Al Yankovic Story Went At A Breakneck Pace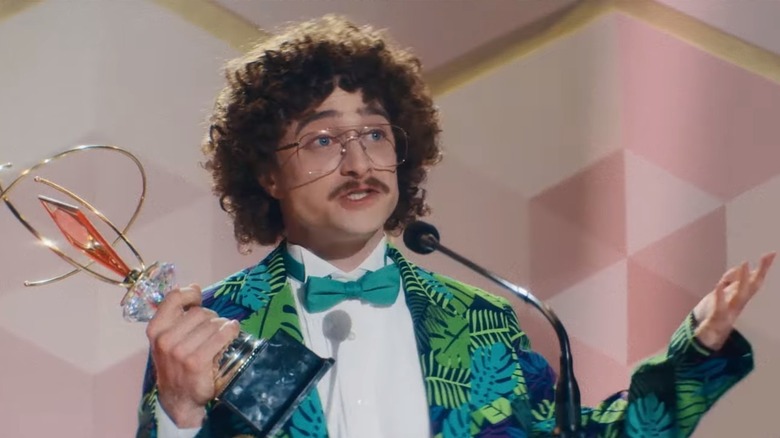 The Roku Channel
"Weird: The Al Yankovic Story" is, for the nerds keeping track, the third partially accurate satirical biopic of the life of "Weird Al" Yankovic. The first came in 1985 with the release of the VHS special "The Compleat Al," which was released to coincide with his third studio album "Dare to be Stupid." In the early 1980s, Yankovic had become a massive comedy star on the then-nascent MTV, and several of the Al TV segments were included in that biopic alongside real-life home movie footage of Yankovic as a child. Nick and Mary Yankovic, Al's actual parents, appear throughout. The re-enactments of, say, Al auditioning his band or testing out Al merchandise, are comedically false.
The second satirical biopic was a famous 2010 Funny or Die short film in the form of a fake movie trailer, which presented the life of Yankovic as if it were a more conventional Hollywood rock star biopic. Yankovic was played by Aaron Paul, and he is depicted as a hard-drinking, tough-talking, sexed-up punk along the lines of, say, Sid Vicious. The joke is that Yankovic is not only a comedy musician, but, by all accounts, a terribly polite, gentle, kind man who never had a drugged-up, burned out period. 
Eric Appel's upcoming "Weird: The Al Yankovic Story" is the completed version of the fake trailer, now with Daniel Radcliffe in the role of the accordion-playing parody artist. It's been 37 years since "The Compleat Al," and the "Weird Al" movie is finally nigh. In what might be considered a bizarre bit of chronological poetry, however, after those 37 years, "Weird" was shot in only 18 days. In a recent video interview with Collider's Perri Nemiroff, Radcliffe and Evan Rachel Wood, who plays Madonna in the film, spoke about the expedited process.
Polkas on 45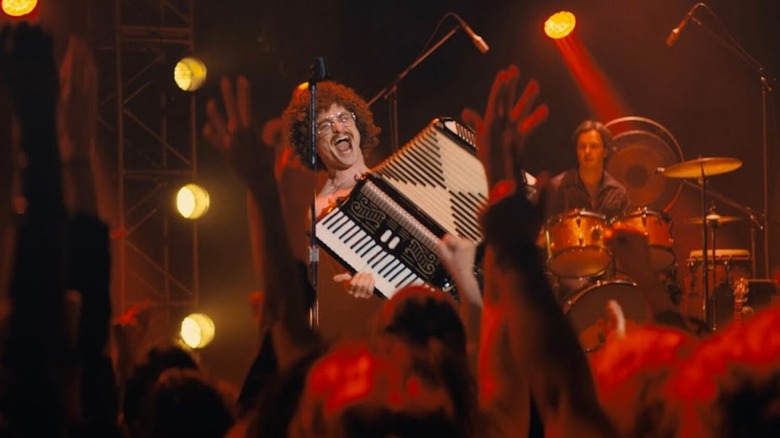 The Roku Channel
Nemiroff asked Radcliffe and Wood if there were any advantages to shooting quickly, which is traditionally not the ideal way to make a film; more time and more money is always preferred. Wood was quick to jump in to compliment her co-star, impressed with Radcliffe's professionalism and commitment. He knew all his lines and was eager to play Yankovic. The actress said:
"I wish everyone was as committed as Dan is. At acting and at learning lines, and being fully ready and committed the second things start rolling." 
Radcliffe immediately chimed in with an emphatic "ditto."
In the past, Radcliffe as said that he was able to work with Yankovic (who also co-wrote) in order to better portray him. During filming, Yankovic was touring with the Unfortunate Return of the Ridiculously Self-Indulgent, Ill-Advised Vanity Tour, which will continue through October, and then had some pick-up dates in February. The musician was very hands-on, and he would talk to the filmmakers regularly. Surely having Yankovic on the phone helped everyone move a little more quickly. 
Radcliffe was also quick to point out that not only was Wood equally prepared, but so was Appel and the rest of the crew. The quick shoot was made easier by the professionalism and the preparation. Surprisingly, Radcliffe was only on set for 14 of the 18 days, and Wood was on set for a week. In filmmaking terms, that's hardly any time at all. The breakneck shooting schedule made for a more focused production, a focus that Radcliffe finds lacking in other, larger productions. In his words: 
"This movie doesn't get made unless everyone — the cast and the crew — is on it. And Eric, our director, was so prepared. It puts other sets, y'know, a little bit to shame."
Polka your eyes out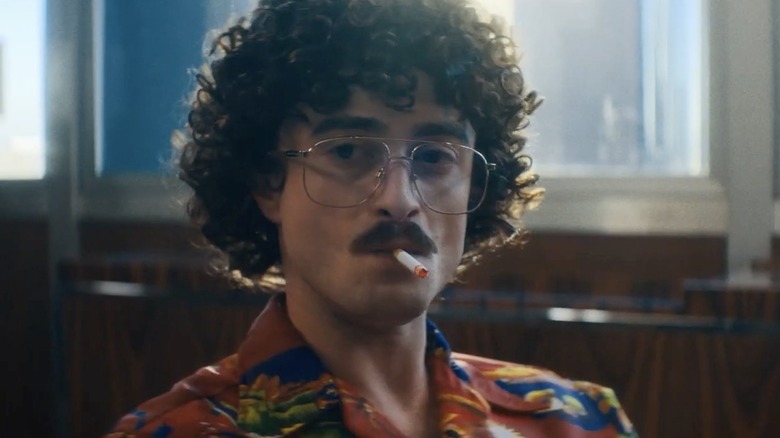 The Roku Channel
Radcliffe was also asked if having Yankovic on set was intimidating, but the actor claimed to be comfortable, as "Weird" falls into the realm of parody. Since this was a more exaggerated, fictionalized version of Yankovic, behaving "out of character" wasn't so much an issue. It also helped that Yankovic, true to his reputation, was so polite all the time. The "Harry Potter" star recalled:
"A lot of license and freedom was given by the fact that it's not a straight Al biopic impersonation. I think that gave a lot of freedom. This is a version of this person. And I was really lucky that Al was nice! He wasn't sitting on set like a hawk going 'Rar! You did that wrong!'
Radcliffe says that the only major notes he received were in relation to his accordion playing. Yankovic is the modern master of the instrument, and has done more than any other pop star in history to raise the profile of the world's accordion players. The actor admitted that he took a few accordion lessons to prepare for the role, but wasn't much better a player at the end of shooting than he was at the beginning. But the British star intends to keep studying the instrument. Yankovic frequently told Radcliffe to pump more dramatically on the instrument's squeezebox, with the direction of "Could you be more expansive in how you're pumping it?" The actor said: 
"You're a bit more cautious with that, and he's very expressive with it. I think he was a bit concerned that I was going to make him look like a shy accordionist."
Importantly, if the actors were able to make Yankovic laugh, they know they did something right. And, it seems, that happened frequently. 
"Weird: The Al Yankovic Story" will debut on the Roku Channel on November 4, 2022.