Jack Harlow Gets Halloween Help From Tom Hanks And Bobby Moynihan In A Solid Saturday Night Live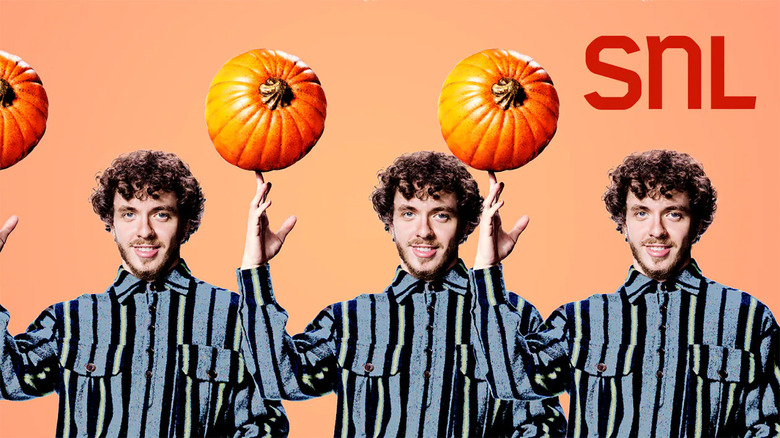 NBC
To celebrate Halloween, "Saturday Night Live" brought in rapper Jack Harlow to pull double duty as both host and musical guest. Much like Megan Thee Stallion, we didn't really have a gauge for how good Harlow might be hosting "SNL" for the first time, and with the exception of a handful of roasts that he recounted from the internet, he didn't inspire much confidence in his monologue. 
Thankfully, the show that followed threw that concern out the window. Not only was Harlow game to have fun, but he actually played a variety of characters on the show, including a version of himself (more on that later). However, Harlow did get considerably overshadowed by two guest stars: former cast member Bobby Moynihan and previous host Tom Hanks. 
Let's dig into the Halloween episode of "Saturday Night Live."
What was the best sketch of the night?
"Saturday Night Live" came in hot by following a recent trend that puts a more oddball sketch in the primetime sketch slot after the monologue. The stranger sketches are typically reserved for what is called the "10-to-1" slot, named because the sketch typically airs 10 minutes before 1:00am, when the episode comes to an end. But in recent years, a lot more alt friendly sketches have been getting earlier placement in the episode. And this was one of them.
In this southern-based sketch, a Halloween wedding is unfolding between Heidi Gardner and Jack Harlow, and the best man (Andrew Dismukes) has upset the bride by dressing as Heath Ledger's version of the Joker from "The Dark Knight." Not only that, but the way everybody says Joker in their southern drawl is strangely emphasized (Jah-oker) and frequently repeated so often that you can't help but laugh. The sketch gets even more absurd when it's decided that the wedding attendees will take a formal vote to decide whether or not the best man can remain in costume. Then, somehow, the sketch goes to an even more ridiculous level by bringing in "Survivor" host Jeff Probst to deliver the results in the same style as the reality competition show.
How does a sketch with totally untimely references to Joker and "Survivor" work this well in 2022? I honestly don't know, but I'm pretty sure Andrew Dismukes' passion about being Jah-oker has something to do with it. Now I want to be the Jah-oker at the next wedding I'm invited to.
How was the rest of the episode?
Coming in close behind as the second best sketch of the night was a fun spin on an Alcoholics Anonymous meeting. Rather than focusing on his progress as an alcoholic, Jack Harlow's character see this as the best time to pitch his Pixar movie about anthropomorphic luggage that gets lost and has to find its way home. He's even drawn up some sketches of the characters. Before you know it, the rest of the alcoholics get caught up in the idea and each of them actually makes it better. For me, the best part of the sketch is how Harlow just off-handedly mentions the fact that he drank again, but everyone else is so in love with the Pixar idea that they don't care. Thanks to special guest Tom Hanks (sorry, Tom H.), the sketch actually had a fantastic ending, which is something that "SNL" struggles with rather frequently. 
Of course, I'd be remiss if I didn't mention the return of Tom Hanks as David S. Pumpkins. Even though Hanks appeared earlier in the episode, and Bobby Moynihan made a surprise appearance at the Weekend Update desk, I didn't even stop to think that they might be there to stage a David S. Pumpkins revival. But when they did, it was such a welcome surprise. However, as is often the case when "SNL" brings back a breakout sketch for a second round, this rendition wasn't anywhere near as good as the original. We know the formula, so the novelty of the surprise isn't there any more. Plus, the bit that Harlow's character was doing, by wanting to have his fear and fainting captured on camera, was poorly delivered and didn't land at all. It was probably the worst thing he did all night, which certainly didn't help the sketch.
On an unrelated note, I gotta say, it was a little depressing to see how much Hanks has aged in the past six years since the original Pumpkins sketch. Yes, I know everyone has to age, but there's something about seeing Hanks get old that makes it feels like when you notice that your parents are starting to show their age. Mortality sucks.
Meanwhile, on the other end of the spectrum, we have the worst sketch of the night. Thankfully, the sketch isn't downright terrible, as there's some amusing physical comedy involved. The little dance that Bowen Yang and Jack Harlow do repeatedly as showy bartenders was worth a light chuckle, and the breaking of the bottles was a good laugh. I think the best joke was that these bartenders did this routine as some sort of revenge against the customers. But even so, this sketch is simply the worst from this episode, which was overall pretty dang good. 
Was Jack Harlow a good SNL host?
Jack Harlow had not yet been tested on "SNL," and as someone who is getting increasingly out of touch with today's music scene, I'll admit that my familiarity began and ended with merely hearing his name from time to time. I was not familiar with his songs or anything about him that provided much of an impression. Unfortunately, his monologue didn't inspire much confidence. Though the insults that have been said about him on the internet were funny in themselves, Harlow didn't really do anything to enhance the delivery of them. Part of it felt like nerves, the other part of it came from the fact that I don't think I like this guy's stage presence very much. There's a lot of unnecessary hand gestures, which feels like a result of his rap career. 
But perhaps the weirdest thing came at the end of the monologue. What was up with that crowd interaction bit? It felt like it was one of the typical audience Q&A segments that happen during monologue, but it didn't result in a joke, and the audience member in question simply said she was a fan of Jack Harlow. Was this Harlow just wanting to be spontaneous with the crowd, and it didn't result in anything entertaining? It certainly seems that way.
The good news is that Harlow got much better as the night went on (for the most part), and he deserves plenty of credit for having a good time on the show. Much like Megan Thee Stallion and most of the musical guests who end up hosting, Harlow is not the best actor, but he was able to shed his hip hop image to actually do some character work throughout the episode. Even the sketch where Harlow played a version of himself (above) was funny, because it was all about him relentlessly hitting on Whoopi Goldberg (Ego Nwodim) on an episode of "The View," and it turned out to be much more hilarious than it otherwise could have been. 
Bobby Moynihan steals the show
Weekend Update hit another high point this season. Not only was the overall Weekend Update great, with Colin Jost and Michael Che delivering some scathing takes on Kanye West and the week's headlines, but we got a surprise appearance by a bearded Bobby Moynihan reprising his recurring character of Drunk Uncle. This time, he was unloading about Halloween, and of course he came with even more relevant but misconstrued observations about the world around him. My particular favorites were, "Can you Instacart me some Mochi?" and  "Black Adams matter," as well as the moment when he refers to Colin as Seth Meyers. Drunk Uncle was a favorite of mine, and it was great to see Moynihan back in the sweater and Members Only jacket.
For more of a deep dive on "Saturday Night Live," be sure to stay tuned to "The Ten to One" podcast, where I break down every sketch in every new episode. We'll be back next week after Amy Schumer hosts on November 5, 2022.