LOL: 'Saturday Night Live' Bids Farewell To Bobby Moynihan And Vanessa Bayer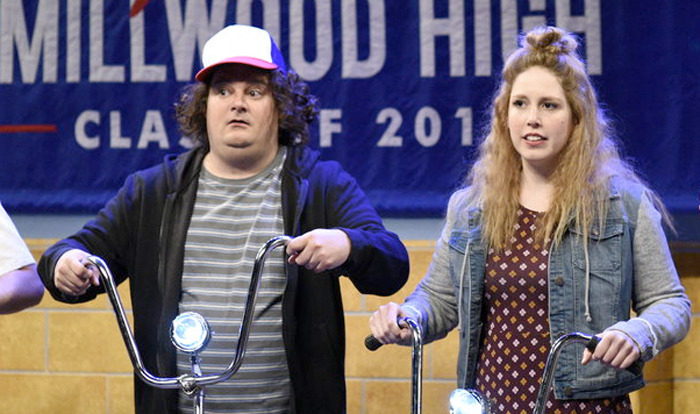 This past weekend brought the final episode in the 42nd season of Saturday Night Live. The show was hosted by Dwayne Johnson, and while it was a solid collection of sketches, it didn't feel like it quite had the pomp and circumstance that usually comes with the show's season finales. But it was the last episode for a few cast members.
We already knew that Bobby Moynihan was leaving Saturday Night Live thanks to his new sitcom getting picked up for the upcoming 2017-2018 television season at CBS. But before the new episode of SNL aired this past weekend, it was revealed that Vanessa Bayer was also leaving the show. Then on Sunday, Sasheer Zamata became the third cast member to leave the sketch series.
We'll have more on Sasheer Zamata's exit from the series a little later today, but for now watch the Saturday Night Live goodbye to Bobby Moynihan and Vanessa Bayer after the jump.
Since news of Bobby Moynihan and Vanessa Bayer leaving Saturday Night Live surfaced before the new episode aired, it came as no surprise to see each of them appearing in a bunch of sketches throughout the night. Combined, the two appeared in nearly every single sketch, including being the featured guests on Weekend Update, each of them giving one final performance as their own signature characters.
First up, Bobby Moynihan gave one final performance as Drunk Uncle:
Drunk Uncle hasn't appeared on Saturday Night Live since November of 2015. In his last appearance, he addressed the issue that many fans of the character probably hoped would discuss after his various tirades about immigrants and how great America used to be. That's right, this Drunk Uncle featured Bobby Moynihan excitedly, and obviously drunkenly, celebrating Donald Trump winning the presidency as only the inebriated character can: incoherently. It was a great send-off for what is probably my favorite character from Bobby Moynihan.
Moynihan will be plenty busy after leaving Saturday Night Live. Not only is he starring in the new CBS sitcom Me, Myself & I (which looks better than the usual comedy drivel that comes from the network), but he's also one of the main voices on the reboot of DuckTales over at Disney XD. He's also appeared in plenty of movies over the years in bit parts, as well as voiced the character Panda on the animated series We Bare Bears, and that will surely continue in the years to come.
Meanwhile, Vanessa Bayer's last appearance at the Weekend Update desk had her reprising a more recent character:
Weekend Update meteorologist Dawn Lazarus only just recently debuted on SNL, but the sketch was a popular one. The cadence with which Bayer delivers almost indecipherable dialogue is so shipper and confident that you can't help but laugh. Since most of Bayer's other recurring Weekend Update characters (like Jacob the Bar Mitzvah Boy) appeared previously this season, Dawn Lazarus was probably the best choice for Bayer to make her final appearance at the Weekend Update desk.
Vanessa Bayer has been appearing in movies more and more while on break from Saturday Night Live, and it's clear her star is rising enough that it was time for her to graduate from the show back in 2010. She's appeared in movies such as Trainwreck, Office Christmas Party, and will surely have more time for movies like that in the future. Vanessa Bayer also posted a little goodbye to SNL on her Instagam.
But both Bobby Moynihan and Vanessa Bayer were given Saturday Night Live goodbye sketch to end the episode:
It's not the best sketch, but it's an amusing one. The cuts to Leslie Jones as the lunch lady are great, but the frame of graduation is a touching farewell to Bobby Moynihan and Vanessa Bayer. And before anyone gets concerned that Beck Bennett and Kyle Mooney are also leaving they show, they aren't They're probably just in the sketch because they're clearly the best and playing young students who are bad at acting.