'David S. Pumpkins Animated Halloween Special' Trailer: Any Questions?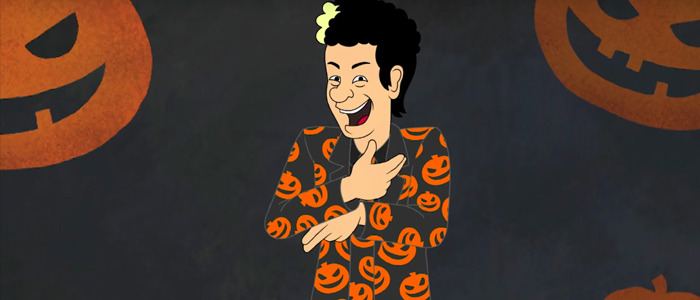 Saturday Night Live has been crafting memorable sketches for more than 40 years, but every once in a while, one will transcend the show to enter the larger pop culture zeitgeist. Such was the case with last year's "Haunted Elevator," which introduced the world to Tom Hanks' enigmatic Halloween character known as David S. Pumpkins. The sketch proved so successful that an animated Halloween special was commissioned, and now the trailer has arrived. Any questions? As Beck Bennett's confused character says in the sketch, "Yes, several."
The David S. Pumpkins Animated Halloween Special trailer
I think we're to assume that the structure we see at the start of this trailer is David S. Pumpkins' house. Will that be a part of the animated series? Will we get an inside look at how he lives his day-to-day life? How did he manage to work his way onto 73 out of 100 floors on the 100 Floors of Frights ride? What does this guy do for the whole rest of the year? And what does that "S" stand for?
We know that the animated special "centers on David Pumpkins and his skeleton sidekicks who show a young boy and his sister the true meaning of Halloween, answering none of their questions along the way," so I doubt we'll find out any of the burning lore behind this maniacal character. If anything, I expect it to raise more questions by the time it's over.
As the trailer implies, Hanks will be returning to provide the voice for Pumpkins, while Bobby Moynihan and Mikey Day – two of the original sketch's co-writers – will be reprising their roles as the skeletons. Day and their third co-writer Streeter Seidell wrote this special, so expect it to have the same off-the-wall weirdness as the original sketch.
For more on the creation of the original, including stories of how it was intended to involve break-dancing and was much talkier in its earliest forms, head over to Vulture and check out their in-depth oral history that was published earlier this week. Here's a brief excerpt about what we can expect from the animated special:
MD: It's Halloween night, a boy and his sister encounter David Pumpkins and needless to say, it's not your typical Halloween night. There's some scary stuff in there. There's a song.
SS: We kept the qualities of the sketch that made it fun, without trying to make it feel like a long SNL sketch.
MD: It's not like David Pumpkins for a half-hour going, "Aaah! I'm David Pumpkins!"
SS: As we were writing it, we realized, "Oh, this guy's kind of annoying." If he talks for long enough, you're just like, "I hate this dude."
MD: There was talk about David Pumpkins's universe, but we thought his appeal was in, the less you know about him, the better.
SS: You learn zero about David Pumpkins. By the end of it, you learn one piece of information, and that's it. He only makes one pronouncement and offers one opinion.
The David S. Pumpkins Animated Halloween Special airs this Saturday night, October 28, 2017, on NBC at 11:30pm. And if you're looking for an extra dose of holiday zaniness, revisit the original "Haunted Elevator" sketch from last year below: