Bobby Moynihan Is Back As Drunk Uncle On Saturday Night Live, And Here's Why He Hates Halloween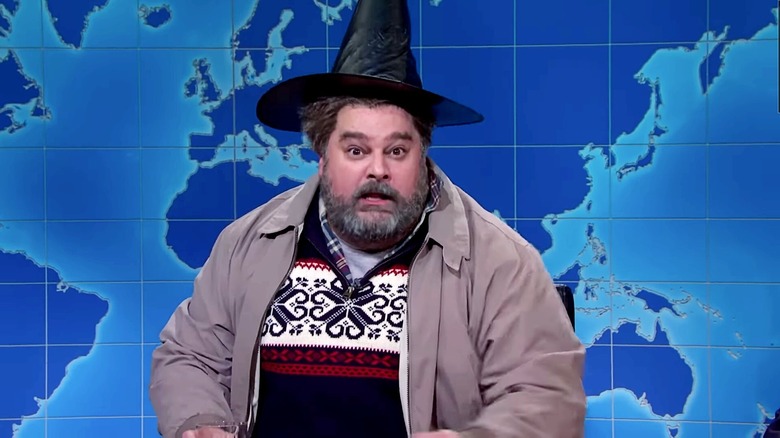 NBC
With Halloween happening on Monday, it's no surprise that "Saturday Night Live" embraced all things spooky-ooky. During last night's episode, we saw the return of pumpkin-patterned suit-wearing David S. Pumpkins, with Tom Hanks popping in to take on the dubiously frightening role again. The sketch also featured the return of "SNL" alum Bobby Moynihan, who stopped by for the Weekend Update later in the episode as Drunk Uncle.
Yes, Drunk Uncle is back and he's just as politically incorrect as ever before. If this is your first introduction to Drunk Uncle, woo boy! Drunk Uncle has been a recurring character on the Weekend Update since 2011, with the sketch usually consisting of Moynihan doing his best drunkenly unhinged blue collar worker impression. He always nails the one family member at the social gathering that you just gradually slide away from over the course of an evening, and last night's sketch proved that Moynihan still has it.
Clad in an adorable witch's hat, the topic that Drunk Uncle is supposed to be focusing on is Halloween, and it is revealed that our favorite concerning uncle hates the holiday. But why exactly does Drunk Uncle hate Halloween? It's a bit confusing, and that's kind of the point in the sketch as the audience tries to follow his ping pong battle of thoughts, jumping from one subject to another. In the process of talking smack about Halloween without explaining anything, Drunk Uncle covers other pop culture topics too.
Socialism, Insta-cart, and street urchins?
Halloween ignites a specific animosity within Bobby Moynihan's Drunk Uncle, but the reasoning is baffling. While it's not outright stated that he hates Halloween, after joyfully singing the "Nightmare Before Christmas" song, 'This is Halloween,' Drunk Uncle compares Halloween to socialism. Are any of you having flashbacks to family holiday gatherings yet? That's about as much of an answer audiences will get about Drunk Uncle's dislike before he launches into a 'kids these days' speech.
Halloween dislike aside, the Weekend Update sketch truly highlights how underrated Moynihan is as a comedian. As he's nailing the pop culture references and recent news points in the sketch, it rides the line of being dramatic without being too on the nose, which is something that "Saturday Night Live" sketches fail at balancing sometimes. 
Moynihan's cameo appearance on this episode of "SNL" also brings back a wave of nostalgia. He was such a presence on the show during his tenure from 2008 until 2017, and his return last night reminded me of what viewers lost. His comedic timing and his facial expressions added an awful lot — and dangit if we don't miss him. More Moynihan, please!