Andrew Lincoln Calls His Cabinet Of Curiosities Episode The Scariest Thing Netflix Has Ever Done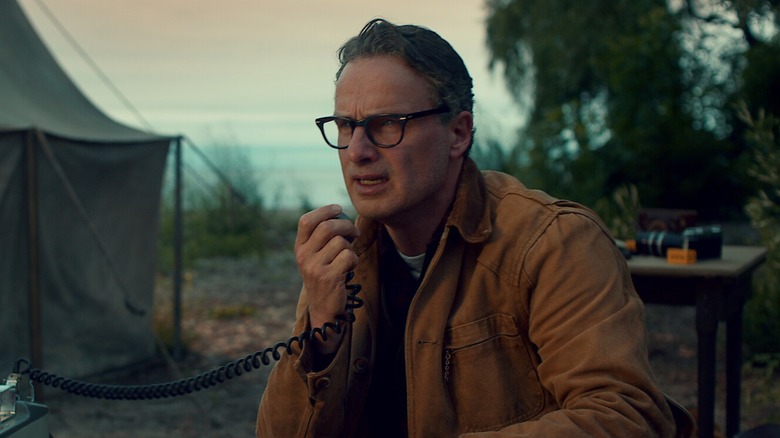 Netflix
"Guillermo del Toro's Cabinet of Curiosities" is the gift that keeps on giving, and we are being treated to two fresh episodes per day in this eight-episode anthology series (you can read our review of the series here).The series' final installment, Jennifer Kent's "The Murmuring," tells a devastating, tragic love story about Nancy (Essie Davis) and Edgar (Andrew Lincoln). Lincoln, who is known best for playing Rick Grimes in "The Walking Dead," recently told TUDUM that "The Murmuring" is "the scariest, the most appalling, nerve-shredding hour that Netflix has created...so far." Although we are yet to witness the horror of the penultimate episode, Lincoln vouches that the experience is bound to leave a mark in viewers' minds.
Kent, who is adept at evoking genuine scares in tales with an emotional core, will hopefully apply the same treatment to "The Murmuring," which is based on a story written by del Toro himself. Based on the episode's sneak peek, the story seems to revolve around grieving parents who have recently lost their daughter. What ensues is an onslaught of grief, loss, and unspoken horrors.
Lincoln expressed his feelings about this upcoming installment in an interview with TUDUM:
"I hope audiences will have the same reaction I did when I read it, that it was a beautiful story about loss and coming to terms with grief. Hopefully some way of finding a way to navigate grief? I took it very, very seriously. When [horror is] done well, it's beautiful."
How scary is Kent's contribution to the horrifying cabinet of curiosities? Let us dive deeper into Lincoln's preview of "The Murmuring."
Navigating grief can often be horrifying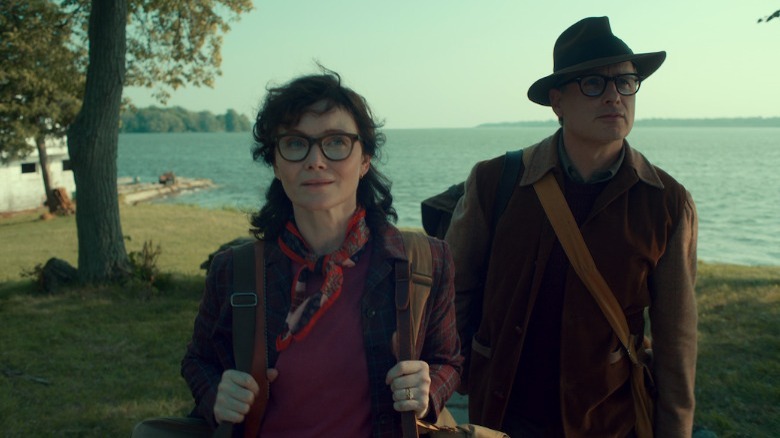 Netflix
In "The Murmuring," Nancy and Edgar are ornithologists, which urges them to spend a lot of their time in nature. The nature of their livelihoods and the events that quietly haunt them dictate the slow-burn nature of the horror, which quickly overtakes their seemingly-idyllic lives. Lincoln addresses this underlying dynamic between Edgar and Nancy, and how unspoken utterances of grief can accumulate over time, despite love being present between two people:
"They'll never recover from the death of a child, no one does. But they can certainly try and live on and continue to love each other...So much of the fear is this kind of psychological pressure cooker. I think that what we've shot will operate on that level as well as the emotional level of Nancy and Edgar's trauma."
Lincoln also talked about his deep love for horror, and how delighted he was at the chance to work with the likes of Kent and del Toro. Kent and Davis had previously collaborated on "The Babadook," which exclusively relies on atmospheric, emotion-driven terror as opposed to cheap, knee-jerk jump scares. To see Kent return with a slow-burn offering bound by threads of grief is great news, especially considering the involvement of del Toro and his genius. Horror can surely stem from over-the-top slasher elements where a group of zombies is slaughtered, but there's subdued beauty and tragedy to the kind of horror that purely stems from psychological loss and trauma. When this kind of tragedy befalls two people in love, the effects can be emotionally devastating. 
I'm looking forward to experiencing this emotional gut punch of a final installment.
"Cabinet of Curiosities" is currently streaming on Netflix.