Guillermo Del Toro's Cabinet Of Curiosities Teaser: 8 Blood-Curdling Tales Of Horror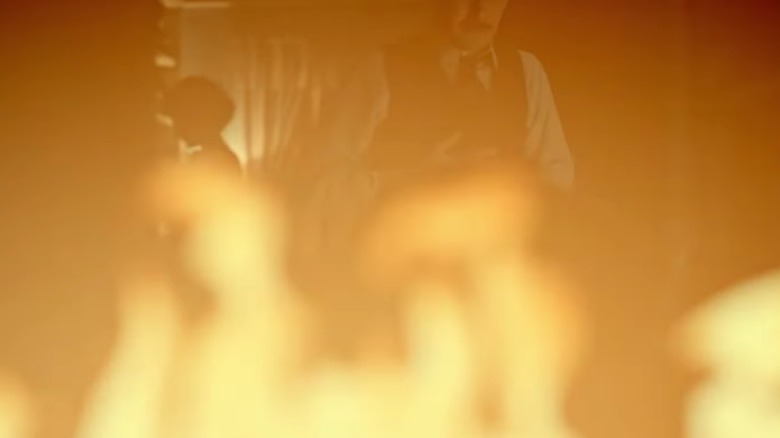 Netflix
The first trailer for Guillermo del Toro's long-awaited Netflix anthology "Cabinet of Curiosities" (previously titled "10 After Midnight") is here, and it looks like it might just be the streaming horror event of the season. The promo pairs creepy imagery and otherworldly vocals with title cards introducing an all-star slate of filmmakers and actors. Anthology series are almost always hit or miss, but from the looks of this one, it could include a whole lot of hits.
Del Toro has a knack not just for storytelling, but for curation, and his latest project shows that. "Cabinet of Curiosities" has recruited a who's who of excellent, cutting-edge genre directors to hone eight episodic installments. On the list are Jennifer Kent ("The Babadook"), Panos Cosmatos ("Mandy"), David Prior ("The Empty Man"), Ana Lily Amirpour ("A Girl Walks Home Alone at Night"), Vincenzo Natali ("Cube"), Catherine Hardwicke ("Twilight"), Keith Thomas ("The Vigil"), and Guillermo Navarro (NBC's "Hannibal" series). Netflix previously announced that del Toro will be penning two of the eight stories — the ones made by Kent and Navarro — himself.
Watch the teaser below.
A line-up to die for
Diverse and talented list of filmmakers aside, the project also promises to include actors we know and love. Andrew Lincoln, Ben Barnes, Charlene Yi, Crispin Glover, Eric Andre, Essie Davis, Ismael Cruz Cordova, Kate Micucci, Rupert Grint, and Sofia Boutella are all name-dropped in the ominous footage.
Most importantly, though, "Cabinet of Curiosities" simply looks excellent. It's unclear how much of this teaser footage will match up with the stories we see in the series, but what is here is stunning. Flickering, perfectly edited shots stitch together images of a morgue, an austere house, a car on an empty road at night, and lots of other sinister iconography. Despite the fact that some of these things — like a spider in a web, or man in shadow — are pretty typical horror images, everything about the 75 second promo still feels novel and thrilling.
If the shots that sync up with each director are significant, it looks like we can expect a Christmas-set story, a creature feature, a black-and-white tale, and more. And what's with that flashing lump on the ground during the David Prior announcement? We'll have to wait a little longer to see, as the cabinet of curiosities isn't open for business just yet. The teaser promises a 2022 Netflix release for the deliciously macabre looking show.