Guillermo Del Toro's Cabinet Of Curiosities Review: A Wickedly Fun Creepshow Full Of Gore, Goo, And Ghouls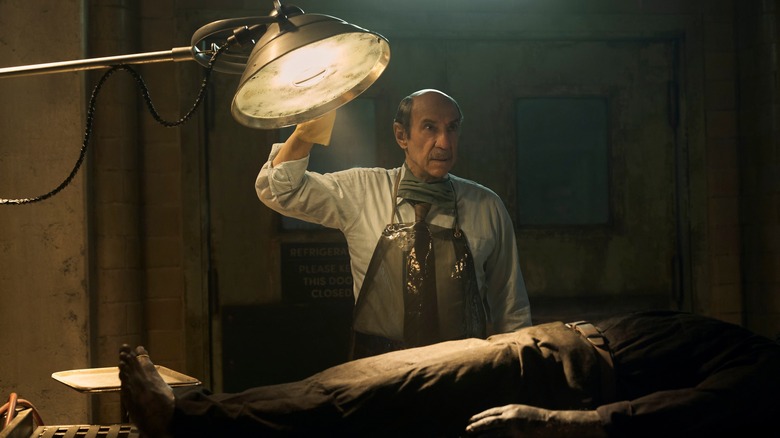 Netflix
Guillermo del Toro knows a thing or two about ghosts, ghouls, and monsters, so the idea of the Academy Award-winning filmmaker shepherding a horror anthology series feels too good to be true and is too good to pass up. While del Toro himself doesn't helm any of the short films that are part of "Guillermo del Toro's Cabinet of Curiosities," he does have a hand in writing some. And more than that, he serves as our host, stalking out of the shadows like Rod Serling on "Night Gallery." The filmmaker is no actor, and his introductions are quite stiff — but that's part of the charm. There's something sweet about this lovable artist doing his best to read ominous introductions while decked out in his best black suit, looking like an undertaker having a great time at a wake. 
It would've been nice to have del Toro helm one of the stories featured in "Cabinet of Curiosities," but that doesn't mean the show is lacking talent. The filmmaker lineup here is damned impressive — Catherine Hardwicke, Keith Thomas, Panos Cosmatos, Jennifer Kent, Guillermo Navarro, David Prior, Ana Lily Amirpour, and Vincenzo Natali. Like all anthologies, some stories are better than others. But there's such a delightfully ghoulish atmosphere to this entire production that horror fans are bound to fall in love. Del Toro clearly has a love for anthologies — "It's like shooting eight movies at the same time, with a lot of complications and complexities and temperaments and different flavors," he says in the press notes, adding: "But I think that was the idea: Can we capture the golden era of fantasy anthologies that we grew up with?"
That the series arrives just in time for Halloween is like icing on the pumpkin spiced cake; if you crave things that go bump in the night, you're bound to devour this and then come back for seconds. And if del Toro and company want to pump one of these out every Halloween season, the world will be a slightly better place.
Catnip for horror fanatics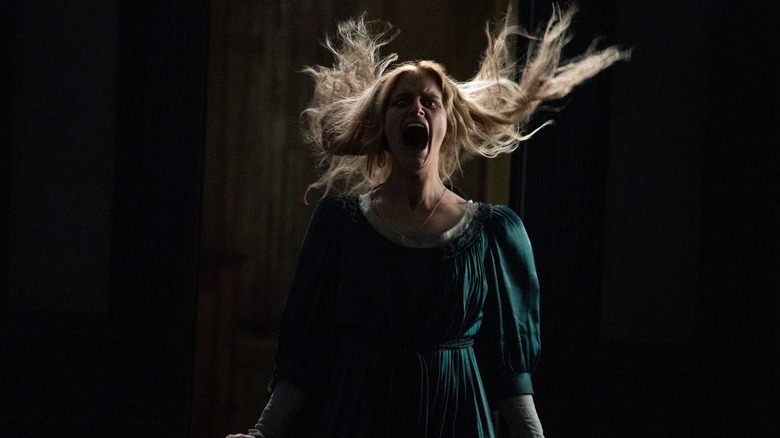 Netflix
Awash in wonderfully gooey practical effects (and a few not-so-great CGI effects, too), and loaded with an atmosphere so thick you can practically reach out and brush your fingers against it, "Guillermo del Toro's Cabinet of Curiosities" drops one fiendish tale after another, almost all of which are inspired by short stories, including two episodes adapted from work by H.P. Lovecraft. The tales of terror run the ghoulish gamut from ghosts, hideous giant rats, creatures from other planets and/or dimensions, cursed storage lockers, and more. 
Are any of them scary? Sort of. But the fear here is fun without ever tipping over into the comical. To steal a line from the marketing of George A. Romeo's "Creepshow," this show is all about creating a vibe that screams "It's The Most Fun You'll Ever Have Being Scared." What makes good horror? Is it jump scares? Dread? Disgusting, gross-out material intended to make you both gag and laugh? Here's the answer: it can be all of those things and more. And that's the charm of "Cabinet of Curiosities" — there's almost something for every type of horror fan here. 
As someone who grew up enamored with the macabre, watching "Cabinet of Curiosities" felt like coming home. I was warmly embraced by its world of nightmares, and while some of the segments left me cold, the majority brought the perfect amount of horrific pleasure. It's catnip for horror fanatics. There were times when it felt like this was a show made just for me, right down to its opening theme music heavy in sad, creepy strings. 
Prepare to be scared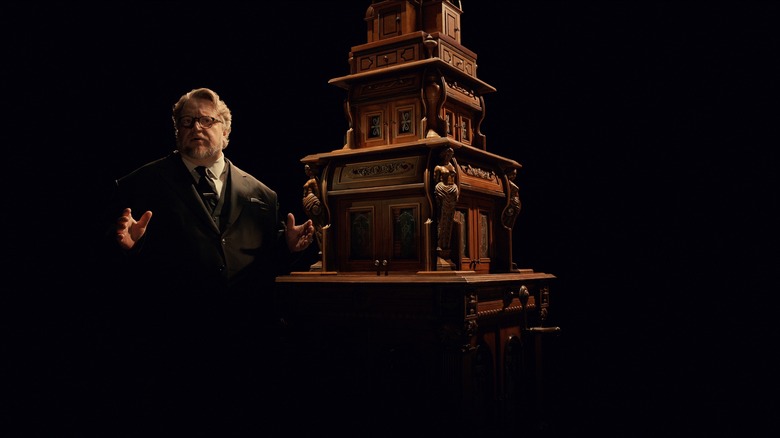 Netflix
As far as the segments go, "The Autopsy," from David Prior, director of the already-cult-classic "The Empty Man," and adapted from a short story by Michael Shea, gets by on a great, dark, foreboding atmosphere. F. Murray Abraham is a medical examiner cutting into a group of coal miners killed in an explosion set by an alleged serial killer. As you guess, this will be no ordinary series of autopsies. As moody and spooky as this starts, Prior and writer David S. Goyer eventually lose the thread. Ana Lily Amirpour's "The Outside," a gross-out tale about a lonely woman (Kate Micucci) who succumbs to a mysterious beauty product, is the least interesting episode of the bunch, despite a game turn from Dan Stevens as a strange pitchman. As for the two Lovecraft adaptations — "Pickman's Model," directed by Keith Thomas and featuring a charmingly hammy Crisping Glover, and "Dreams in the Witch House," helmed by Catherine Hardwicke — the quality varies. "Pickman's Model" is the better of the two, but both offer adequate thrills and chills, although "Witch House" begins to lean too far into humor for my tastes.
Panos Cosmatos' "The Viewing," which asks, "What if you climbed into a '70s conversation pit from hell?," is the most stylish of the segments, and there's no surprise there — Cosmatos specializes in highly-stylized horror (see: "Mandy"). He also appears to love blowing up heads, because there are a lot of exploding craniums here. The best installment of the bunch is Jennifer Kent's lonely, haunting, devastating "The Murmuring," about a husband and wife team of ornithologists who take up residence in a potentially haunted house during a research trip. Quiet and packed with genuine scares (of the bone-chilling variety), it was the story that stuck with me the most and made me feel particularly unsettled; the type of feeling where a sound in the dark gives you pause, and a brief moment of terror. It also had me wishing Kent, who helmed "The Babadook," would go ahead and make a new full-length haunted house movie. 
The beauty of a horror anthology is that even if one story doesn't tickle your fearsome fancy, you're still bound to find something else further down the line. And that approach is what makes "Guillermo del Toro's Cabinet of Curiosities" sing. As the days grow shorter and darkness descends on us earlier and earlier, "Guillermo del Toro's Cabinet of Curiosities" makes for the perfect spooky season viewing. Dim the lights, burn some candles, and prepare to be scared.
Two episodes of "Guillermo del Toro's Cabinet of Curiosities" will debut daily beginning October 25, 2022, through October 28, when the entire collection of eight stories will be available.