The Babadook's Script Was Almost Too Terrifying For Essie Davis To Handle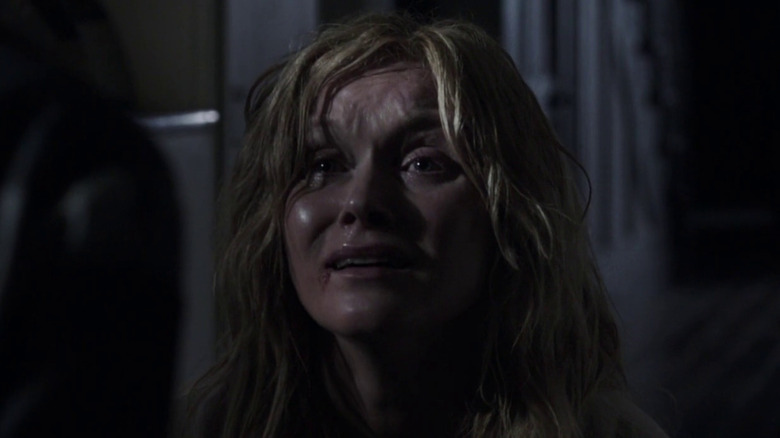 IFC Films
With two striking features under her belt, Australian filmmaker Jennifer Kent has shown that her directorial sensibilities lie in communicating the horrors of tragedy and grief. Her second feature, "The Nightingale," may not classify as a traditional horror film, but it features enough grueling acts of violence that it more than fits within the parameters of the genre. It's her feature directorial debut, "The Babadook," however, that has made writer-director Kent a force to be reckoned with in the horror sphere.
At the heart of "The Babadook," however, is Australian actress Essie Davis who gives a towering performance that stands among the genre's greatest. Even "The Exorcist" director William Friedkin at one point thought it was the scariest movie he'd ever seen. In a better world, where contemporary horror is recognized by the Academy, she would have been nominated alongside the likes of Toni Collette ("Hereditary") and Lupita Nyong'o ("Us"). And with that, let's take a Baba-ba look-look-look at what initially frightened the film's harrowing lead when signing onto the project.
A mother's love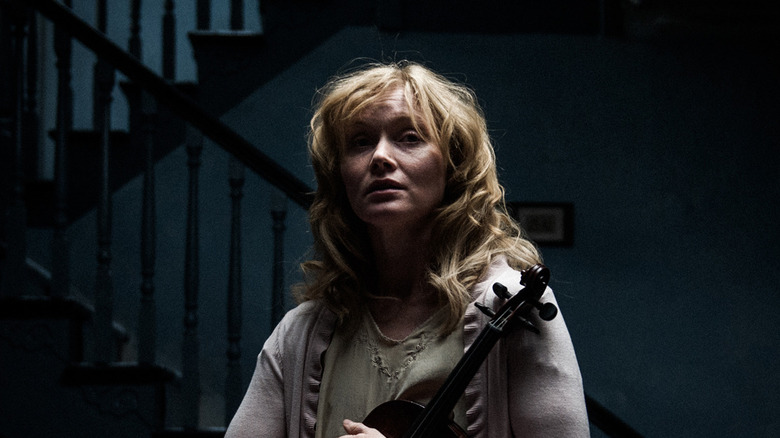 IFC Films
Adapted from Kent's short film, "Monster," from 2005, "The Babadook" revolves around a grieving widow named Amelia (Essie Davis) who's had to raise her troubled six-year-old son Samuel (Noah Wiseman) all by herself, since losing her husband in a tragic car accident. After reading a sinister pop-up book entitled "Mister Babadook," a terrifying humanoid monster in a black trench coat and top hat starts to haunt the broken family with disturbing visions that bring Amelia one step closer to murdering her child and letting her overwhelming grief take control.
In an interview with FilmInk, Davis said of Kent's screenplay:
"When I first read the script, I found it terrifying. And when Jen asked me to audition for it, I really didn't know if I wanted to. I didn't know if I wanted to play this part. I found it quite confronting, and it still terrified me even when I said yes. It's an ugly journey, but it also feels incredibly genuine, and I did a lot of research. I am a mother, and I know many mothers, and there's a lot that's not said. It is tough being a mother, and it's tough being a parent, especially when you know that you make mistakes. I'm sure that a lot of mothers have gone, 'How did I let that come out of my mouth? What on earth am I doing to my child?' I read this amazing book about postpartum psychosis. It is a phenomenon; there's post-natal depression, and then there's post-natal psychosis, where there's a very fine line where mothers are really terrified that they're going to hurt their child. It's interesting because it's really about the repression of grief, and what it can create...the monster that it creates within itself."
I think it's safe to say that "The Babadook" wouldn't have had quite the same impact without Davis as Amelia. The way she moves about her sullen home, ensnared by gray walls and never-ending shadows, takes her performance to another level. In those moments in which Amelia fully embodies the childhood monster, Kent essentially turns the viewer into a frightened child. There's a low-angle shot in particular, where Davis slowly saunters over Samuel and screams. Plus, the "I am your mother" scene still gives me major goosebumps.
You're a mean one, Mister Babadook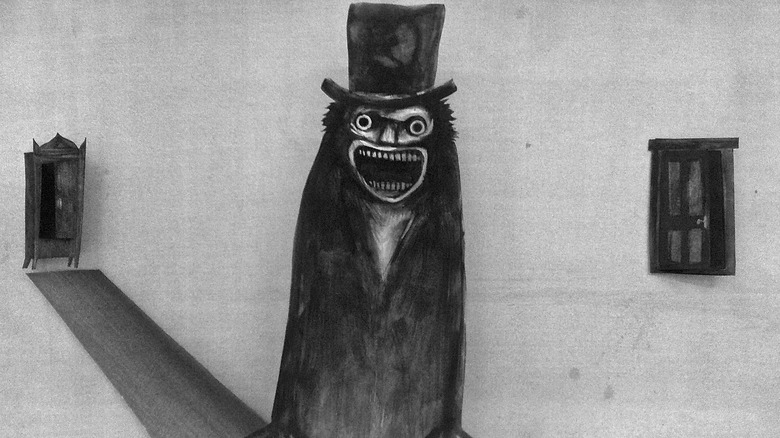 IFC Films
"The Babadook" is a truly disturbing meditation on grief that expertly balances the monster's purpose as horror bogeyman and metaphorical demon. The presence of Mister Babadook as a manifestation of grief chilled me upon initially seeing Davis's transformation. It's been my journey through depression in the years since, however, that makes me see the titular demon through new eyes.
The notion of an internal shrouded figure prodding you at your lowest terrifies me. My bout with depression has never made me envision a lanky movie monster right out of a silent-era horror film, but it has made me think of the ways in which I've let it indirectly spill out onto others and myself. Once you've heard that sinister voice, it's a frightening experience as it attempts to mold you into the worst version of yourself. 
"The more you deny, the stronger I get," says the pop-up book that taunts Amelia. Voices like Mister Babadook are overwhelmingly loud, but I can be louder. As seen in the film, it never quite goes away, but learning to live with it is an exhausting, but necessary journey all its own. And to see that play out through Davis's magnificent tug-of-war between caring mother and resentful parent sends a chill up my spine.
Divorced from its metaphorical manifestation, however, there's no doubt that Mister Babadook has cemented his place as a cultural icon, whether it's a 'Badabook' showing up to a vampire orgy in in "What We Do in the Shadows," a noted favorite of Jenna Ortega's Tara in "Scream" '22, or being adopted as a queer icon after hilariously showing up in Netflix's LGBTQ+ section. Whether shown in full or enshrouded in shadow, the fact that Mister Babadook is a beautifully designed metaphysical horror baddie in its own right is just another achievement on behalf of Kent's vision.