Black Adam's Justice Society Have Ideas About Who Should Join The Team Next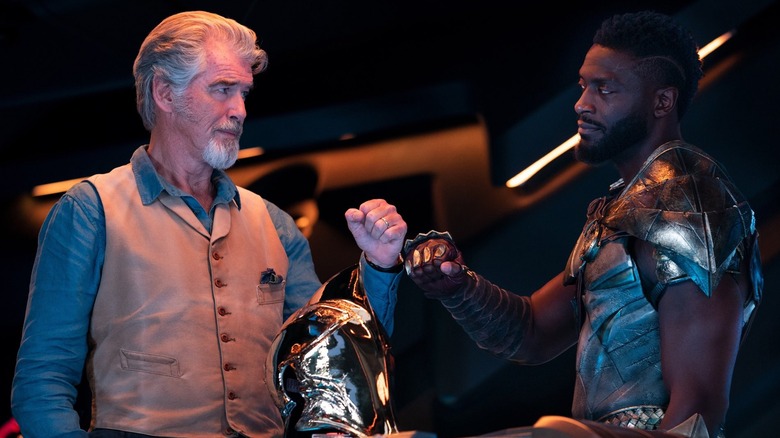 Warner Bros.
Everybody knows about the Justice League, but have you heard of the Justice Society of America? In the DC Comics universe, they're another superhero supergroup, and they've finally made their DCEU appearance in the latest DC film, "Black Adam." In "Black Adam," the JSA are led by Hawkman, played by Aldis Hodge, who faces off against Dwayne Johnson's antihero character, Black Adam. He's joined by Doctor Fate (Pierce Brosnan), who can bend reality and foretell the future, the size-shifting Atom Smasher (Noah Centineo), and master of winds, Cyclone (Quintessa Swindell). While they're not quite A-listers like Batman and Superman, the members of the JSA are superheroes in their own right and have their own fascinating stories to be told, so it's very likely that we'll see more of them in upcoming DCEU films and shows. After all, Johnson thinks the DCEU is going to grow more cohesive after "Black Adam," and that means it could be the jumping-off point for other franchises to spring from. The JSA could very easily get their own movie, and since the society has had numerous members in the comics over the years, there are tons of fun characters to choose from. 
In an interview with Total Film, Swindell, Hodge, and Centineo shared their dream picks for additions to the cinematic JSA, including who they would want cast in each role. This crew have clearly read their comic books, because they had some fun and surprising answers that would potentially shake the whole foundation of the current DC cinematic universe. 
'With this team, anything can happen'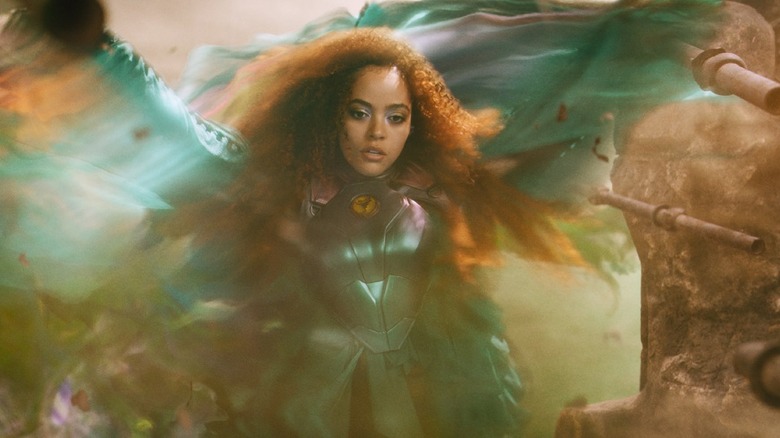 Warner Bros.
The trio had some interesting suggestions for their perfect additions to the Justice Society of America, and Centineo's was probably the wildest, as he remembered an arc in the comics where Rorschach from Alan Moore's "Watchmen" and Cyclone team up. His pick for Rorschach? "Childish Gambino," also known as writer, director, rapper, and actor Donald Glover, who created the hit FX series "Atlanta." I would watch the heck out of that, because I've seen what the man did when he played the nightmarish Michael Jackson-allegory Teddy Perkins, so I know Glover is game to get appropriately weird. Whether or not he would be up for joining the DCEU is less of a sure thing, as he's one ridiculously busy multi-hyphenate. 
Swindell had some big ideas too, and wants to see their character's grandmother, who is also a superhero, brought to life on the big screen:
"I'm just going to say straight up, it would be so interesting to see Red Tornado. I would love to see it. With this team, anything can happen and we can really make it something interesting. I would love to see Laverne Cox in the role. Laverne's not that old, but we can make it work, baby! I know that she wants to be a superhero. I'm like. 'Come on baby, let's put it out there.'"
Hodge's choice is a little closer to home, as he explained that he wanted to see Mister Terrific, played by his brother, Edmund Hodge. Edmund voiced Mister Terrific in the animated "Injustice" film and taught his brother everything about the character for his own comic book research. In fact, the two Hodges could potentially even team up, with Hawkman and Mister Terrific doing some detective work together.
The possibilities are close to endless, with decades of DC Comics to choose from, but we'll have to wait and see if "Black Adam" will impress audiences enough to earn the JSA another trip to the movies.