How Donald Glover Found The Perfect Director For Atlanta's 'Punk Rock' Approach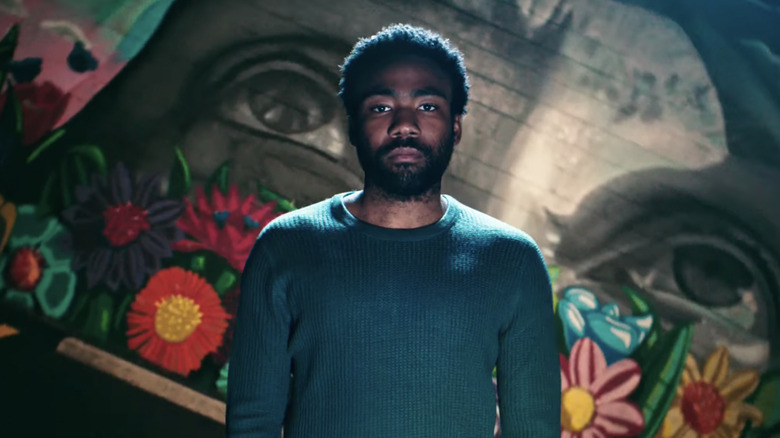 FX/Hulu
Hiro Murai was directing music videos for pop songs before he began collaborating with Donald Glover on their dreamy FX series "Atlanta." Now, Murai's directing credits include not only the majority of "Atlanta" but also several episodes of the acclaimed HBO series "Barry" and "Station Eleven." Glover recognized Murai's creative genius the first time he saw his work in 2013. From there they would collaborate on a number of groundbreaking projects, including a short film, several music videos, and their hit television show.
The "Atlanta" director created music videos for huge hits like B.O.B.'s "Airplanes" and Lupe Fiasco's "The Show Goes On" — both "traditional glossy pop videos," which "didn't feel as fun," Murai told Interview. In 2012, he started to work with smaller artists like Earl Sweatshirt, and his creative juices began to flow. "There was something about his world-weary, depressive, introverted rap music that was like, 'I know what this is. I know exactly how this feels,'" Murai explained.
One year later, Murai's visuals played at the Grammys during Frank Ocean's performance of "Forrest Gump." Ocean was a member of the "Odd Future" collective along with Earl Sweatshirt and likely met Murai through him. Glover was in the process of recording his album "Because the Internet" when he caught Frank's performance. He reached out to Murai and met him at Soho House in L.A. — an uncharacteristic choice in location for them both, Murai revealed to GQ.
Shortly after their first meeting, Glover reached out to Murai about a concept for a short film. The stand-up-turned-rapper was staying at the mansion of an NBA player while he recorded his album and was hoping to capture the languid haze of the house. This became "Clapping for the Wrong Reasons," the first collaboration of many between Murai and Glover.
It all started with Frank Ocean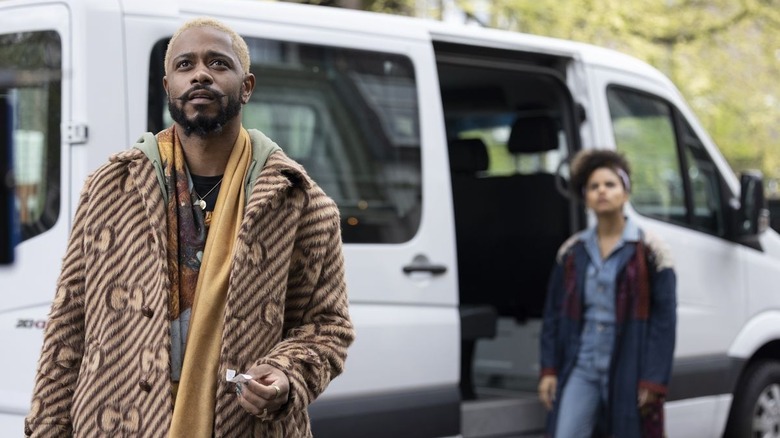 FX/Hulu
Glover was concerned that Murai would run for the hills once he arrived on the set of "Clapping." "We weren't living in the house right," Glover admitted. "People were sleeping on the pool table. It was like a vagabond circus... like Lost Boys." Luckily, Murai was unphased. "It didn't feel like he batted as much as an eyelash," Glover recalled.
The 24-minute short captured the "lost" feel of the mansion and its occupants. It also established the surreal, dream-like style that Murai and Glover would develop in "Atlanta." Murai felt their creative chemistry immediately. "It just felt like we were aiming at the same thing," the director insisted. He appreciated Glover's unconventional approach to each of his artistic mediums. "There's something sort of punk rock and fun about it," Murai explained. The film was uploaded to Glover's Youtube account prior to his album's release. A short time later, FX green-lit Glover's pilot concept, and "Atlanta" was born.
Glover started discussing "Atlanta" with Murai "when we first started working together," the director revealed to MTV. "It was always something that was a hypothetical. It became an actual real thing when he sold the pilot to FX," Murai said. Since he had no experience in television, Murai was skeptical that FX would allow him to shoot the pilot. Luckily, the network deferred to Glover's judgment and allowed him to bring on Murai, who would go on to direct more than half of the episodes in the series.
As Murai's artistic relationship with Glover evolved, so too did "Atlanta." By season 3, the show completely departed from convention and went full-tilt into its "punk rock" surrealism. Had Glover not caught that Grammys performance in 2013, the most unconventional show on television may have fallen into far less imaginative hands. Thank God for Frank Ocean.