Atlanta Season 4 Review: The Final Season Of TV's Most Experimental Show Returns To Its Roots For One Last Ride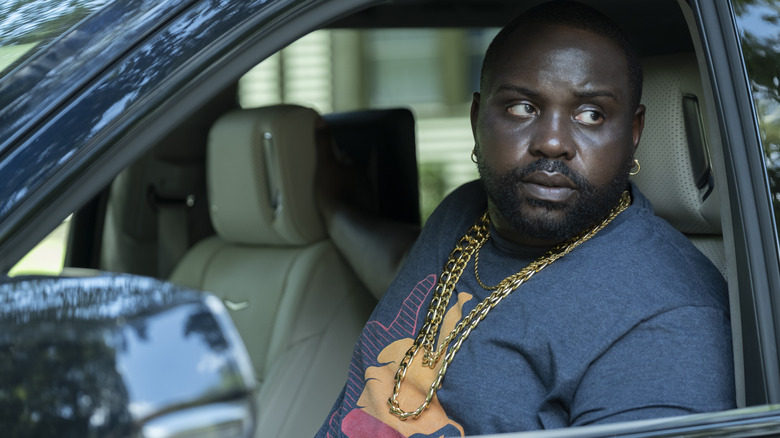 FX
Early on in the season 4 premiere of "Atlanta," Darius (LaKeith Stanfield) and Alfred (Brian Tyree Henry) are sitting in bumper-to-bumper traffic on the Atlanta freeway, commiserating over the recently announced death of a local rapping legend named Blue Blood. Yes, in quintessential "Atlanta" fashion, the simple fact that they're now back in their old stomping grounds of Atlanta, Georgia is treated completely matter-of-factly. Taking place an indeterminate amount of time after season 3, this instantly signals a return to familiar territory (although definitely not to normalcy, as viewers will quickly discover) in this final stretch of episodes. But the telling moment comes when, while listening to Blue Blood's last-ever album, Alf casually remarks, "It's pretty experimental, I don't even understand what he's saying half the time" — almost as if he were commenting on the previous, rather divisive season of the show itself.
"Atlanta" unveils its final season during something of a crossroads for the Donald Glover-created series. Despite last season's fresh setting that allowed for hilarious moments of culture shock and some pretty ambitious leaps of storytelling, many viewers expressed frustration over the standalone anthology episodes that frequently took us away from our main cast and jarringly interrupted the gang's ongoing European tour. Still, the inexplicable oddities, slice-of-life tangents, celebrity cameos, and unsettling blend between reality and the surreal threaded throughout each prior season remained present and accounted for ... thankfully, all of which is back and bolder than ever before in season 4.
Though not written this way in direct response to any perceived backlash (both seasons 3 and 4 were filmed concurrently), the change in scenery will likely prove satisfying for those who first came to love the specific dynamic between "Atlanta" and the city that gives the show its name. In the first three episodes made available to the press, the early returns suggest that returning to its roots may result in one of television's most consistently undefinable, provocative, and wildly entertaining shows going out with a well-earned bang.
Reunited and it feels so good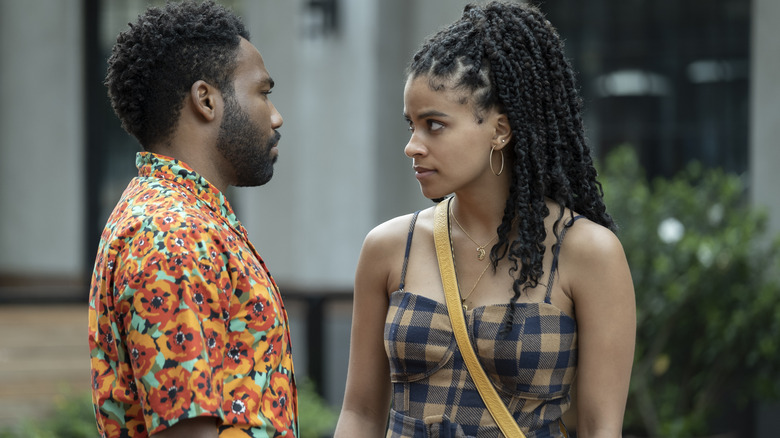 FX
When you have an absolutely killer cast made up of Donald Glover, Zazie Beetz, Brian Tyree Henry, and LaKeith Stanfield, it only makes sense to give them as much time and space to bounce off one another as possible. In prior seasons of "Atlanta," the writers have wrung plenty of drama and laughs from splitting the group up in fascinating ways, manufacturing imaginative scenarios that led to some surprising and even occasionally moving results — for the most recent example, look no further than the Van-centric episode and Beetz's heartfelt monologue that concluded season 3.
Season 4, which will premiere the first two episodes back-to-back, begins in much the same way before spiraling in its own directions altogether. After another classic cold open that disorients viewers while setting up by far the funniest running gag of the first three episodes, "The Most Atlanta" follows Darius, Alfred, Earn, and Van through their own bizarre ordeals. Almost counterintuitively, fans are made to wait a little while before seeing all four leads brought together again after far too long apart ... but the winding and wholly unpredictable paths that each character takes to get to that point makes it well worth their patience.
Episodes 2 and 3 take an even more measured and splintered approach, focusing predominantly on only a few members of the main foursome at a time as viewers are taken through strange and off-putting subplots that require some time to fully come together. The fact that this still works as well as it does speaks to the level of confidence Donald Glover, his brother Stephen (who receives sole writing credit in the first episode), director Hiro Murai, and the rest of the creative team have in these characters — and in the audience's ability to keep up when things take a turn for metaphor, ambiguity, or even outright farce.
No matter how purposefully off-the-rails the plot might get at times, viewers can rest assured that everything feels grounded by a typically strong cast at the top of their collective game and firing on all cylinders.
A self-reflective finale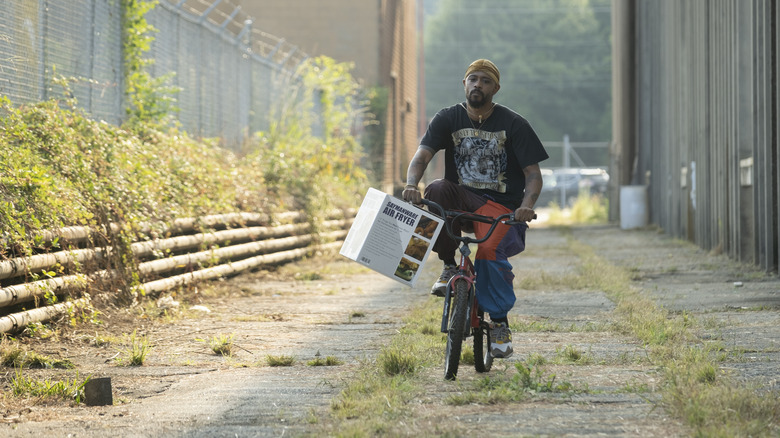 FX
For a series that initially started as an exploration into the local rap scene and soon revealed itself as one that used its premise to explore incredibly nuanced social topics — with the last season's unique structure taking this to obvious extremes — "Atlanta" has usually managed to rise to the occasion and act as a vessel for whatever goals and ambitions each episode asks of it. An angry alligator, an invisible car, and a Black Justin Bieber only scratch the surface of what this series has proven itself capable of pulling off during its previous heights.
Now with this newest season, we can add an aggressive misunderstanding over a "stolen" air fryer, a purgatory of sorts that's populated exclusively by former romantic pursuits, and a strangely compelling therapy session (and plenty more that are simply too good to spoil) to the list of concepts that "Atlanta" uses to pose broader questions about what this series has been about all along. But where season 3 almost felt as if those involved bought into their own hype at times and struggled to outperform the high expectations thrust upon them, these early episodes strike a slightly different and more thoughtful tone.
First airing back in the Before Times of September 2016 and undergoing a pretty lengthy hiatus or two over the years, "Atlanta" in its current form could have run the risk of running out of steam and resembling a mere shell of itself — which season 3 arguably did at times earlier this year. All such concerns can be safely laid to rest, however, if the first three episodes of this final season are anything to go by. Amid all its absurdities, it seems clear that this final season will be wrestling with its own impact and legacy. 
Lively, mystifying, and wonderfully idiosyncratic as only "Atlanta" can be, the murderer's row of talent behind all facets of this production has ensured that there's still more to experiment with before this series finally calls it quits.

"Atlanta" season 4 premieres Thursday, September 15 at 10:00 pm ET/PT on FX, streaming the next day on Hulu.