How Donald Glover Essentially Tricked FX Into Ordering Atlanta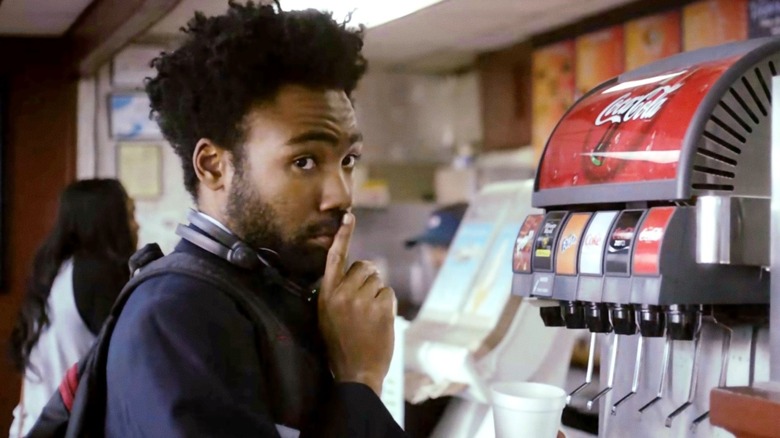 FX
After four agonizing years of waiting, the FX series "Atlanta" is finally returning for its third season. Described by /Film's own Ethan Anderton as the "boldest, sharpest, and most confident show on television," the Donald Glover-led series has successfully delivered a serial amalgamation of biting commentary, sardonic humor, absurdity, and demands for racial justice. "Atlanta" has quickly become one of the most critically acclaimed shows on television, nabbing two Golden Globe award and two Primetime Emmys. Glover's boundary-breaking Emmy win, for outstanding directing for a comedy series, was also the first ever awarded to a Black director in that category.
And to think, all of this might not have been possible if it wasn't for the fact Donald Glover totally lied to FX about what "Atlanta" was going to be.
Years ago, Glover shared during a backstage interview at the Golden Globes that "Atlanta" was made thanks to a little white lie that granted him the access to make one of the best shows on television. "The best things just can't be explained," he said. "I just Trojan Horsed it." When first discussing the show with FX, he told the executives the show was going to be something totally different, "until we got there." After the show was green-lit, Glover couldn't care less about what execs had to say about his show; he was making this for the people of Atlanta: 
"Like you can't name a show 'Detroit' and have Detroit people hate it. I really only cared if my parents, cousins, and everyone in Atlanta thought it was cool. If I could go to a Chick-fil-A and have people be like, 'Yo, have you seen this Donald Glover show?' Then okay cool, it's touching something personal."
A dream a decade in the making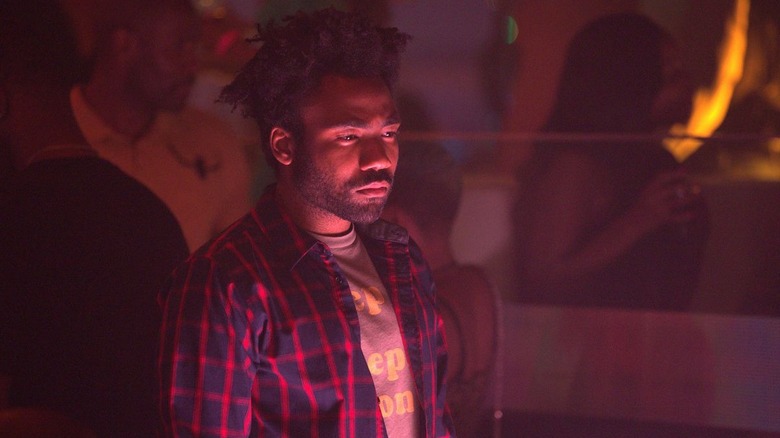 FX
"Atlanta" follows Earn (Donald Glover) during his day-to-day life while trying to make amends with his ex-girlfriend Van (Zazie Beetz) who is also the mother of his daughter, Lottie. Among the supporting characters are Earn's parents and his cousin Alfred (Brian Tyree Henry), who is known in the Atlanta rap scene as "Paper Boi." On top of it all, they all must deal with the complexities of living life in America and how racism, capitalism, and parenthood all impact every decision they make.
Returning to Atlanta to make the show allowed Glover the opportunity to return to his old neighborhood, and his brother Stephen, who serves as a writer on the show, even found a letter Glover had written him during his college years where he mentions having a dream about the two of them writing a show together. "I truly do believe in magic and we've forgotten it," he said. "That's kind of the dream part of my show — you've gotta believe in keeping the magic."
Glover isn't the first creative to describe a "Trojan Horse" approach to getting a show greenlit. Speaking to NPR in 2013, "Orange is the New Black" creator Jenji Kohan described how she used the show's pretty, white, blonde, well-to-do protagonist, Piper Chapman, in a similar way to Glover's fake "Atlanta" pitch:
"In a lot of ways Piper was my Trojan Horse. You're not going to go into a network and sell a show on really fascinating tales of black women, and Latina women, and old women and criminals. But if you take this white girl, this sort of fish out of water, and you follow her in, you can then expand your world and tell all of those other stories. But it's a hard sell to just go in and try to sell those stories initially. The girl next door, the cool blonde, is a very easy access point, and it's relatable for a lot of audiences and a lot of networks looking for a certain demographic. It's useful."
"Atlanta" season 3 is set to premiere Thursday, March 24, at 10 pm ET/PT on FX. Sadly, all good things must come to an end, and "Atlanta" will be ending its historic run at the completion of season 4 later this fall.