She-Hulk Director Kat Coiro Prepared For The Daredevil Cameo By Watching 'So Many Hallway Fights'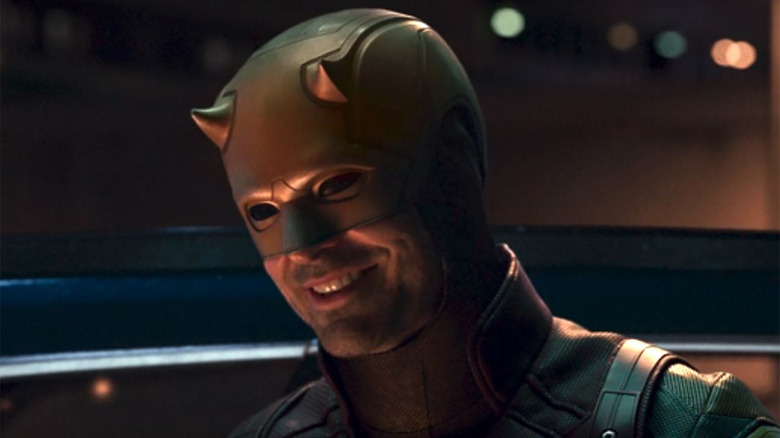 Disney+
Although its titular character is the main focus, "She-Hulk: Attorney at Law" is painfully aware of the surrounding universe Jennifer Walters (Tatiana Maslany) finds herself in. The show taps into the lesser-known parts of the MCU while touching on some long-anticipated interactions, including the re-introduction of Matt Murdock as Daredevil. After several years away from the suit and cowl, Charlie Cox reprises the role that has defined the character for the past decade in live-action. In order to bring his journey full circle, "She-Hulk" pays homage to a seminal part of Netflix's "Daredevil." I'm talking about the hallway fight scenes, of course. 
His relationship with Walters is a focal point in the penultimate episode, but the series honors what came before it in one very exciting way. When Daredevil and She-Hulk find themselves having to work together to stop Leap-Frog, the veteran vigilante drops into the villain's headquarters and disposes of a few bad guys in a neon-lit hallway. Not only is this a direct nod to the Netflix series, but "She-Hulk" ensures to make the exciting scene work on several levels.  
Recreating the intensity of the action sequences present in "Daredevil" within the light-hearted world of "She-Hulk" was no easy task. Kat Coiro, who directed the bulk of the freshman season, did not take this opportunity lightly.
Daredevil = hallway fights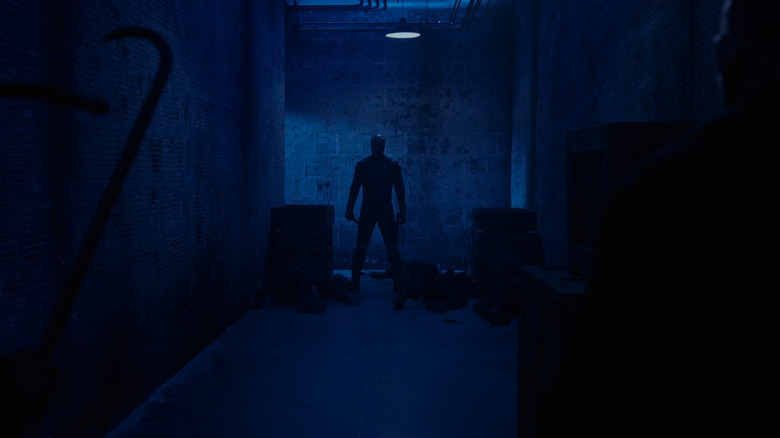 Disney+
In an interview with ComicBook.com, Coiro spoke about executing the Daredevil cameo and handling all the (exciting) baggage that comes with him — including that hallway fight:
"I have to say [the relationship between Jennifer Walter and Daredevil] was one of the things I was most nervous about, because he has such a rabid fan base, and because people expect certain things and yet we're subverting his genre a little bit. I'm so glad that people love it. You know, I really did go back and watch so many hallway fights to make sure that we drew elements from them, you know, while still placing it squarely in She-Hulk's world."
The tone established by "Daredevil" is vastly different from "She-Hulk," yet I think the latter understood how to mold them without losing the essence of either work. After all, the scene in the Disney+ series ends with She-Hulk abruptly knocking out the baddies Daredevil was set to fight. 
Bringing back the hallway fight gimmick may seem like a superficial act, but it is a satisfying callback to the handful of impressive fights present in the original series.
'So many hallway fights'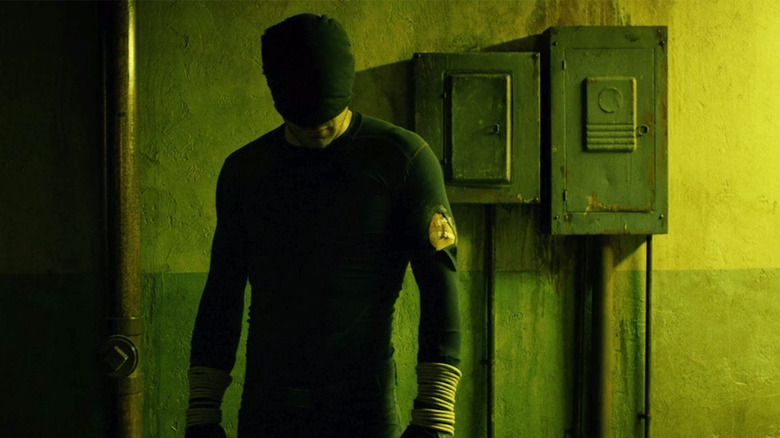 Netflix
The "She-Hulk" director does not specify which scenes she examined, but it's safe to say all would serve as great inspiration. It all started in the first season, when a rookie Daredevil confronted a singular hallway full of henchmen under a sickly yellow light to save a trafficked child. The subsequent seasons upped the ante, producing even longer, one-shot fight sequences with several hallways in play. The stairwell scene in the second season is a personal favorite, as it puts Daredevil in a situation where he must use his surroundings to defeat the onslaught of enemies in his way. "She-Hulk" does not attempt to replicate the artistry at play in that series, but does just enough to let us know they love "Daredevil" just as much as we do.
All episodes of "She-Hulk: Attorney at Law" season 1 are available on Disney+.