Reservation Dogs Directors Follow One Key Rule While Making The Show [Exclusive]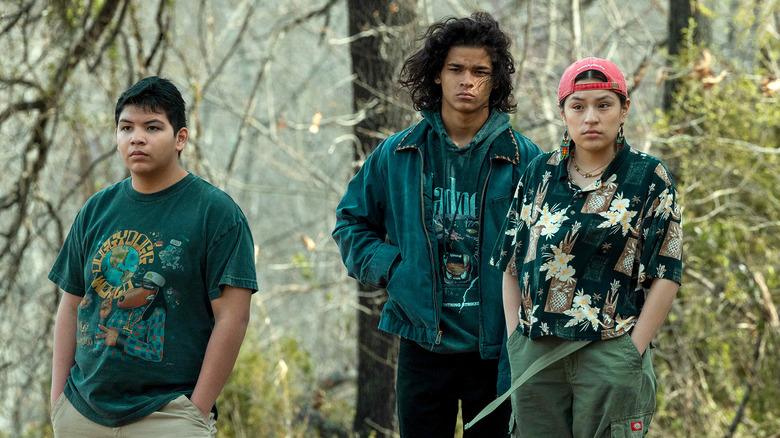 FX
"Reservation Dogs" is must-see TV, the kind of series that offers so much more than what anyone could expect from its marketing. The FX series follows the titular Reservation Dogs, a crew of four Indigenous teenagers living on a reservation in rural Oklahoma, as they try to navigate growing up Native in the wake of losing their fifth member, Daniel (Dalton Cramer), to suicide. The series, created by Sterlin Harjo and Taika Waititi, is equal turns hilarious and heartwarming, eye-opening and gut-busting. "Reservation Dogs" finds universal truths in its very specific viewpoints, helping viewers empathize with characters that American pop culture has all too often ignored.  
One thing that "Reservation Dogs" does brilliantly is create a fully lived-in world for its characters, and the direction can change quite a bit from episode to episode based on the perspective characters. In an interview with /Film's Jack Giroux, writer, director, and executive producer Tazbah Chavez explained that there is one golden rule when making the series: doing whatever best serves the story. That may seem like a no-brainer, but in the highly-stylized world of TV, flexibility in filming is surprisingly rare. 
Episodes as mini-movies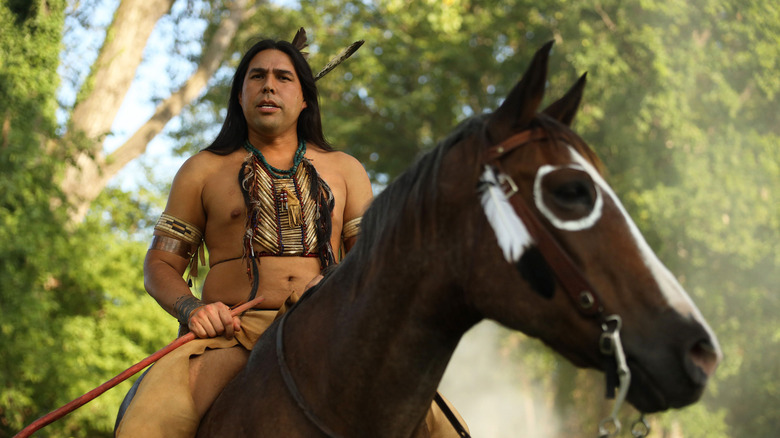 FX
In the interview, Chavez explained that they try to avoid camera work that "looks like" TV, and "Reservation Dogs" is appropriately cinematic. Each episode is unique, however, both in tone and visual language. Chavez said that while the other directors do study Harjo's episodes, including the pilot, to make sure they're on the same page, they're also encouraged to make the episodes their own:
"Sterlin has always said, there's the one thing in that episode that's your marker, your thing. If you look at Blackhorse's [director Blackhorse Lowe] episodes, Blackhorse is great at movement. Other than that, most of us that direct on the show work on the show, so it's not the same as going into a different television show where there are rules, where it's like, 'We only shoot in wides. We stay out of singles. We reserve movement for specific things.' That's not really here."
While there's some of that exploration in season 1, the creative differences between the episodes got much stronger in season 2. One of the best episodes in season 2 is "Wide Net," which is directed by Chavez and follows the Aunties, the women of the reservation, as they party and try to hook up during their yearly trip to the Indian Health Services convention. While many of the episodes have a coming-of-age, lazy summer day kind of energy, "Wide Net" is a pure sex comedy, and it gives the Aunties a chance to shine. 
The power of perspective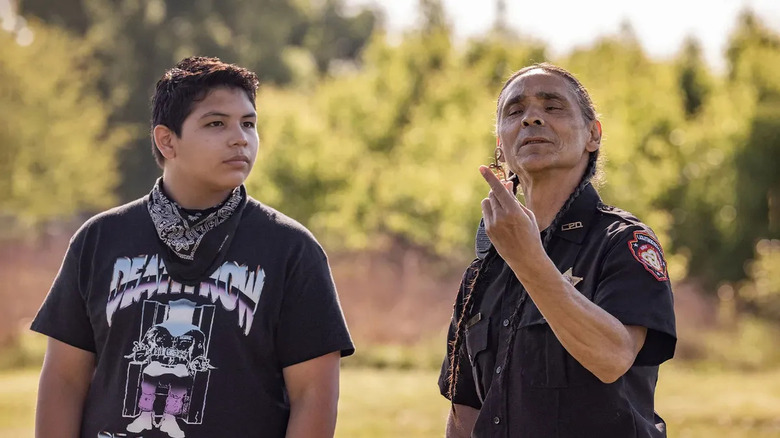 FX
Each episode tends to follow one or two main perspectives, using their way of looking at the world as a focal point for the rest of us as well. In "Wide Net," there's plenty of the female gaze, lingering on bodies and highlighting what the Aunties see as they try to catch themselves a mate for the night. The show frequently uses hand-held cameras to allow for more intimate storytelling, but Chavez said that more than anything, the directors rely on their instincts to know which direction style to use:
"We do what best serves the story. To me, it ends up coming out as these little mini-movies, which is cool. I also don't know if I'm so ingrained in it that I just don't realize that we do. We go with our gut. There hasn't really been anything where Sterlin's been like, 'Hey, we don't do that.' Other projects, for sure, will be like, 'Oh, we don't do handheld.' That's just the nature of the show, and that's totally fine."
Having that kind of creative freedom allows the episodic directors to add their own stamp to the series. "Reservation Dogs" is a wonderful, deeply authentic look into Indigenous life created by a team of almost entirely Indigenous people on- and off-camera. Perspective is everything and allowing the directors to make each episode their own brings their unique viewpoint to the plate, too. 
FX has already greenlit the third season, so if you haven't seen this amazing series yet, go check it out on Hulu and see how ground-breaking this kind of creative freedom can get.