The Daily Stream: Reservation Dogs Is A Groundbreaking And Hilarious Coming-Of-Age Series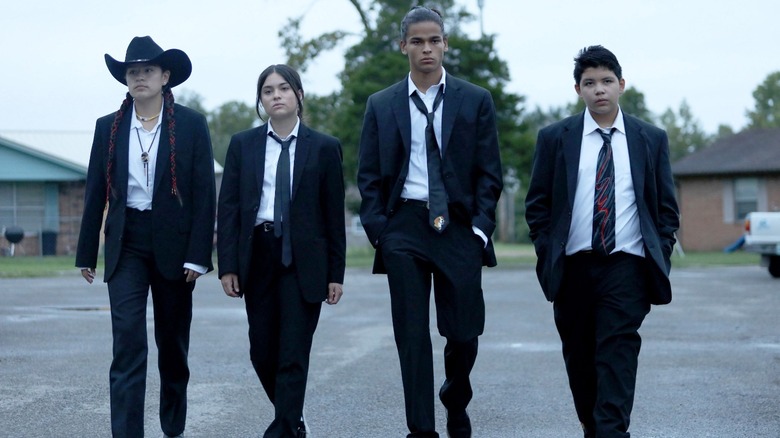 (Welcome to The Daily Stream, an ongoing series in which the /Film team shares what they've been watching, why it's worth checking out, and where you can stream it.)
The Series: "Reservation Dogs"
Where You Can Stream It: Hulu
The Pitch: In this casually groundbreaking coming-of-age series, four Native American teenagers fashion themselves into small-time criminals in hopes of making enough money to move to California. The first season drops viewers squarely in the middle of rural Oklahoma, where tough Alora (Devery Jacobs), spiritually inclined Bear (D'Pharaoh Woon-A-Tai), tomboy Willie Jack (Paulina Alexis), and sweet oddball Cheese (Lane Factor) are trying to escape their hometown after the death of their friend Daniel. They're scrappy and resilient, stealing and re-selling a potato chip delivery truck in the series' funny, heart-pounding first episode. Throughout the season, the group encounters local elders who guide (or misguide) them on their journey with near-mythical stories, as when Officer Big (Zahn McClarnon) recounts his childhood incident with the Deer Lady, or Uncle Brownie (Gary Farmer) relives the time he knocked out 20 dudes in a bar brawl.
Why It's Essential Viewing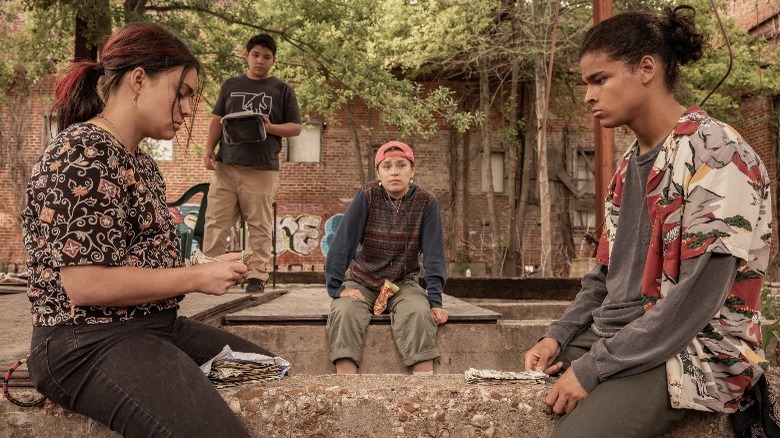 FX
"Reservation Dogs" is created by Sterlin Harjo and Taika Waititi. With its largely Indigenous cast and crew, it breaks storytelling ground that should've been ceded a long time ago. The talented cast includes an array of hardworking actors who have long-since navigated an industry that has offered few multi-dimensional roles for Native American characters. Here, they're able to dig into roles that are thoughtful, original, and funny, and no one plays second fiddle to a white protagonist.
The young cast is also stunningly talented. Bear, Alora, Willie Jack, and Cheese are all dealing with deep and specific pain, and as the show's first season unfolds, we slowly learn about each character's motivation for leaving Oklahoma. The teenage cast brings the story to life, and the group is so dynamic that it's impossible to watch "Reservation Dogs" without rooting for them as if they're real people. For all their posturing, it's clear that they're just kids, and the series does an excellent job weighing their childlike imaginations and interests with the hard shell of emotionally invulnerability they've built up over the years.
"Reservation Dogs" is a great story with a great cast and crew, and it's also told incredibly well. The first season's slate of directors includes Harjo, Sydney Freeland, Tazbah Rose Chavez, and Blackhorse Lowe, with each executing a specific vision for the characters. The show is often surreal, as when Bear is guided by a less-than-valorous ancestor named Spirit (Dallas Goldtooth) or when Willie Jack hunts for a cryptid called the Tall Man. Touches like this make for a more creative story — one that melds reality and cultural legend together and is freed from the traditional constraints of the often hyper-realistic coming-of-age genre in the process.
The list of things to love about "Reservation Dogs" goes on, from its pitch-perfect soundtrack to its casually hilarious dialogue, but its biggest achievement is its existence as a rare work by, for, and about Native American people. This show doesn't care if white audiences know what "Skoden" means, or if you get the joke about the owl with the censor bar over its eyes. The default "American" perspective for immersive storytelling has been too white since the dawn of filmmaking, and a series as clever, entertaining, and culturally specific as "Reservation Dogs" is long overdue. Catch on, catch up, and enjoy the bumpy, Hot Cheetos-fueled ride.