The Peripheral Actress Alexandra Billings Hopes The Amazon Series Sparks Conversation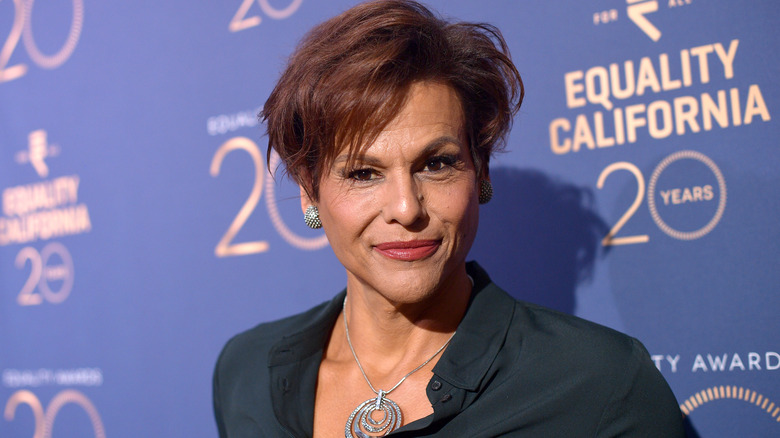 Matt Winkelmeyer/Getty Images
Prime Video has had a rough track record with their science-fiction programming, with both "Paper Girls" and the J.K. Simmons and Sissy Spacek "Night Sky" getting the axe after just one season. However, the streamer is hoping to turn the tides with their new Chloë Grace Moretz-starring adaptation of "The Peripheral," based on William Gibson's novel of the same name. The series centers on a young woman named Flynne, who comes across a VR helmet that gives her the ability to be transported 70 years in the future. She thinks at first she's just in a dystopian game, but quickly realizes this is the world ahead. Now, Flynne is torn between enduring her rural existence in her own timeline, and being caught in a battle leading toward the impending fall of London.
Moretz is joined by a dynamic cast, including Jack Reynor ("Midsommar"), Gary Carr ("Downton Abbey"), Eli Goree ("One Night in Miami"), Louis Herthum ("Westworld"), JJ Feild ("Ford v. Ferrari"), T'Nia Miller ("The Haunting of Bly Manor"), Charlotte Riley ("Peaky Blinders"), Adelind Horan ("The Deuce"), Alex Hernandez ("UnReal"), Katie Leung ("Chimerica"), Julian Moore-Cook ("Peaky Blinders"), Melinda Page Hamilton ("Messiah"), Chris Coy ("The Deuce"), Amber Rose Revah ("Last Light"), Austin Rising ("Alt"), and Alexandra Billings ("Transparent").
In a recent interview with The Hollywood Reporter, Billings talked about what she loved most about working on "The Peripheral," and what she hopes people take away from the show. As a trans actress playing a trans character, Billings hopes that the series can spark some much needed conversation.
'I just hope people talk'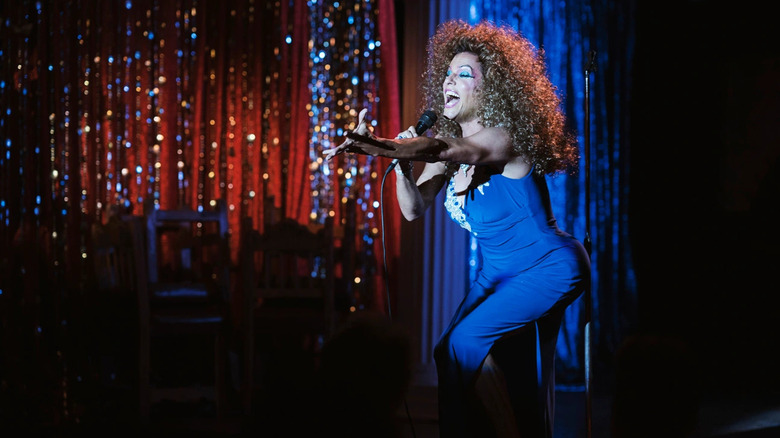 Prime Video
Alexandra Billings holds the distinction of being the first openly transgender woman to have played a transgender character on television, but has a storied career on screen and stage. Known for her roles on "Transparent," "The Conners," "The Guardians of Justice" and "Wicked," Billings is also a very vocal trans activist, also appearing in the documentary "Disclosure." In regard to "The Peripheral," Billings believes that the show as a "familial foundation" not often shown in other sci-fi shows. "Or if they have it, they don't go into the center," she said. "This show goes into the center — brother and sister and parent and child and lover to lover — these relationships are extraordinary."
Billings plays a trans character named Detective Ainsley Lowbeer, and hopes that her character inspires conversations about queerness and gender identity among audiences. "I really hope that people have conversations about the queerness of the show, the fact that there's a trans character in it," Billings said. "Even if it bothers you, even if it's upsetting, triggering in some kind of way, any kind of conversation." Billings even said that she doesn't mind if the conversations aren't positive. "I know how this is gonna sound, but even if it's misinformation, in the center of that is the beginning of information, somewhere in the middle of that mess, you'll be able to find some truth. So, I just hope people talk."
"The Peripheral" arrives on Prime Video on October 21, 2022.