Paper Girls Has Been Canceled By Amazon After One Season, Could Find A New Streaming Home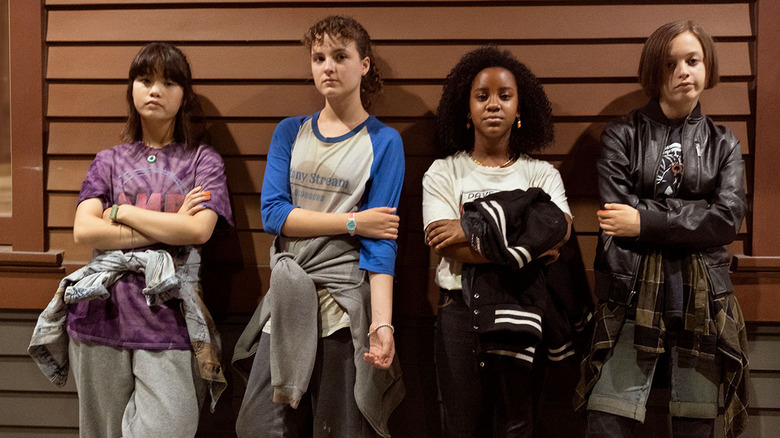 Prime Video
I guess we weren't meant to have nice things after all. In absolutely devastating news, Prime Video has announced that their fantastic adaptation of the sci-fi comic book series "Paper Girls" has been canceled after just one season. Based on the brilliant series written by Brian K. Vaughan and illustrated by Cliff Chiang, "Paper Girls" is a powerful coming-of-age story about four newspaper delivery girls who accidentally travel to the future and find themselves trapped in the middle of a time war. Unfairly compared to "Stranger Things," the power of "Paper Girls" lies in its deeply heartfelt exploration of coming face-to-face with your own destiny, headlined by four incredible talented young actors (Riley Lei Nelet, Camryn Jones, Fina Strazza, and Sofia Rosinsky).
The decision not to renew the season comes just over a month after season 1 completed on the streamer, nabbing positive reviews from critics and audiences alike. Unfortunately, as we saw earlier this year with the J.K. Simmons and Sissy Spacek series "Night Sky," acclaim isn't enough to keep the lights on for a series on Prime Video. It's a true shame, because as /Film's own Valerie Ettenhofer said in her review of the series, "'Paper Girls' is the rare comic book adaptation that both honors and improves upon the source material."
Fortunately, not all hope is lost, as according to a report from Deadline, Legendary TV is looking to shop the series around for future seasons, hoping to bank on the crossover appeal of shows like "Euphoria" or "Sex Lives of College Girls." Then again, both of those series are on HBO/HBO Max, a company that believes their streaming platform "skews male." Whatever.
Crushed by the weight of the Rings of Power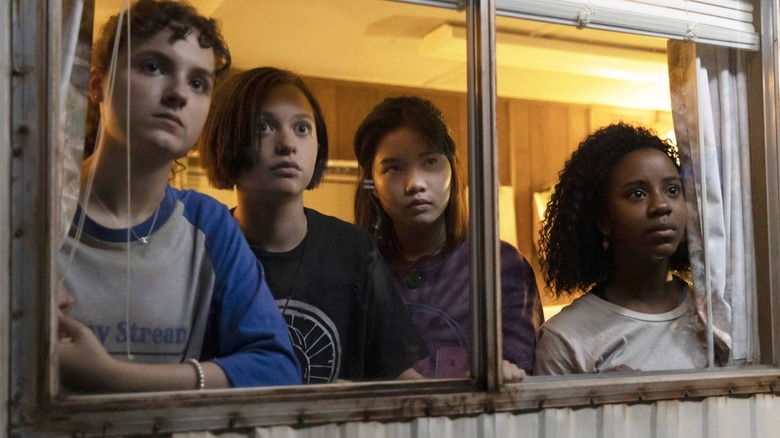 Prime Video
Despite being the streaming platform of one of the most powerful companies in the world, Prime Video royally blows at promoting their own shows. If it wasn't because I work at /Film and spend my days buried in entertainment news, I wouldn't have a damn clue about any of the original programming on their platform. "Paper Girls" never broke into the Nielsen weekly streaming rankings, and it's likely because it was absolutely squashed by the build up for "Lord of the Rings: The Rings of Power." Amazon shelled out hundreds of millions of dollars to create the show, and their marketing approach surely reflected the price tag.
Prime Video desperately needs to make back the money they've invested in "Rings of Power," which meant all of their other offerings were going to suffer because of it. With both "Paper Girls" and "Night Sky" being sci-fi series canceled after one season, this feels worrisome for the upcoming William Gibson adaptation of "The Peripheral." The cancellation is also an unfortunate trend as of late where shows featuring sapphic characters are scrapped after one or two seasons. "Paper Girls" was special because it featured the stories of a first generation Chinese girl, a Black girl who would invent time travel, a young Jewish lesbian filmmaker, and a gender role-bucking queer girl who grew up in poverty. This type of representation is unheard of, and to see it tossed aside to make room for a massive IP feels like a slap in the face. 
Here's hoping someone with enough sense to realize what a glorious gift "Paper Girls" is can save the series and let their stories continue on.