Paper Girls TV Series First Look Shows Off Amazon's Take On The Brilliant Sci-Fi Comic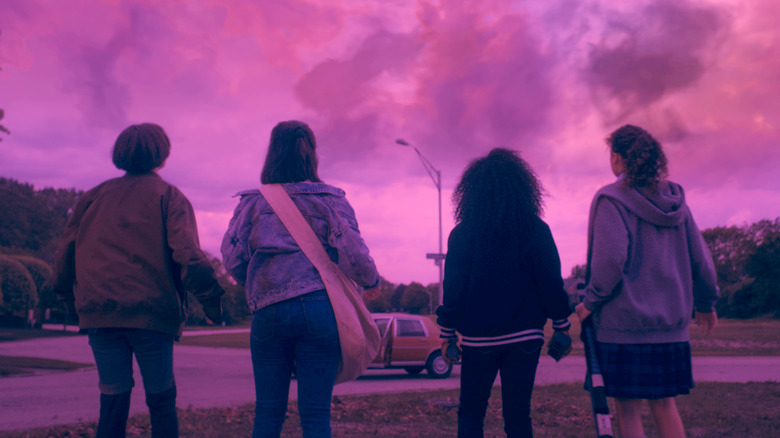 Prime Video
Extra! Extra! Extra! Prime Video's "Paper Girls" are riding up to your doorstep as we speak and they come bearing gifts: our first look at the upcoming sci-fi coming-of-age saga. The series takes its story from Brian K. Vaughan and Cliff Chiang's acclaimed comic book series of the same name, following four 12-year old newspaper delivery girls who make a starling discovery. After first meeting up in the early morning hours after Halloween 1988, the girls stumble upon a time machine that sends them into the present day — where they meet their future selves. In the process, they also finds themselves caught in the middle of a conflict between warring time-travelers and, like so many young heroes before them, they're tasked with saving the world.
The series has been described as "an emotional adventure in which the girls and the women they eventually become are tough, their friendships are authentic, and their journey through time is epic." And all that from a group of paper girls! The concept of kids riding around on bikes and throwing newspapers at doors may not sound especially badass, but for Vaughan, that's exactly where this story started. He told EW:
"I just thought it was so badass that these 12-year-old children were going out at 4 a.m. to deliver bad news to adults. It was just so interesting and captivating that they were newspaper delivery kids, sort of a dying breed, and yet they were the first of their kind. I thought, 'this is such an interesting group of young women. They would make a great heart of a story.' So it started with that inspiration and expanded from there."
You might say the idea had legs, given it led to 30 issues of the "Paper Girls" comic and the very Prime Video adaptation that's premiering on the streamer next month. You can check out our first look at the series below.
First Look at Paper Girls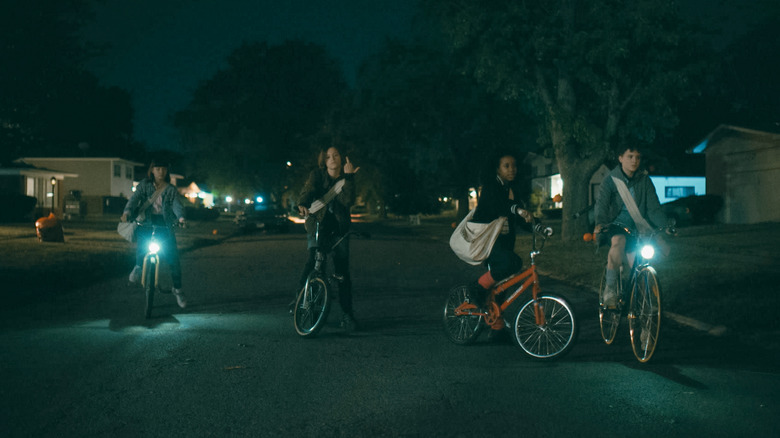 Prime Video
Our first look at "Paper Girls" comes courtesy of Entertainment Weekly, featuring, among other things, four childhood best friends riding their bikes through an 80's suburbs — and they have no idea that their coming-of-age is about to collide with some life-altering sci-fi developments. In a lot of ways, this is just begging for the "Stranger Things" comparison — especially as the Netflix show is nearing its end and leaving a void that streamers will be angling to fill. But "Paper Girls" has its own unique identity that the show will continue to carve out. For one, it's a direct response to the way nostalgic media whitewashes the worst aspects of the time period, by ignoring diversity.
"Paper Girls" stars Sofia Rosinsky as Mac Coyle, Camryn Jones as Tiffany Quilkin, Riley Lai Nelet as Erin Tieng, and Fina Strazza as K.J. Brandman. Chiang and Vaughan shared that when they first started writing the group, they hoped to build a foursome "in the mold of icons like the Teenage Mutant Ninja Turtles or the Beatles," each bringing distinct personalities to the table. Chiang said:
"Between Erin and Tiffany and, and K.J. and Mac, there's such a great diversity within the group of personalities. I think it's easy to find yourself in one of them, if not all of them."
Vaughan always empathized with Tiffany in particular (because of her video-game addiction), while Chiang held Erin close to his heart.
"That character is really important to me. To be able to tell a story featuring an Asian-American character that's not necessarily an immigrant story but a coming-of-age story... I kind of didn't realize how much I needed it until I was drawing it."
Paper Girls will be for everyone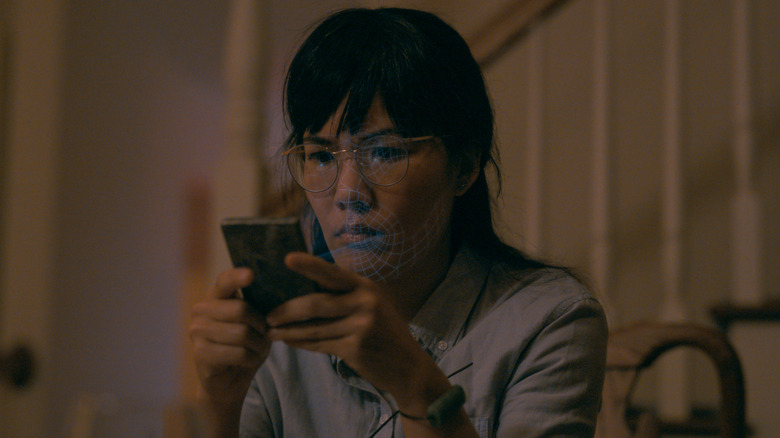 Prime Video
Another big point of excitement was having Ali Wong sign on to play adult Erin. Chiang called it a fantastic showcase for the actress, known to most for her stand-up comedy: "We know her so much through her comedy, so then here to see her do something dramatic and a little bittersweet is a really fantastic showcase for her."
Throughout the adaptation process, Vaughan and Chiang assisted the "Paper Girls" team by providing detailed notes on the characters' backgrounds and designs. But as dear as the comic series is to their hearts — and to their audience — both agree that the show is taking the story to new levels. Vaughan stressed that the show isn't merely copy-pasting the comics onto TV screens because, "comics are its own unique medium, and television can do things that we can't." He added:
"If you've never heard of Paper Girls, if you're not familiar with this comic, then the show is still 100 percent accessible and I think you will love it. But if you're a hardcore fan of the comic, it's still going to be extremely surprising to you. With our blessing, they go to some places that we never could as a comic and there are new characters, there are new threats."
"Paper Girls" is coming to Prime Video on July 29, 2022.