The Peripheral Trailer: Chloë Grace Moretz Must Survive A Neofuturistic Nightmare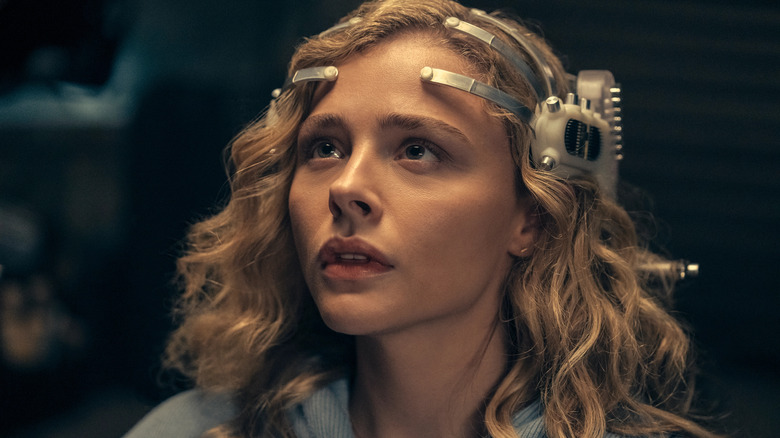 Prime Video
Prime Video has been cranking out one sci-fi adventure series after another, with the latest being the Chloë Grace Moretz-starring adaptation of "The Peripheral." Based on William Gibson's novel of the same name, "The Peripheral" is the story of a young woman named Flynne, who discovers what she believes to be a virtual reality helmet that transports her to a timeline 70 years in the future, but soon discovers that this is not a game, it's a glimpse into the dystopian world to come. Now, pulled between her own reality of working grunt jobs in a rural area and an impending future that sees the fall of London's society as we know it, Flynne finds herself at the center of a battle she was never supposed to be a part of.
William Gibson's literary work helped pioneer the cyberpunk subgenre, with "The Peripheral" proving foundational for modern sci-fi stories like "Back Mirror." The idea of transforming the technology we use everyday (or futuristic versions of it) as a source for horror and existential questioning can all be traced back to Gibson's works.
"The Peripheral" comes from writer, executive producer Scott B. Smith ("A Simple Plan," "The Ruins"), with Greg Plageman ("Taken," "Person of Interest") serving as executive producer and showrunner. "Westworld" creators Jonathan Nolan and Lisa Joy also executive produce as part of a massive deal they signed with Amazon back in 2019. Vincenzo Natali ("Cube," "Splice") has signed on to direct and executive produce, alongside additional executive producers Athena Wickham and Steve Hoban.
Watch the Peripheral trailer
In case anyone forgot that Chloë Grace Moretz is more than capable of delivering action (did everyone just black out the existence of "Kick-Ass"?), "The Peripheral" trailer has footage of Moretz narrowly avoiding an explosion, along with plenty of punching, fighting, and even the stabbing of a faceless, living mannequin-looking driver by some of the supporting players. As impressive and high-tech as the gadgets used in the future appear to be, it's clear that London is falling apart at the seams. It looks as if one of Gibson's works is finally getting the creative attention (and budget) it so rightfully deserves.
Moretz is joined by a heavy-hitting cast including Jack Reynor ("Midsommar"), Gary Carr ("Downton Abbey"), Eli Goree ("One Night in Miami"), Louis Herthum ("Westworld"), JJ Feild ("Ford v. Ferrari"), T'Nia Miller ("The Haunting of Bly Manor"), Charlotte Riley ("Peaky Blinders"), Alexandra Billings ("Transparent"), Adelind Horan ("The Deuce"), Alex Hernandez ("UnReal"), Katie Leung ("Chimerica"), Julian Moore-Cook ("Peaky Blinders"), Melinda Page Hamilton ("Messiah"), Chris Coy ("The Deuce"), Amber Rose Revah ("Last Light") and Austin Rising ("Alt").
"The Peripheral" will be available on Prime Video starting October 21, 2022.