Joe Cole Felt His Peaky Blinders Role Never Got 'Out Of The Gates'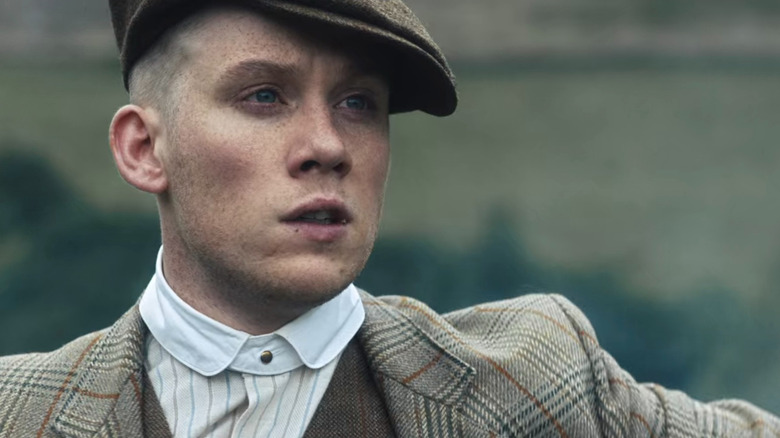 BBC
This article contains spoilers for "Peaky Blinders" up to season 6.
"Peaky Blinders" is a family affair — in more ways than one — but this particular crime family has a definite head, and that is Tommy Shelby (Cillian Murphy). Over the course of six seasons, "Peaky Blinders" juggled the comings and goings of many an ensemble cast member, including Joe Cole and his real-life brother Finn Cole, who played Johnny Shelby and his cousin Michael Gray. Yet both Coles were key players, and the character of Johnny had been with the series from the start, so fans were shocked when he went out in a hail of bullets at the beginning of season 4.
Joe Cole has since gone on to star in "Gangs of London" and the 2022 British TV miniseries "The Ipcress File," and it turns out Johnny's fate may have come as a result of the actor looking to spread his wings and fly as a leading man. While promoting the first season of "Gangs of London" in 2020, Cole spoke to Metro (via Cosmopolitan), where he laid out his reasons for wanting to give up his supporting role on "Peaky Blinders."
"With 'Peaky Blinders' I never really got out of the gates in that role," he said. "It's Cillian's show really. This show ['Gangs of London'] is more ensemble, it follows characters on a deep level."
Cole certainly didn't intend to go from one British gang show to another; that's just how it worked out. "I've spent the last few years turning down gang related shows," he added, "because when a show does well you get offered quite a lot of them. I actually chose to leave 'Peaky Blinders' because I wanted to explore new avenues and new characters and new stories."
He'll visit us no more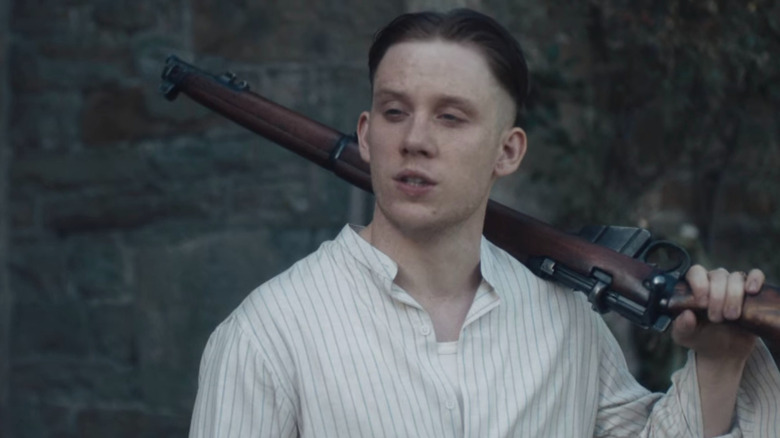 BBC
Though "Peaky Blinders" itself worked to conceal its gangster-movie roots, Cole also talked about growing up on similar shows like "The Sopranos," "Boardwalk Empire," and "The Wire." He said that he felt "Peaky Blinders" and "Gangs of London" could "move the conversation forward" by pivoting away from the usual American settings to ones based in England.
As an actor with his own screen time and career in mind, it's understandable why Cole may have gotten tired of playing second fiddle to Murphy on "Peaky Blinders." Toward the end of the show, its tendency to be Tommy-centric emerged even more, with Murphy's protagonist getting involved in politics and characters like Arthur Shelby Jr. (Paul Anderson) and the aforementioned Michael Gray being marginalized by the former's opium addiction and the latter's move to America (and subsequent jail time). In 2021, the show also had to deal with the unfortunate real-life death of Helen McCrory, whose character, Polly Gray, had always been one of the few who could hold her own in scenes with Tommy.
If there was ever any hope that Polly's ghost might live on in Michael and make him a true equal to Tommy, that ended with Tommy's pronouncement, "She'll visit me no more," just prior to shooting Michael in the face in the sixth and final season of "Peaky Blinders." Maybe Joe Cole just saw the writing on the wall for him and his brother in "Peaky Blinders," and decided to go out on his own terms. Now, he's got his own show, "Gangs of "London," while Murphy has the upcoming "Peaky Blinders" movie to continue the story of Tommy, minus Johnny, Shelby.