Everything We Know About Gangs Of London Season 2 So Far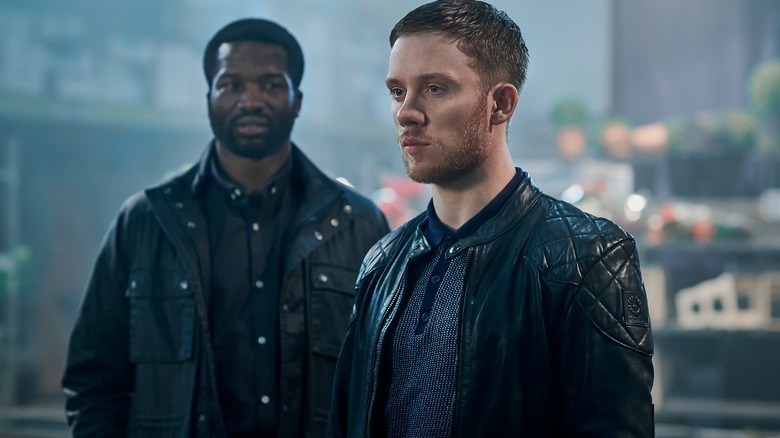 Sky Atlantic
When you think about recent video game adaptations in movies and television, "Gangs of London" isn't likely to appear at the top of anyone's list of the most obvious candidates. Fans of the British crime drama series, however, know that it's loosely based on 2006 open-world video game that goes by the same name, proving that inspiration for critically acclaimed and riveting storytelling can truly come from anywhere. The series is set in the heart of London (obviously), dealing with the power struggles between the many gangs — some local, but many international — seeking to exert their own influences and control over the entire city. If I were to purposefully explain it badly, think of it as an updated and modernized retelling of "Peaky Blinders," with all the political intrigue, power jostling, and gang rivalries that similarly define the Cillian Murphy-starring BBC series.
"Gangs of London" comes with some serious creative pedigree, thanks to director Gareth Evans' significant amount of involvement, and the impending arrival of the second season reflects the network's confidence in the creative team and the audience that the show has built since its UK debut in April of 2020. Of course, that means fans have experienced quite a wait since the first season wrapped up, but hopefully that patience is about to finally pay off later this year. Here's everything we know so far about "Gangs of London" Season 2.
When and Where to Watch Gangs of London Season 2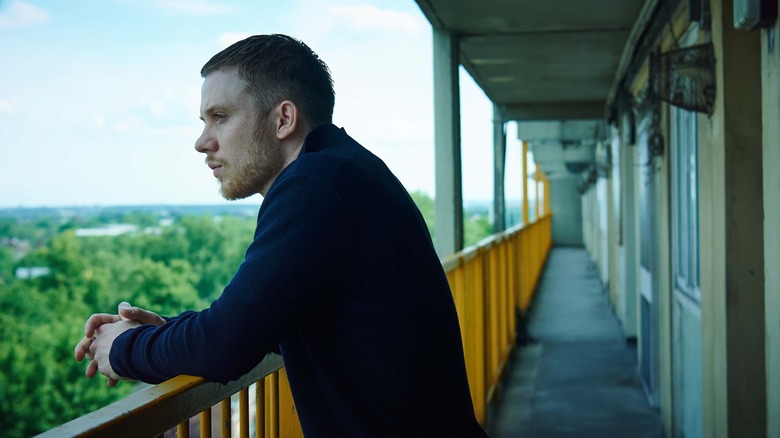 Sky Atlantic
Few shows have experienced as much of a stark divide in terms of release as "Gangs of London" has. Released in the UK on April 23, 2020, those of us on this side of the pond had no other recourse to actually watch the series. With the arrival of HBO Max, WarnerMedia's previous deal with Cinemax fell by the wayside and "Gangs of London" turned out to be an early victim of the studio's change in direction. Instead, only subscribers to the AMC+ streaming service were able to enjoy the series when it premiered digitally in October of 2020. It would take until April of 2021 for the show to be made available on the regular AMC cable channel, a decision likely made in the hopes that more subscribers would flock to the streaming servie in time for the second season. Until then, fans can still catch all 9 episodes of the first season on AMC+.
So when will Season 2 release? As of the time of this writing, all we know for certain is to expect the second season to premiere in early 2022. Production was chugging along as recently as December, when Sky dropped a teaser for the next season announcing its return in 2022.
What We Think Gangs of London Season 2 Will Be About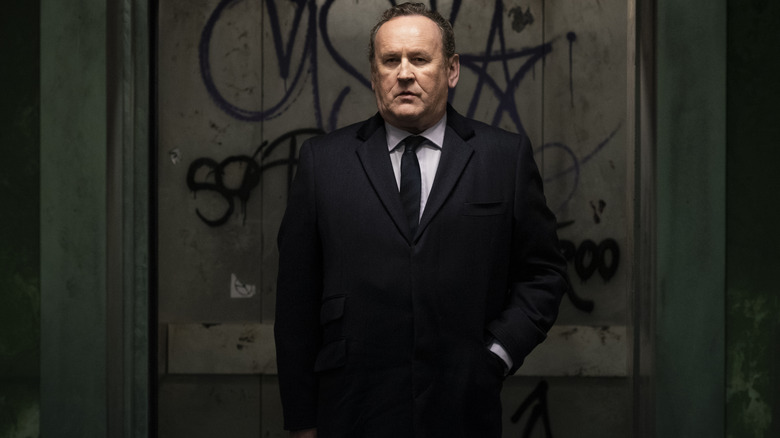 Sky Atlantic
Season 1 of "Gangs of London" explored the labyrinthine underworld of criminal London, beginning with the inciting murder of London's top crime lord Finn Wallace, who held the position and brought a certain stability to the scene for the past twenty years or so. The need to find out who killed him and why drives his son Sean to learn as much as he can about his late father's business and familiarize himself with the criminal world, at large. The ramifications of Sean's rise to power send out ripple effects throughout the various criminal elements fighting one another, eventually leading to escalations in attacks, attempted murders, a blown-up building or two, and even capture and interrogation by government agents.
Specific details on Season 2 have been kept under wraps just as much as its precise release date, but the first season leaves Sean with a vastly different outlook on his father's legacy than when he first began his journey. That journey comes to a shocking close when he's killed off in the season finale, leaving the second season wide-open in terms of possible directions to take the plot — particularly through the continuing storyline regarding Elliot Finch, the undercover cop who attempts to infiltrate the Wallace crime family but ends up drawn even deeper into their web. Season 2 is confirmed to take place a year after the events of the previous season. Season 2 has been described as:
"Since the collapse of the Wallace Dumani empire, order is lacking, and the energy and chaos of a gold rush threatens the city with gangland anarchy.

The Investors are viewing the city as a place of ruin and decide enough is enough. Licensing a new gang to restore stability, drama instead ensues. These brutal enforcers bring a new kind of authority, coldly designed to terrorize the other gangs into submission. Anyone doing business in the city must now go through them, and our gangs must decide where their loyalties lie if they are to survive."
What We Know About Gangs of London Season 2 Cast and Crew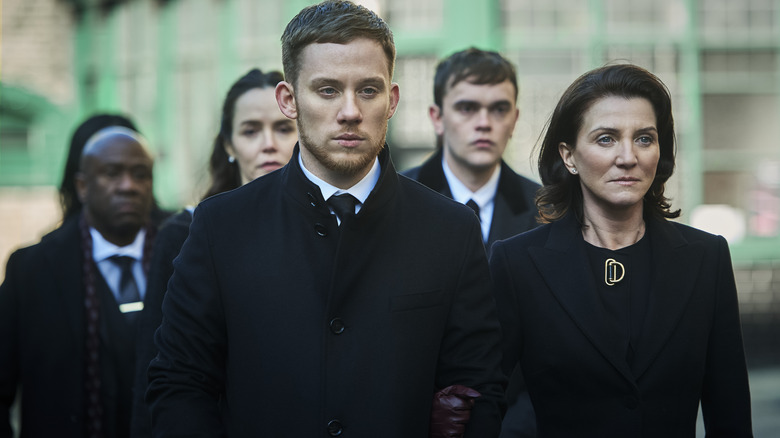 Sky Atlantic
The sprawling cast of "Gangs of London" Season 1 included Colm Meaney (of "Star Trek" fame!) as Finn Wallace, who still appears throughout the first season post-death thanks to the copious use of flashbacks filling in important backstory and events from the past. Joe Cole, who played John Shelby in "Peaky Blinders," portrayed Finn's son Sean. The rest of the ensemble features Michelle Fairley ("Game of Thrones") as Finn's widow Marian, Valene Kane as Finn's daughter Jacqueline Robinson, Brian Vernel as Finn's other son Billy, Lucian Msamati as Ed Dumani, Ṣọpẹ́ Dìrísù as Elliot Finch, and much more. It's unclear whether Joe Cole will return for Season 2, but much of the original cast is set to return alongside new additions such as Waleed Zuaiter ("Baghdad Central"), French rapper Jasmine Armando in her first television role, Salem Kali ("Un Prophete"), Aymen Hamdouchi ("SAS: Red Notice"), and Fady El-Sayed ("Baghdad Central").