Peaky Blinders Was Careful With Referencing Its Gangster Movie Roots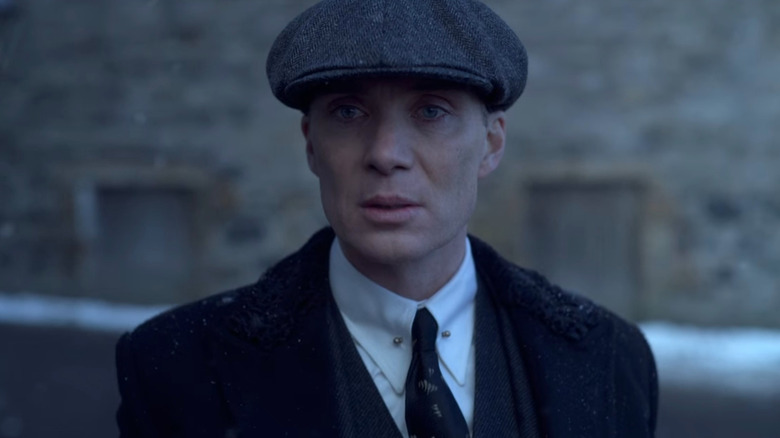 Netflix
"Peaky Blinders" is part of a continuum of gangster movies and TV shows that dates back to the early 1930s when actors like James Cagney and Edward G. Robinson were making black-and-white films such as "The Public Enemy" and "Little Caesar." Even on television, "Peaky Blinders" was predated by prestige dramas like "The Sopranos" and "Boardwalk Empire," but one thing that set it apart from the bulk of its predecessors was its focus on a street gang in Birmingham, England, as opposed to the Italian mafia in America.
When Cillian Murphy donned his razor blade cap to play series protagonist Thomas Shelby in "Peaky Blinders," he was aware, as any actor would be, of those genre conventions, which "The Godfather" and "Goodfellas" helped popularize. In an interview with Deadline just before the final season of "Peaky Blinders" hit Netflix in June 2022, the actor said, "I think you make a gangster show, you're always aware of the great gangster films, of America really. There's a very narrow corridor and you kind of bump shoulders with these stories as you go along inevitably. I think ours differentiates itself very much because of the British setting and the British culture, and the working-class story is obviously a big deal."
From Murphy's perspective, "Peaky Blinders" did not seek to overtly homage or emulate any pre-existing mob movies. "We never consciously — ever — tipped our hat to those films," he said. "When people see references to them I suppose that's subconsciously coming from us."
Though it's more subtle than Martin Scorsese's self-referential "The Irishman," "Peaky Blinders" is not without a few mob movie callbacks, however.
The next section contains spoilers for "Peaky Blinders" season 6.
'Sometimes it's conscious'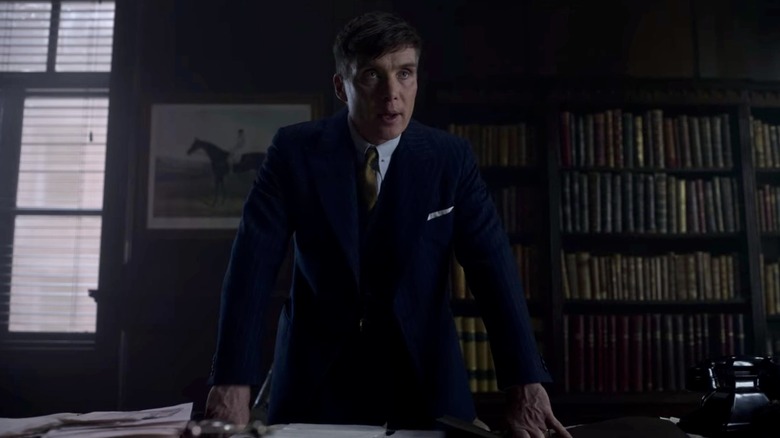 Netflix
In "The Godfather," for instance, Michael Corleone (Al Pacino) orchestrates the assassination of several mob rivals, including Moe Greene (Alex Rocco), whom Michael's hitmen shoot in the eye during the famous baptism montage. The "Peaky Blinders" series finale also sees Thomas Shelby himself shoot a character named Michael in the eye — in this case, his cousin, Michael Gray (Finn Cole). In addition, there's a shootout that The Guardian and other sources cite as reminiscent of the Odessa Steps sequence in "Battleship Potemkin," which inspired the climax of "The Untouchables," with its baby carriage falling down the steps amid a slow-motion gunfight.
In a separate interview with Deadline, "Peaky Blinders" creator Steven Knight acknowledged that moments like these were written into the script, even knowingly upon occasion. He said: 
"Sometimes it's conscious. Sometimes it's things conspire in such a way. In other words, if you're doing 1930s, you're doing gangsters, you're in North America — you know what I mean — the look is gonna be resonant of 'Godfather.' There are bits – oranges and using those symbols and bits that represent that. But there's lots of other references that are there as well which hopefully people can enjoy."
"Peaky Blinders," the series, may be over, but the story will continue in an upcoming film, so rather than just being a cinematic television show, it will soon be a real part of the gangster movie tradition. Yet with the way season 6 moved into pre-World War II political intrigue, it may also be drawing as much from the tradition of historical dramas and war movies as Thomas Shelby, now a Member of Parliament, works to stop the rise of fascism.