Playing Kira Nerys On Star Trek: Deep Space Nine Changed Nana Visitor [Exclusive]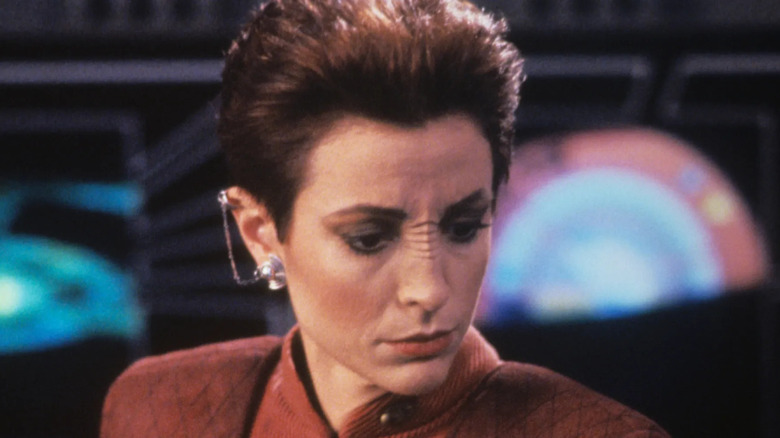 Paramount
In the latest episode of "Star Trek: Lower Decks," called "Hear All, Trust Nothing," the U.S.S. Cerritos visits Deep Space Nine, the space station featured in the 1993 "Star Trek" series of the same name. The last audiences had seen of the station was in the final episode of "Deep Space Nine," which aired in 1999. In the timeline of "Star Trek," however, only about seven or eight years had passed since that episode ("DS9" left off in 2375 and "Lower Decks" is currently in 2382 or 2383), meaning the station would look more or less familiar to fans. The Promenade is still in business, Morn is still drinking at Quark's, and some familiar characters are still living there. Returning to reprise their roles are Armin Shimerman as Quark and Nana Visitor as Col. Kira Nerys. 
Col. Kira, like so much of "Deep Space Nine," was a unique creation in "Star Trek." She was not a Starfleet officer and had no impulses toward protocol the way the relatively upright characters on "Star Trek: The Next Generation" did. Kira was a Bajoran whose planet had been left in ruins by the violent Cardassian military occupation. Kira, during said occupation, committed many violent acts of terrorism as a resistance fighter. She now served as the second in command on Deep Space Nine, eager to aid her planet's reconstruction. 
Kira, however, was the opposite of a Starfleet diplomat, and hated the emerging opportunistic Bajoran theocracy. She hated a lot things. Kira was gruff, annoyed, forthright, determined. 
/Film's Danielle Ryan was able to interview Visitor recently, and she admitted that seven seasons playing Kira transformed her. Indeed, Kira altered Visitor's brain chemistry.
How does aging work in space?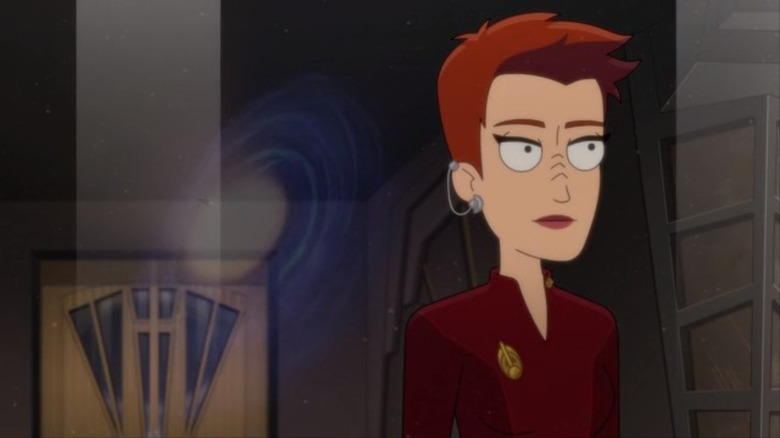 Paramount
Visitor, rather amusingly, points out that she had no control over the way Kira was to look on the animated "Lower Decks," so she was eager to see how she was to be caricaturized. She also seemingly wasn't entirely clear as to the timeline on "Lower Decks," so she didn't really know how old Kira was meant to be. Very quickly, however, she pointed out that time is kind of fluid on "Star Trek," and any number of spatial phenomena and biological alien quirks could alter someone's age and appearance. The showrunners ultimately selected a look for Kira that more or less matched the way she looked in the final episode of "Deep Space Nine," that is: short haircut and the same uniform. Visitor said:
"I was really interested to see how she would be drawn, how 30 years might look on her if that's what it was. But of course, it's not, it's their own timeline and who knows what space does in terms of all those things anyway. So it was fun that she was really recognizable to me. I enjoyed that."
"Lower Decks" was the first animated "Star Trek" series since 1973, so the experience of being rendered directly in animation is new for many "Trek" actors of this generation. And, seeing as "Lower Decks" exists at least partly to make references to old Trek characters and events, the phenomenon will only expand. To date, likenesses of Visitor, Shimerman, Colm Meaney, Tim Russ, John de Lancie, Jonathan Frakes, Marina Sirtis, and multiple others have appeared on the show.
Altering brain chemistry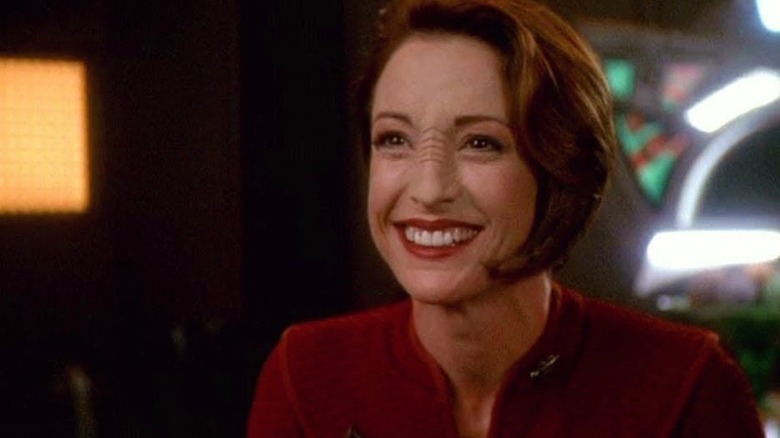 Paramount
When Ryan asked Visitor about returning to the role years after the fact, Visitor admits that it was the most natural thing in the world. Indeed, she admitted that, in playing the same role for seven seasons of television, she and Kira became very close. After a while, The character's thought processes began to resemble those of Visitor's and, curiously, vice versa. Being Kira allowed Visitor to think about her own thought processes, and she found herself thinking like Kira would. Coming back to the role, then, took no time at all, as she was carrying Kira with her ever since the last time. Visitor said:
"[T]hose seven years were like dog years. One year equals seven years. So I was Kira for 49 years, and she is so ingrained in me. Really, she actually shifted who I was, which makes sense when you think of ... You dropped thoughts in your head, and it actually changes the way your brain synaptically forms. So I was shifted by this character in really good ways, in having to accept foibles and having to self-examine. She did a lot of good for me. So it's joyful for me to step into who she is."
Visitor married her "Deep Space Nine" co-star Alexander Siddig in 1997, and the two had a son together named Django. They divorced in 2001. She and "DS9" co-star Terry Farrell also had asteroids named after them. "Deep Space Nine" has seemingly altered a great deal of Visitor's life. Her last film credit was in Patrick Wang's exhilarating small town epic "A Bread Factory."