The Daily Stream: A Bread Factory Provides A Whole Meal
Grasshopper Films
(Welcome to The Daily Stream, an ongoing series in which the /Film team shares what they've been watching, why it's worth checking out, and where you can stream it.)
The Movie: "A Bread Factory"
Where You Can Stream It: Ovid, Kanopy, Topic, and Fandor
The Pitch: Patrick Wang's gentle, conversational, warm, glorious poem "A Bread Factory" is, at its heart, about the value of art. Simultaneously sprawling and intimately handcrafted, "A Bread Factory" will feel comforting and familiar to anyone who has been involved in theater, anyone who loves spending time in libraries, and anyone who has a favorite local diner. It will also feel stressful and oppressive to anyone who has had to face the crushing villainous banality of a local city council meeting. "A Bread Factory" was praised by critics when it was first released in 2018, and even ended up on several top-10 lists of that year, including those from The AV Club, Slant Magazine, The New Yorker, and others besides. It went underseen by the general public because of its limited release schedule — it was only distributed in a few cities. "A Bread Factory" was released as two separate two-hour films (part 1 was titled "For the Sake of Gold," and part 2 was "Walk With Me a While") that were meant to be viewed as a single four-hour film with an intermission, but can just as easily be enjoyed and appreciated as two episodes split up over two days. 
The prodigious length, however, is no endurance test. It is, as the subtitle for the film's second part denotes, a calming stroll through the intense stresses of life, as well as its heady moments of artistic intensity. It is a Gesamtkunstwerk of the highest order, just waiting to be discovered on some of the better streaming services currently running.
Why it's essential viewing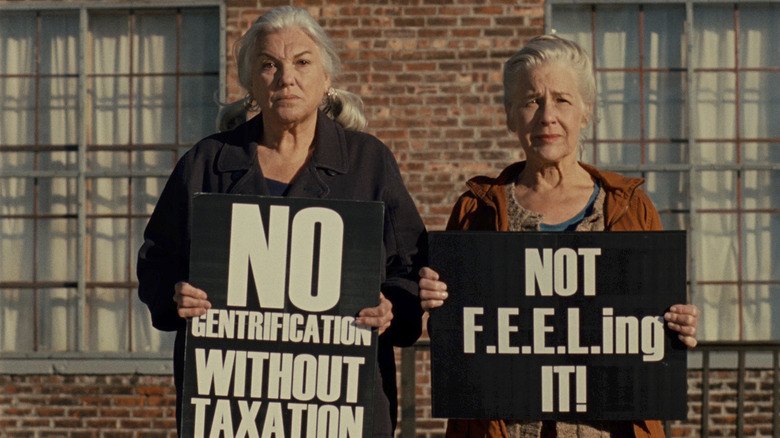 Grasshopper Films
Taking tonal and structural cues from the likes of Hirokazu Kore-eda (for his calm sympathy), Robert Altman (for his enormous, interconnected ensemble), and Edward Yang (for his extended contemplations of the amusing foibles of everyday life), Patrick Wang's film tells the story of the fictional New York town of Checkford (inspired by and shot in Hudson, NY), and centers on a pair of warring arts centers. On one side of town, there is the brand new, well-funded theater that features provocative but hilariously empty performance art pieces by the hipper-than-thou duo May Ray. The pair's shows consist of audience-participation gimmick plays wherein, to cite one example, participants are asked to put hats on their feet in order to "walk around in someone else's shoes." Exit through the gift shop. 
Over on the other side of town is the titular Bread Factory (inspired by Hudson's Time & Space Limited), a well-worn and financially flagging local institution that has been staging classics and ancient Greek plays for the last 40 years. The Bread Factory is run by the married couple Dorothea and Greta (Tyne Daly and Elisabeth Henry), who are facing an existential crisis when local arts funding is threatened to be taken away. A large part of "For the Sake of Gold" is devoted to meetings and arguments as to whether or not the Factory will get funding, and will ultimately come down to a single vote — Karl's (Trevor St. John) — on the city council; it's as thrilling as any Hollywood courtroom drama. 
Throughout, we meet an enormous ensemble of characters connected to the Factory. There is the actor (Brian Murray), a longtime professional clinging to what he perceives to be dignity and re-living a rivalry with a critic who panned him 50 years ago. There is the scholar (Nana Visitor) and her husband (James Marsters), whose marriage may be on the rocks. There is the aspiring high school student (Erica Durham), beloved by the teen intern (Zachary Style). There is the annoyed indie filmmaker (Janeanne Garofalo) who barely tolerates a Q&A from adults, but is all too eager to relay a message of embittered passion to a class of kids. Her message of attacking life with passion is carried home by one of the boys who accuses his mom of cooking a chicken dinner with less than 100% of her soul. There are many others besides. May Ray is played by Janet Hseih and George Young.
Embittered passion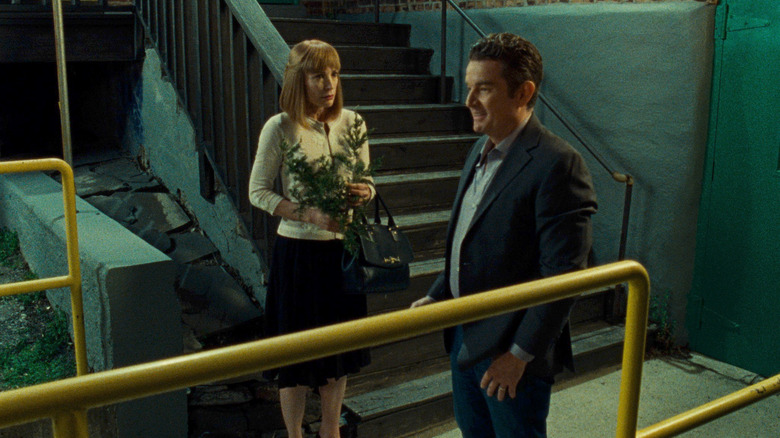 Grasshopper Films
"Embittered passion" may be a good phrase to describe "A Bread Factory's" operational ethos. This is a film very much about the exhilaration of living for art, and the friction that can cause when faced with the dull fineries of the bureaucratic world. The old-world liberal arts education warring with the constant threat of empty art that only succeeds by selling out. Although released in 2018, "A Bread Factory" feels like a relic of the 1990s, when "selling out" was a constant threat, and living a loosely defined Bohemian life of theater and love required struggle, even if that struggle was artificially induced. See "tick, tick... BOOM!" for more of this sentiment. 
But the Daly character isn't a bittern Gen-Xer. She remembers a time in America when "the arts" were an ambition of the working class, and Americans enjoyed better-funded schools and better-funded theaters. Art, she argues, is nothing less than the central component to a healthy community and an enriched mind. That's a hard thing to sell when one can't turn back a profit to a city council. 
In the second part of "A Bread Factory," the arts become so powerful, they more or less break into reality: A group of tourists arrives in Checkford to take in some theater, and frequently break into song and dance. Their performances serve as a distraction for the main characters, who are desperately trying, as smoothly as possible, to put on a production of "Hecuba." Also breaking through the fourth wall is a hunky young movie star (Chris Conroy) who removes his shirt in public and literally mugs at the camera. His movie-star good looks are fun for the locals to ogle, but he is a far cry from the kind of acting The Bread Factory is currently displaying. 
Breaking into the real world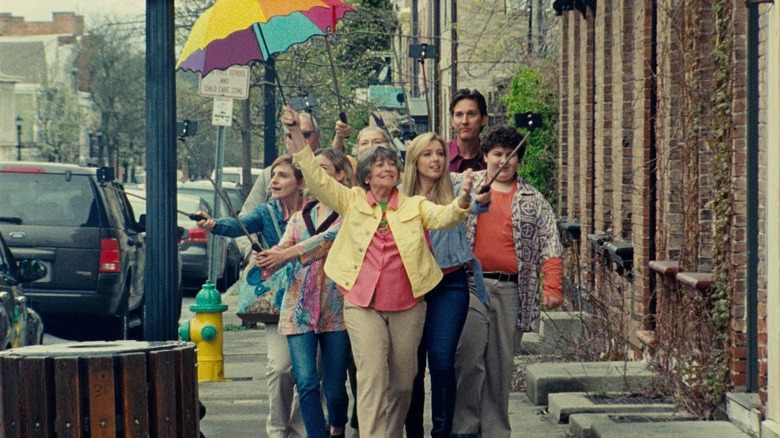 Grasshopper Films
If "For the Sake of Gold" was a hypothesis — that art can still, to this very day, serve as the fulcrum of a healthy soul — "Walk With Me a While" is the test of that hypothesis, presenting art as so full of life and energy that it spills into the outside world. Much of "Walk With Me" is talking, reciting, song and poetry. The camera moves less, and we are invited to have multiple dinners with Andre as artists talk about their need to adapt, their long careers, and the current states of their relationships. The final scenes are full of, yes, embittered passion, as Tyne Daly announces to her longtime wife, how she really feels and what the Bread Factory has meant — or no longer means — in the modern world.
"A Bread Factory" captures a certain ineffable camaraderie that forms between theater troupes, the exhilaration of living for art, the glory of reading a very old book, and the absurd, frustrating whimsey that is an inherent part of everyday life. Thanks to the caprices of streaming services, both parts are now readily available. If you have Kanopy, it's free, and plays free with ads on Fandor. 
"A Bread Factory" was indeed one of the best films of 2018, and it will stay with you, its warmth and humor and stress carried around like a friendship bracelet. Let's make art.