'The Ballad Of Buster Scruggs' Cast Includes James Franco, Tim Blake Nelson, Zoe Kazan, And More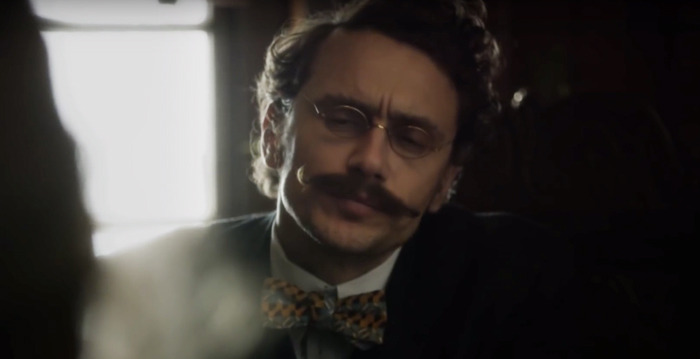 Joel & Ethan Coen's western television series, The Ballad of Buster Scruggs, is about to secure its stars. James Franco (The Disaster Artist), Zoe Kazan (The Big Sick), Tim Blake Nelson (O Brother, Where Art Thou?), and more are closing deals to be a part of the Coen Brothers' first original TV show. Production begins later this month in New Mexico, where the filmmakers shot No Country for Old Men and True Grit.
Below, learn more about The Ballad of Buster Scruggs cast.
According to the Tracking Board, Stephen Root (Get Out), Tyne Daly (Cagney & Lacey), and Ralph Ineson (The Witch) are also finalizing deals. the Coen Brothers wrote and will direct the limited series, which they're collaborating with Annapurna Television on. There are six stories in total, each having a standalone story.
Here's a recent rundown of the episodes:
"The Ballad of Buster Scruggs" is about a singing cowboy (Tim Blake Nelson).
"Near Algodones" is about a high-plains drifter whose own fecklessness dogs his attempts at bank robbery and cattle driving. Franco, Root, and Ineson may star in this episode.
The third story, "Meal Ticket," follows an actor and impresario of a traveling show.
The fourth, "All Gold Canyon," is about a prospector who happily finds a gold seam but then unhappily finds an evil encroacher.
The fifth, "The Gal Who Got Rattled," follows two trail bosses on the Oregon Trail and a woman on the wagon train who needs the help of one of them and who might be a marriage prospect for the other. Kazan, who's great in Ruby Sparks and has been heavily lauded for her work in The Big Sick, might play "the gal who got rattled."
Lastly, "The Mortal Remains," about the five very different passengers on a stagecoach of mysterious destination. Per The Tracking Board, Daly will star in this episode.
Where we'll be able to watch these stories unfold hasn't been announced yet. When news of the series first broke, it was mentioned Annapurna is "pursuing a combined TV / theatrical release," not dissimilar to the old plans for The Dark Tower series that was going to be a tie-in for the upcoming movie. With shooting about to get underway, I'm sure we'll get more details on The Ballad of Buster Scruggs soon, perhaps even before the Coen Brothers-scripted and George Clooney-directed Suburbicon hits theaters in November. Production begins in mid-July and goes until September, and hopefully we'll see The Ballad of Buster Scruggs in 2018.