Never Have I Ever Season 4: Everything We Know About The High School Rom-Com's Final Season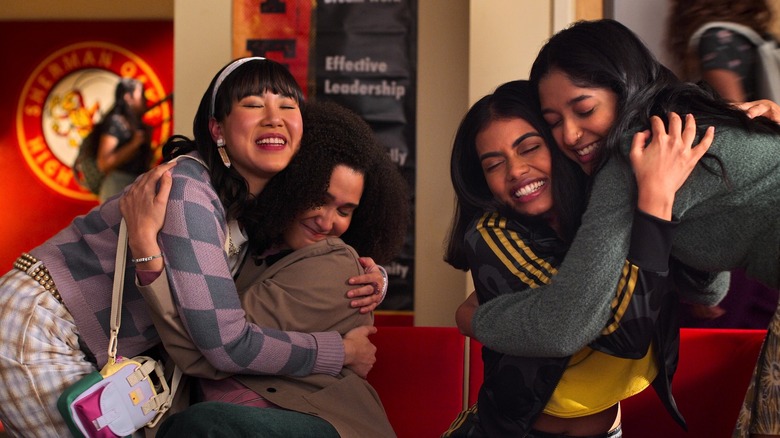 Netflix
The third season of "Never Have I Ever" ended on an epic cliffhanger that left fans desperate for news of the next season. With Sherman Oaks High School's resident will-they-won't-they couple finally together, there will definitely be lots of drama in store for Devi and her friends. Netflix hasn't released many details about season 4 yet, but they have released a few major clues.
In the last moments of season 3, the main character Devi (Maitreyi Ramakrishnan) redeems a coupon for "one free boink" given to her by her frenemy, Ben. Devi spends most of the season dating her long-time crush, Paxton (Darren Barnet), and a new fling, Des. It seems like Devi is finally ready to take Ben seriously as a potential partner, but there may still be some obstacles in the way of their love.
Against all odds, Paxton graduated high school and was set to attend Arizona State University in the fall. This suggested that he would not be returning for season 4. However, Netflix confirmed that Paxton's story isn't over yet. "C'mon guys, you can't get rid of me that easily," Barnet joked in a recent teaser video. "Paxton's back, baby!" Paxton's best friend, Trent, was incredibly sad to hear that his buddy would be leaving him behind while Trent repeated his senior year. If Paxton is still on the show in season 4, this might mean that Trent got his wish and that Paxton is staying in Sherman Oaks after all.
All the characters ended season 3 in a good place — even romantic rivals Ben and Paxton had formed a friendship. The show is still keeping fans on their toes, though. The next season will also introduce a new cast member that promises to shake up Devi's love life once again.
There's a new heartthrob at Sherman Oaks High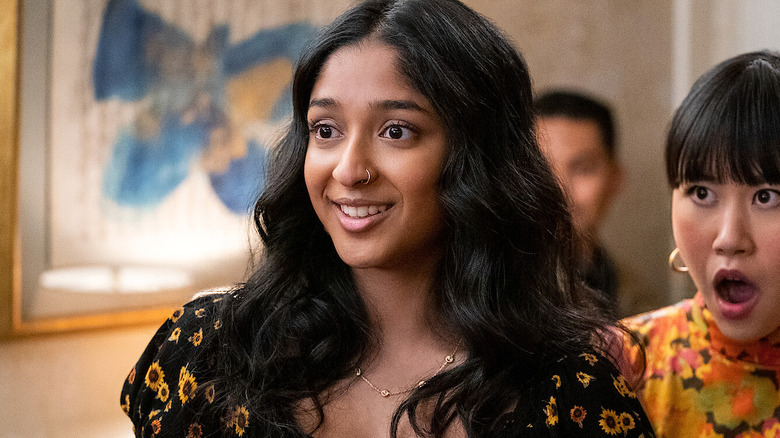 Netflix
Netflix recently announced that Michael Cimino ("Love, Victor," "Annabelle Comes Home") would be joining the cast of "Never Have I Ever." His character, Ethan, will be "the new heartthrob at Sherman Oaks High," the actor confirmed. Even though Paxton and Ben have "got handsome nerd and cool jock covered," as Barnet pointed out, Ethan fits a whole new archetype. "I'm more of a smoldering bad boy," Cimino explained.
A new love triangle — or square — is not the only surprise season 4 has in store. The show's final season will also include a wedding. The most obvious candidates are Devi's cousin, Kamala, and her English teacher, Manish. The pair started dating in season 3 and were still going strong in the finale after Manish finally earned the approval of Kamala's grandmother. However, Kamala has repeatedly expressed doubts about getting married. Plus, Ramakrishnan promises that the bride-and-groom-to-be in the upcoming season were "not who [she] expected."
Season 4 will be the last season of "Never Have I Ever." "Four seasons for a high school show felt like it made sense," series creator Mindy Kaling explained to ET. "They can't be in high school forever." This means that fans will finally discover who Devi is going to end up with for good — or, at the very least, for the beginning of college. Luckily, they might not have to wait for long. The cast finished filming season 4 in August before the third season was released, Ramakrishnan confirmed on Twitter.
So, will Devi's life-long crush on the golden boy overpower her enemies-to-lovers arc? Or will the new bad boy steal her heart? And will Kamala finally get married, or does someone else have nuptials on the horizon? We'll have to wait till season 4 to find out!