Why Never Have I Ever Season 4 Will End The Series, According To Its Creators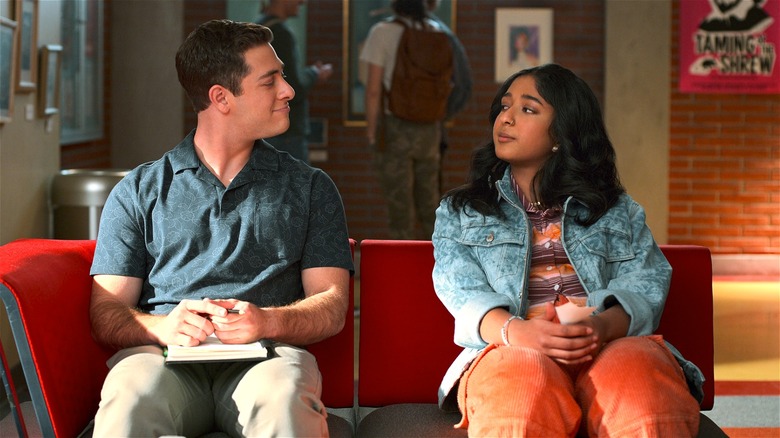 Netflix
Warning: Spoilers ahead for Netflix's "Never Have I Ever."
"Never Have I Ever" co-creators Lang Fisher and Mindy Kaling understand that it is unrealistic for all the adolescent characters in the show to go to college together. Season 3 of "Never Have I Ever" recently premiered on Netflix, ending with Devi (Maitreyi Ramakrishnan) choosing to stay in Sherman Oaks for her senior year despite being accepted into a bougie private college. While this decision allows her to stick around her friends and family longer, the showrunners understand that this premise cannot be stretched beyond the fourth season, which happens to be the final one.
Speaking to Entertainment Weekly, Fisher clarified that Devi and the rest of the gang cannot be in high school forever, and it would be inauthentic to have everyone go to the same college. To end the series "on a high note," season 4 of the show will end with everyone finishing their senior year and going their separate ways. Fisher said:
"It's hard when you have a high school show because you can't keep them in high school forever. The cast gets older and older. Then you start having, like, 30-year-olds going to high school and it's hard to take them to college. I think we felt like this is it, this is good. We can tell this tale and end it the way we want to on a high note and really finish out senior year and it will feel satisfying."
This decision makes sense within the show's context, as there is considerable anxiety about going to college, especially for characters like Devi and Ben (Jaren Lewison). By ending season 4 with the characters finishing high school, the show avoids meaninglessly stretching out the narrative or introducing new characters just for the sake of it.
Why this is a solid decision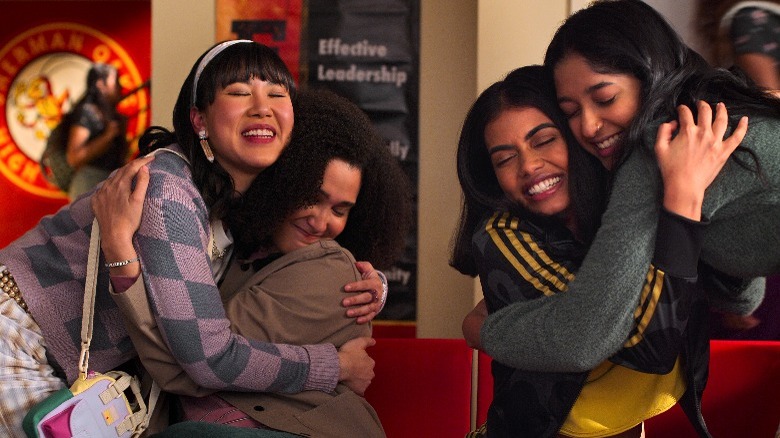 Netflix
"Never Have I Ever" has always been about the highs and lows of growing up. Devi's identity as an Indian-American has been central to her narrative, and her arc has evolved significantly with the show's progression. Season 3 Devi is less of a hot mess, as she displays considerable growth when it comes to her dealing with her teenage problems. There is still a lot to be learned: Devi understands the importance of self-love after her breakup with Paxton (Darren Barnet) and takes small steps toward overcoming the trauma of her father's death.
Season 4 of "Never Have I Ever" being the final season allows Devi to live her dreams as a senior in Sherman Oaks along with her pals. This allows ample space for her to figure out her educational goals and intentions to date someone who values her. As season 3 ends with Devi and Ben hooking up, the final season can finally explore this romantic dynamic in detail.
While most of the beloved characters will be around for season 4, the show recently said goodbye to Paxton, who graduated and moved to attend college in Arizona. This is a great send off for the character, as Paxton was finally able to defy the labels that restricted him and grow into the person he aspired to be. Paxton's Arizona move feels authentic to real life, and is a positive direction for his character even if he will not be appearing in the final season (unless as a guest appearance!). The same sentiment will hopefully be echoed at the end of the show, with Devi and gang graduating and heading towards promising futures that are in sync with what they want.
Season 3 of "Never Have I Ever" is currently streaming on Netflix.