Never Have I Ever Season 3 Trailer: #Daxton Goes Instagram Official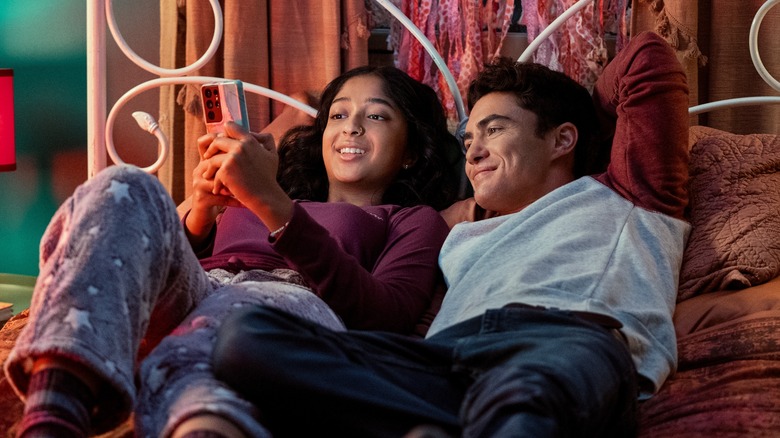 Netflix
When we first met Devi Vishwakumar (Maitreyi Ramakrishnan) in the first season of "Never Have I Ever," she was so bad at processing her emotions that she threw herself in the path of messy teen romance, made terrible life decisions, and basically blew up her life by alienating all of her loved ones. One coyote attack and two boyfriends later, Devi still isn't the best decision-maker in the world, but she's certainly grown up. And somehow in the chaos of it all, she managed to capture the hearts of two different boys: popular swimmer Paxton Hall-Yoshida (Darren Barnett) and her longtime frenemy Ben Gross (Jaren Lewison). Unsurprisingly, this only led to more chaos.
With the series finally returning for a third season, it's time to finally settle on an answer: Team Ben or Team Paxton? Last year, the answer was both, which quickly turned into neither when the two scorned boys learned that Devi was juggling relationships with both of them. But after another season of apologizing, righting her wrongs, and doing some much-needed growth, Devi might actually be ready for a relationship now! Maybe. Her therapist says otherwise, but hey, when has Devi ever listened to logic?
Last we saw these teens, the love triangle seemed to have found its resolution. After a season of punishing Devi for cheating on him, Paxton admitted his lingering feelings for her and joined her at the winter dance. It would've been a fairy tale ending, if only Ben hadn't realized his feelings for Devi in the exact same moment. So what's next? You can find out in the first trailer for "Never Have I Ever" season 3 down below.
Watch the Never Have I Ever season 3 trailer
#Daxton might be Instagram official, but us #Bevi fans won't go quietly into the night! This isn't the first teen drama to return by choosing the wrong side of the love triangle, and it certainly won't be the last. But at least in Ben's case, there are two seasons remaining and plenty of time for Devi to come ton her senses. Until then, he and Paxton might have some stiff competition, thanks to the introduction of yet another potential boytoy: the trailer offers the briefest glimpse of Anriduh Pisharody as Des, the son of Devi's mother's friend who she expects to be a "loser kid" only to discover that he's anything but. Any chance Devi will abandon both of her exes in favor of Des?
Believe it or not, love might be the least of Devi's worries. As her therapist points out, being in a relationship won't solve all of her problems. And while our cocky teen is ready to argue that the latest Olivia Rodrigo hit says otherwise, that won't be enough to save her from reality. Along with Ramakrishnan, Barnett and Lewison, the third season also sees the return of Devi's BFFs Fabiola (Lee Rodriguez) and Eleanor (Ramona Young). Terry Hu and Deacon Phillippe are also set to join the cast.
"Never Have I Ever" returns to Netflix with its third season on August 12, 2022. Here's the official synopsis:
In Season 3 of the coming-of-age comedy Never Have I Ever, Indian American teenager Devi (Maitreyi Ramakrishnan) continues to deal with the everyday pressures of high school and drama at home, while also navigating new romantic relationships. Never Have I Ever is created by executive producer Mindy Kaling, with Lang Fisher serving as co-creator, executive producer, showrunner and writer.