The Daily Stream: Cyberpunk: Edgerunners Is A Hyper-Violent Kick In The Virtual Pants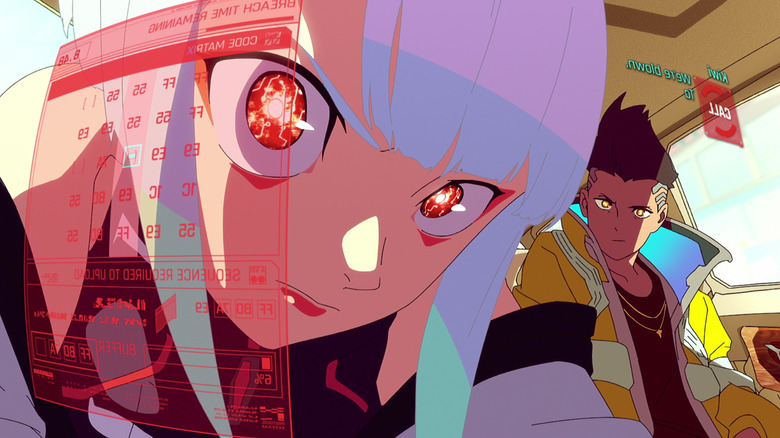 Netflix
(Welcome to The Daily Stream, an ongoing series in which the /Film team shares what they've been watching, why it's worth checking out, and where you can stream it.)
The series: "Cyberpunk: Edgerunners"
Where you can stream it: Netflix

The pitch: "Cyberpunk: Edgerunners" is an original anime collaboration between CD Projekt Red ("The Witcher 3: The Wild Hunt") and Studio Trigger, an anime production company that's become known for their high-intensity action sequences. The series (adapted from CD Projekt Red's game "Cyberpunk 2077," which itself is based on the tabletop role-playing game "Cyberpunk") follows all-new characters set in the same world as the "Cyberpunk 2077" video game from CD Projekt Red, following their adventures as cyberpunk "edgerunners" living on the fringes of society in the futuristic Night City. The series focuses on David (voiced by Kenn in the Japanese version and Zach Aguilar in the English version), who faces a choice between living (and probably dying) as a cyberpunk, or trying to make a life for himself by kissing up and following the rules. After a tragedy, he decides to cash in and hook himself up with some cybernetic enhancements to help him survive as an edgerunner, and audiences get to experience the dark side of Night City through his journey. It also happens that the first piece of cyberware he has installed is stolen military tech, and it causes its users to go crazy and become cyber-psychos. Whoops.
While trying to both make rent and not go insane, David makes some unlikely friends with some fellow edgerunners, including romantic interest and netrunner Lucy (Aoi Yûki/Emi Lo) and mercenary boss Maine (Hiroki Touchi/William Christopher Stephens). He also makes an enemy in the corporate boss Faraday (Kazuhiko Inoue/Giancarlo Esposito), who wants the cyberware enmeshed in David's flesh. There are plenty of big problems for the little mercenary, and in this ultra-violent, high-octane anime series, they become explosive. 
Why it's essential viewing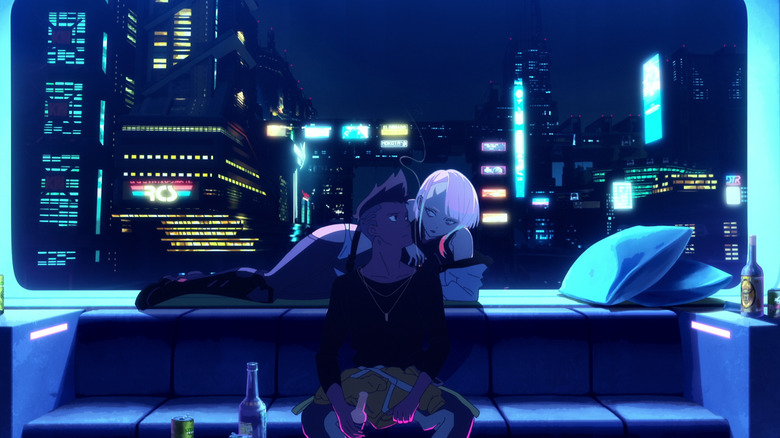 Netflix
The game "Cyberpunk 2077" was tremendously hyped and included a performance by none other than cyberpunk hero Johnny Mnemonic himself, Keanu Reeves — but unfortunately it suffered from some bugs upon release that made it nigh-unplayable for some users. While the game was eventually updated and fixed, some players might feel too burned by their earlier experiences, or might not be much of a gamer. That's honestly a shame, because the setting of Night City is absolutely incredible. The series doesn't do any hand-holding for viewers who haven't played the game, which can be a benefit or problem depending on your willingness to roll with the punches. The viewer is dropped right into David's world with all of the jargon and slang contained within. All of the interesting bits of the cyberpunk genre are here, including virtual reality "braindances," a focus on both the pros and cons of transhumanism, and a group of rogues facing off against corporations. For anyone who cut their teeth on William S. Gibson or even Neal Stephenson, "Cyberpunk: Edgerunners" feels like animated perfection. 
The cyberpunk genre is generally pretty adult, and "Cyberpunk: Edgerunners" is no exception. There's more sex, drugs, and rock 'n' roll than you can shake a stick at, and the series is graphically violent. Forget the moody drama of "Blade Runner," because this series is a lot more like the brilliant animated film "Akira." It's a visceral visual spectacle with some interesting ideas and a cast of lovable oddballs. 
More than just a pretty picture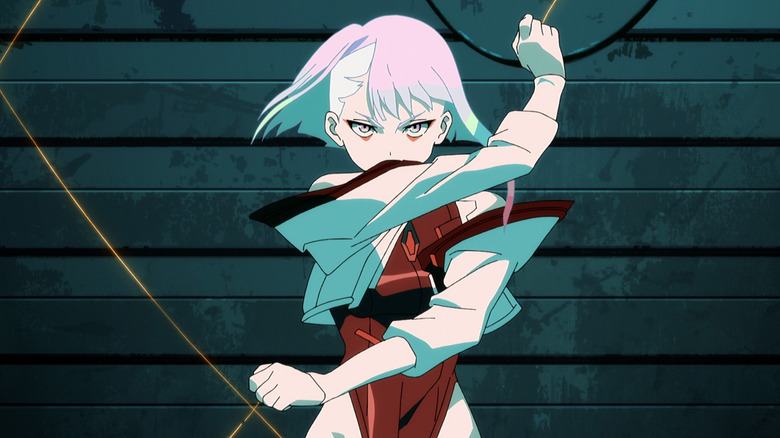 Netflix
It would be easy to write "Cyberpunk: Edgerunners" off as content for edgelords, with ridiculous levels of mature content to appeal to the most juvenile fans. Beneath the beautiful animation and buckets of blood, however, there's a fully fleshed-out world with incredible characters just trying to survive in it. There's a fairly large supporting cast, and while character deaths are pretty frequent, they almost all really hurt. "Cyberpunk: Edgerunners" made me long for not only the Xbox controller so I could jump back into my own game of "Cyberpunk 2077," but it made me want to play tabletop role playing games set in similar worlds again. Episodes would end and I was instantly daydreaming in "Shadowrun," thinking of how well the Netflix series managed to bring cyberpunk to life. 
As David learns how to be a cyberpunk, the viewers learn what that word really means. It's a fascinating lesson in self-reliance, pushing yourself to the limit, and legacy, but it's also just a total kick in the pants. If you like animation for adults or cyberpunk as a genre at all, make sure to check out "Cyberpunk: Edgerunners."