Cyberpunk: Edgerunners Trailer: Humanity, With A Few Enhancements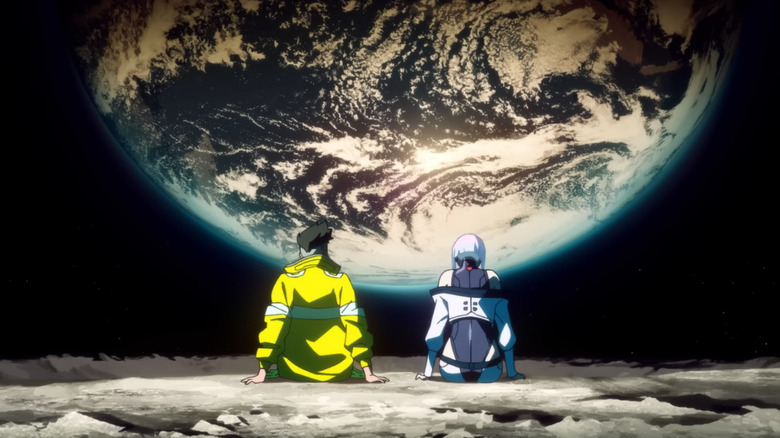 Netflix
A "Cyberpunk" anime spin-off based on action RPG "Cyberpunk 2077" was announced back in 2020. Now, we finally have a teaser trailer for the anime series, titled "Cyberpunk: Edgerunners," which was released during Netflix's Geeked Week.
This standalone project follows a completely new character, and the teaser features stunning animation and worldbuilding, complemented by a pretty badass score. The project is being handled by studio Trigger, who also worked on "Kill la Kill" and "Little Witch Academia."
Those familiar with the basic premise of "Cyberpunk 2077" will know that the core narrative of the game takes place in Night City, which is an open-world megacity rampant with crime. Gang wars and business rivalries are common in this neon-tinted dystopia, wherein the player assumes the mantle of a mercenary named V. V has a cybernetic implant in his body, which will effectively take over and overwrite his actual personality and memories. The aim is to stop this from happening throughout the course of the game.
Check out the amazing teaser for "Cyberpunk: Edgerunners" below.
Navigating the chaos of Night City
"Cyberpunk: Edgerunners" follows a street kid trying to make ends meet in Night City, which is a ruthless place to live in. Poverty is pretty common in the metropolis, which leaves our protagonist no choice but to become an edgerunner — basically a mercenary for hire, who has to endanger their lives on the daily to get their job done. One cannot help but draw parallels to bladerunners, who are similarly tasked to "retire" replicants by any means necessary in Philip K. Dick's "Do Androids Dream of Electric Sheep?"
Cool animation style aside, "Cyberpunk: Edgerunners" can potentially delve deeper into the socio-political implications of living in a world heavily reliant on cybernetic enhancements, which subsequently births inequality and violence. The gulf between the haves and the have-nots widens, leaving those stuck in the middle to climb their way up through any means necessary — however, is the price that needs to be paid too high?
The animated spin-off will be helmed by Hiroyuki Imaishi, alongside Masahiko Otsuka and Hiromi Wakabayashi. The score that you hear in the teaser has been composed by Akira Yamaoka, who also worked on the score for the "Silent Hill" video game series. Studio Trigger is working in tandem with CD Projekt Red, the developers of "Cyberpunk 2077," to bring the world of the game to life.
Check out the official synopsis for the series below:
Cyberpunk: Edgerunners tells a standalone, 10-episode story about a street kid trying to survive in a technology and body modification-obsessed city of the future. Having everything to lose, he chooses to stay alive by becoming an edgerunner-a mercenary outlaw also known as a cyberpunk.
"Cyberpunk: Edgerunners" will premiere on Netflix in September 2022.