Cobra Kai Season 5 Recalls An Awesome Movie You Probably Haven't Seen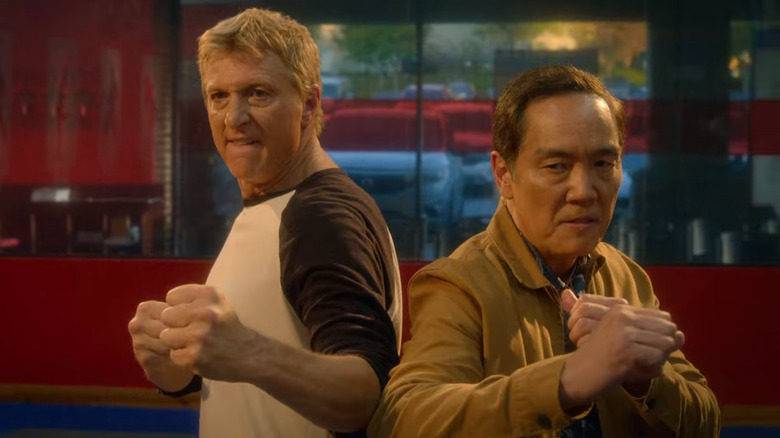 Netflix
We may receive a commission on purchases made from links.
Who doesn't love a good team-up? From the Avengers and the Justice League to Dominic Torretto's family and the Expendables, action movies tend to feature some seriously badass collections of people that unite to take down the bad guys. We may even see them team up in some pretty major ways from time to time like in "The Suicide Squad" or "Spider-Man: No Way Home." But most recently, we've seen it happen in the latest season of "Cobra Kai."
Long after they were pitted against Daniel Larusso in the first two "Karate Kid" movies, Johnny Lawrence (William Zabka) and Chozen Toguchi (Yuji Okumoto) have joined Daniel-san's fight against Terry Silver's new iteration of Cobra Kai in the fifth chapter of Netflix's sequel series to the beloved 1980s martial arts films. In the episode titled "Ouroboros," Johnny and Chozen march right up to the new and improved Cobra Kai dojo to throw down with Silver and his goons. This exhibition of brute force doesn't work out the way the duo had planned, but they're able to regroup and fight another day.
However, the idea of Okumoto teaming up with other memorable villains isn't new. This seems like a well that the actor goes back to from time to time with equally awesome results. And that's very appropriate since the name of the last project he did this in is called "Awesome Asian Bad Guys."
We need them as much as they need us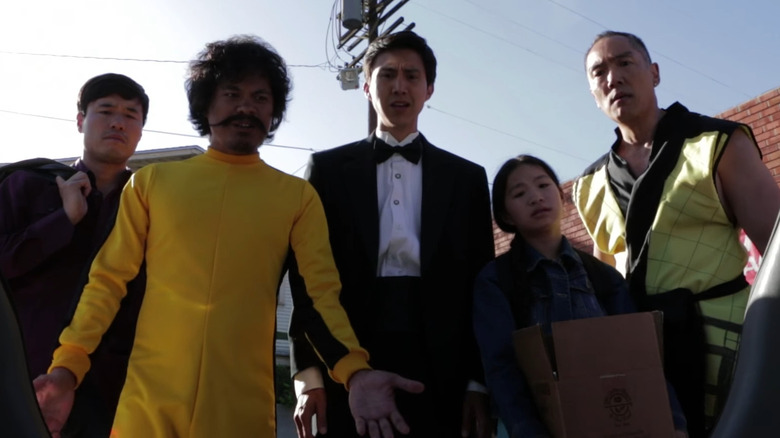 National Film Society
Before Hollywood actually committed itself to presenting more diverse stories on the big screen with projects like "Crazy Rich Asians" or "Easter Sunday," Asian and Asian American filmmakers thrived on YouTube. Without major studio backing, these crafty creators adopted a DIY attitude, told their own stories, and released them online. Plus, with the help of film festivals around the country like CAAMFest and the New York Asian Film Festival, there was a chance that their passion projects could actually make it to the big screen. So back in 2014, that's exactly what Patrick Epino and Stephen Dypiangco did.
Known collectively as the National Film Society, the duo decided to try their hand at making a feature-length film. But they didn't just want to honor the Asian American experience that was barely represented in mainstream media at the time. Epino and Dypiangco also wanted to irreverently pay homage to the '80s and '90s action movie villains that always happened to be Asian. Performers like Okumoto, Al Leong from "Die Hard," "Lethal Weapon," and "Big Trouble in Little China," or George Cheung from "Rambo 2," "Robocop 2," "Lethal Weapon 4," and "Rush Hour" didn't always get their flowers for being so awesome.
But with "Awesome Asian Bad Guys," which assembled a crew of these bad guy actors to take down a nefarious mob boss, NFS would finally give them said flowers and more. And in addition to the directors themselves and their team, their movie also features other prominent stars like Randall Park, Tamlyn Tomita, and Dante Basco who continued to grind and blaze the trail for the next generation of Asian American Hollywood to thrive.
Where to watch Awesome Asian Bad Guys
While action movie fans have likely seen every movie referenced in this article so far, "Awesome Asian Bad Guys" probably isn't the sort of thing that every film fan might have seen or heard of on their own. That's why community support and word of mouth are so important in independent cinema. Personally, I saw it at the Philadelphia Asian American Film Festival during the movie's initial festival run and it was definitely a lot of fun to watch, especially with all the "Hey look! It's that guy!" moments. 
If you're interested in checking it out yourself, it's currently available for free on the National Film Society YouTube channel. But if you're looking for another way to show support, you can also rent or buy the movie on Prime Video.