Why Cobra Kai Is Going International In Season 6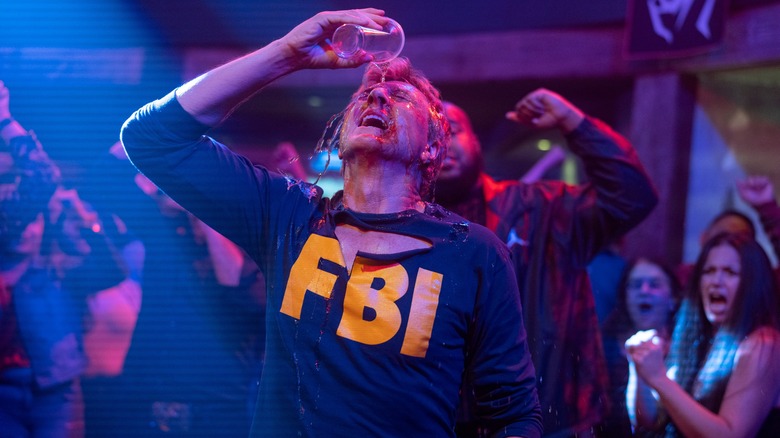 Netflix
Warning: Spoilers ahead for "Cobra Kai" season 5.
In "Cobra Kai" season 5, Terry Silver's (Thomas Ian Griffith) dojo had some international visitors. If you recall, Silver took over Cobra Kai after the All-Valley Tournament at the end of season 4, opening several franchises with state-of-the-art equipment and very shady business practices. Silver has some big plans for his evil dojo dominion, including competing in an international tournament called the Sekai Taikai. He invites a delegation from the tournament to his flagship dojo for a demonstration and possible acceptance into the competition.
If Cobra Kai's students win there, it could change everything, putting the final nail in the coffins of Eagle Fang/Miyagi Do. At the last minute, Johnny Lawrence (William Zabka) and Daniel LaRusso (Ralph Macchio) show up. After a display of karate prowess from all dojos, the delegation accepts both sides into the competition.
"Cobra Kai" season 6 has yet to be greenlit by Netflix, but with the sort of well-deserved positive buzz season 5 is getting, it would be a big surprise if it doesn't happen. Show creators Josh Heald, Jon Hurwitz, and Hayden Schlossberg are already planning where a possible sixth season will go and spoke to Variety about what could be coming for our favorite karate stars, including a trip overseas. 
When asked if fans would actually see the international karate tournament next season, Schlossberg explained how the three creators grew up loving the "Rocky" movie franchise. He pointed out that you have the original, then the stakes were intensified in the third film with Mr. T. "Once it gets to that craziness, how do you top it?" he asked. "Well, you get Russia and America and Drago."
Following in the footsteps of Rocky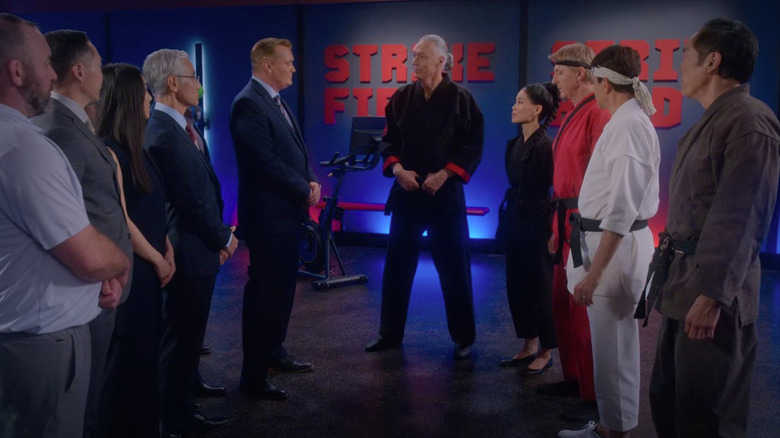 Netflix
Upping the stakes is essential when a show goes on season after season, and "Cobra Kai" has brought back all the main players from the first three films, including Kreese (Martin Kove), Silver, Chozen (Yuji Okumoto), Mike Barnes (Sean Kanan), and even Jessica (Robyn Lively). Unless the creators could somehow work in Hilary Swank and the dancing monks from "The Next Karate Kid" (and many fan fingers remain crossed for that), the show has to pull a Drago. Schlossberg said:
"All these kids are gaining in skill in terms of karate power, so you have to create a new obstacle for them to deal with. It felt like in the real world, that's what would happen. If you're the best around in karate, what are you going to do? Maybe there's something beyond just your local area."
It certainly sounds like we'll see the Sekai Taikai in season 6 if it's given the go-ahead by Netflix. It's a perfect opportunity to shake the kids and their sensei out of their comfort zones and raise the stakes. It also raises questions like who will change sides now that Silver has been arrested. Will Johnny take over Cobra Kai again? How will Kreese figure back in after he faked his death? Whatever happens, we'll likely have to wait a bit to see it, with the creators filming the new show "Obliterated" and working on the "Ferris Bueller's Day Off" spinoff "Sam and Victor's Day Off." 
"Cobra Kai" season 5 is currently streaming on Netflix.