Cobra Kai Season 5's Tribute To Mr. Miyagi Brought Ralph Macchio To Tears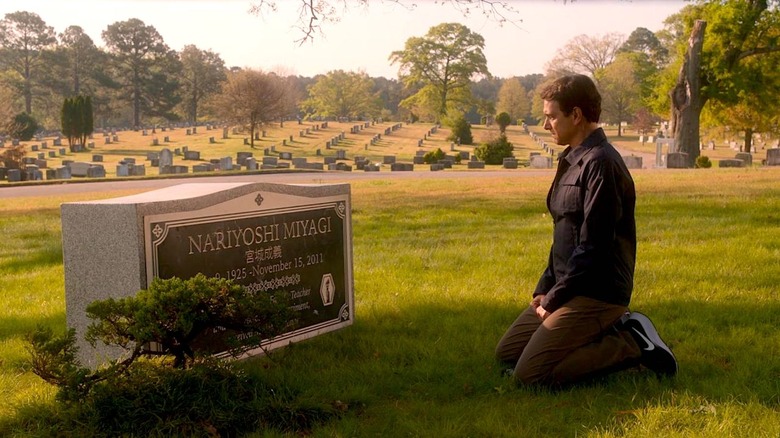 Netflix
Mr. Miyagi is one of cinema's most memorable mentors. Played by the inimitable Pat Morita, Miyagi is known for his nontraditional approach to teaching karate and for doling out wise life advice when it's needed most. He is the heart of "The Karate Kid" franchise, and Morita, who passed away in 2005, has inspired many of us with his portrayal of everyone's favorite sensei. With the announcement of the spin-off show "Cobra Kai," fans of the original series wondered how Miyagi's influence (and absence) would tie into the new story. Thankfully, the show's creators share a deep love and respect for this crucial character, and they have gone to great lengths to insure that Miyagi's influence and spirit is still felt throughout all five seasons of "Cobra Kai."
In the show's latest season (out today on Netflix), Daniel LaRusso (Ralph Macchio) is struggling to cope with the return of his nemesis, Terry Silver (Thomas Ian Griffith). Through a series of dupes at the end of season 4, Silver has now taken full control of the Cobra Kai dojo, and he plans to franchise the brand and (presumably) use it for evil. Daniel —who suffered through Silver's abusive training techniques in "The Karate Kid Part III — is determined to stop Silver from ruining karate in the Valley, but his laser-sharp focus on Silver quickly begins to cause problems for him in his personal life. It's clear that Daniel is in desperate need of some good old-fashioned Miyagi guidance, and when it finally arrives in episode 6 of the new season, the emotional weight of the moment isn't just felt on screen. During filming, Macchio was moved to tears remembering Miyagi and the man who brought him to life. 
Jumping back in time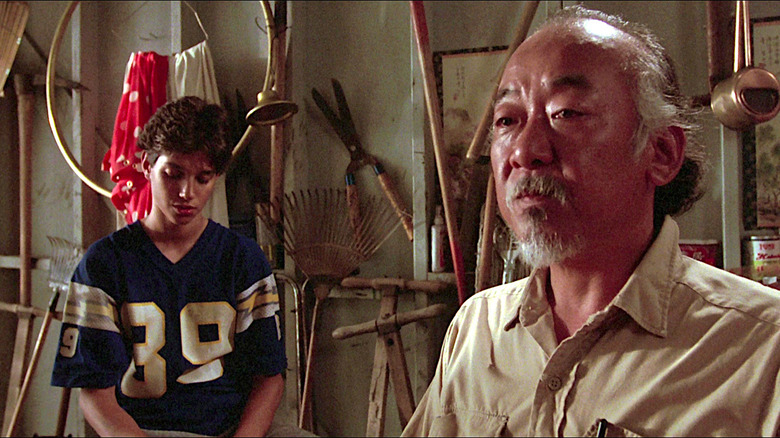 Columbia Pictures
After a disastrous fight between Daniel and Amanda and a solo fight with Silver that leaves him emotionally and physically shaken, Daniel is ready to throw in the towel. However, during a pivotal scene in episode 6 of season 5 in which Amanda takes Daniel to visit Miyagi's old house, she is able to convince him to continue the fight. For fans of the original movies, seeing Miyagi's old bedroom will no doubt provoke feelings of nostalgia. The space is filled with Miyagi's things — a now-dead bonsai tree and pruning sheers, a picture of his wife, an old note left for Daniel with instructions on how to paint the house — and Daniel, choking up, remarks that "it's like a time capsule in here." This scene honors not just the importance of Miyagi to Daniel, but also the impact Miyagi has had on the entire "Karate Kid" series. 
In a recent roundtable interview, Ralph Macchio was asked about this particular moment. He reveals that the director of this episode, Joel Novoa, asked him if he could play music from the original film's score during the shoot. Macchio obliged, and the impact the music had on him during filming was immense. "When I opened the door, [Novoa] just starts playing that music, and it was a rush. I just immediately welled up, seeing these pictures and thinking of that."
Macchio notes that scenes are always filmed "over and over," but the emotional impact of that moment stayed with him through the rest of the takes. He explains how Miyagi's presence is "always the thread that's important in the show for Daniel LaRusso, and for me," and he refers to moments like this scene as expressing "the magic of what Mr. Miyagi was and still is." It's no coincidence then, that this scene marks the beginning of the collective uprising against Silver. "They slip and fall but somehow help each other up. It's awesome," says Macchio about the characters on the show, and Miyagi's presence and wisdom have always been the reason for that.
Mr. Miyagi approved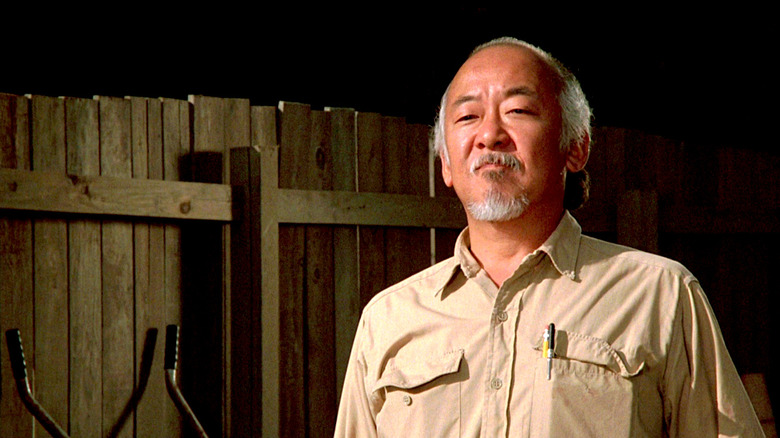 Columbia Pictures
Pat Morita who played Miyagi in all four of "The Karate Kid" films not only had an impact on screen but also off screen with the rest of the cast and crew. He was beloved by those who knew and worked with him, and in the roundtable interview, both William Zabka who plays bad boy Johnny Lawrence and Macchio talk about Morita and what they think his feelings would be about "Cobra Kai." Zabka and Macchio agree that Morita is watching the show from somewhere in the great beyond. "I think he's a big fan," says Zabka. "I think he's trying to figure a way to get on it."
Macchio elaborates more saying, "Miyagi is [there] throughout the show through so many characters. And I think he would be very, very proud and really embrace that." He goes on to say, "I think he'd be very, very pleased with the care that's been taken with the original franchise." Fans of both the original series and "Cobra Kai" would definitely agree with this statement (none of the seasons has below a 90% on Rotten Tomatoes), and there's no doubt that Mr. Miyagi — both his presence in the original series and his ties to "Cobra Kai" — are a large part about what makes the show so successful. "I think this is so right up his alley," says Zabka. "He was just great. He was so funny, and he personified Miyagi. I think he would be thrilled, and we miss him."