Cobra Kai Season 4 Landed That Major Cameo Due To Some Fangirl Tweets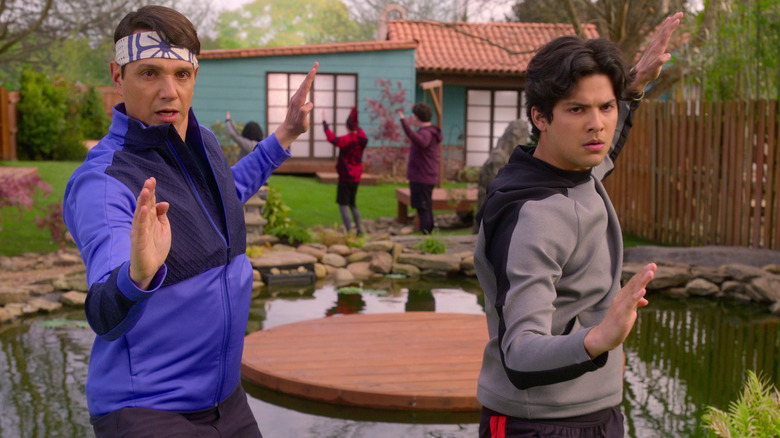 Netflix
There are SPOILERS ahead for "Cobra Kai" season 4, so be prepared. I will show you no mercy!
"Cobra Kai" is known for its cameos. Throughout the Netflix series' four seasons, we've had appearances from most of the big names from the movies. Some of them have moved the plot along and become main characters like Thomas Ian Griffith's Terry Silver, while others have come and gone like Elisabeth Shue's Ali Mills Schwarber and Tamlyn Tomita's Kumiko. Yuji Okumoto's Chozen returned at the end of the fourth season and is clearly going to be a big part of season 5. Cameos drive this show and I love it.
There was one cameo this season which sort of came out of the blue. I mean, it was totally fine, and fans of this person were likely very happy. It was just a surprising choice that began with said person tweeting her love for the series. That person is none other than Carrie Underwood. 
The Moment of Truth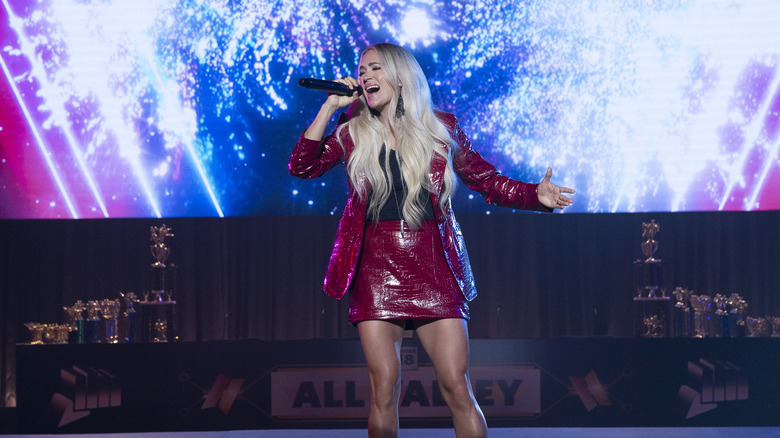 Netflix
Huh? I hear you. The head of the tournament/dentist-by-day wanted to bump things up a bit by bringing in one of his celebrity clients to get the crowd hyped up. No one thought he could pull it off, but apparently, he's Underwood's dentist. What really happened was that Carrie Underwood tweeted about her love for the series back in August of 2020.
Just started watching #kobraKai on Netflix. Ummmm...it's kinda awesome! 🐍👍

— Carrie Underwood (@carrieunderwood) August 31, 2020
Right away stars Ralph Macchio and William Zabka tweeted back at her to thank her: 
Thanks for the shout! We love doing the show. Enjoy!! 🥋

— Ralph Macchio (@ralphmacchio) August 31, 2020
Amazing! Thank you @carrieunderwood welcome to the dojo! 🐍

— William Zabka (@WilliamZabka) September 1, 2020
Hey, anything that gets this show more seasons is a good thing. "Cobra Kai" creators Jon Hurwitz, Josh Heald, and Hayden Schlossberg apparently thought so as well. They told EW that they quickly approached Underwood about being in the series. Schlossberg added, "Be careful what you tweet about 'Cobra Kai' if you're a celebrity ... because we immediately log it and think about the possibilities." 
He continued by saying:
"We knew that we wanted this year's All Valley to be, like, the biggest All Valley ever, and we joked about the idea of there being that kind of Super Bowl halftime performer ... [Underwood] happens to sing the Sunday Night Football song, so it made a lot of sense. We didn't know if it was going to come together, but she really loved the show and it was a match made in heaven."
Wait ... Is She Wearing Eagle Fang Colors?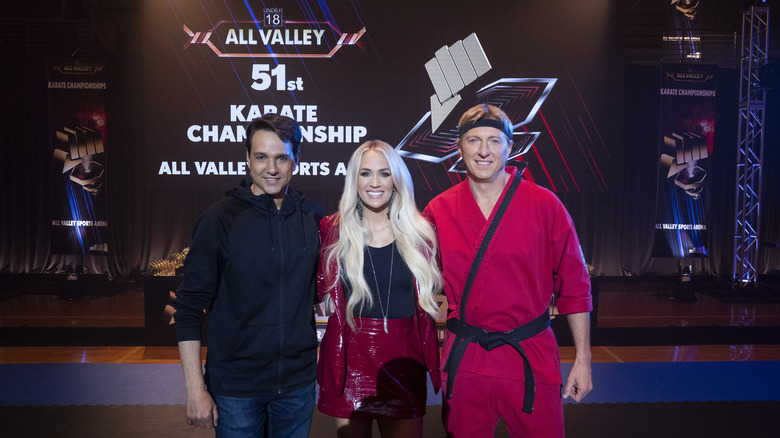 Netflix press release
Carrie Underwood is right about the show. It's the best ... around. 
Don't even try to yell at me for that. I make no apologies. 
Carrie Underwood is great, and I love that she loves the show. I'm just thinking that any musician that Johnny or Daniel mention or like from the '80s might have been a better choice. Am I asking for fan service? Yeah, I am. This show is all fan service and I'm here for it. 
I'm a fan. Service me. 
Underwood said in a statement:
"I grew up watching 'Daniel' and 'Johnny,' and I can't believe I actually get to be a small part of the legacy that is the 'Karate Kid.' Once I discovered 'Cobra Kai' a few years ago, it became one of my favorite shows! I had so much fun being on the set and singing such a classic song. I cannot wait to watch every new episode!"
During the tournament, Underwood sang "The Moment of Truth" from the soundtrack for "The Karate Kid," originally performed by Survivor. Of course, it was performed over a montage of fight moments. 
You know what? Bring in anyone you want. Do whatever you want. You obviously make fans happy. How about approaching Peter Cetera? The second film was my favorite and "The Glory of Love" was already mentioned in this season. Mr. Cetera, are you reading this? Hell, bring everyone back! You're halfway there! This is not a dig. It's the entire conceit of the show and it's wonderful. I would take up karate and practice 10 hours a day, every day for a year to be a background character in this show, and you would, too. 
In the meantime, if you catch any celebrity tweeting about their love for the show, ping us @slashfilm and cc me @jennabusch so I can speculate about who they could play!