The Karate Kid II Reference You May Have Missed In Cobra Kai Season 4 Episode 4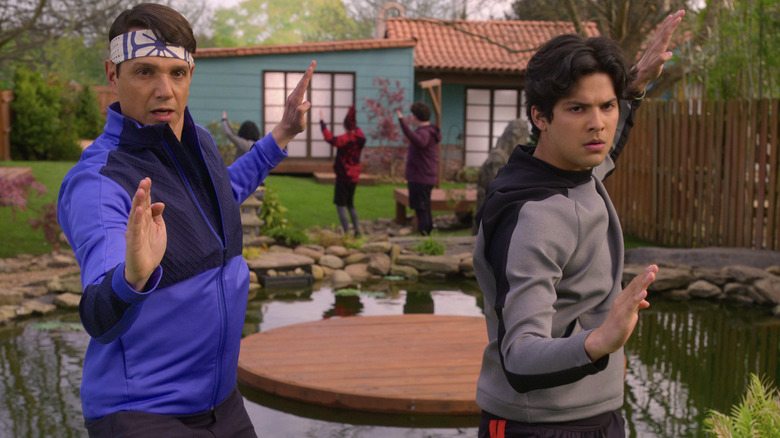 Netflix
Decades before "Cobra Kai" made its mark, "The Karate Kid Part II" was one of the biggest films of 1986. In it, Daniel LaRusso (Ralph Macchio) travels to Okinawa with Mr. Miyagi (Pat Morita) after he learns that his sensei's father has passed away. While there, he falls in love with a young woman named Kumiko (Tamlyn Tomita). Forgive me for gushing a bit, but at the time, it was super romantic: Between learning about the tea ceremony, watching the changes in all the characters and the understanding that grows between old friends, enemies, and this new love, I was all googly-eyed.
Now that you've finished barfing over my sappy reminiscence, let the sap-fest continue by thinking back to a song called "Glory of Love," performed by musician Peter Cetera. If you've been watching the fourth season of "Cobra Kai," you definitely heard this song in the fourth episode. But what you may not remember is that the song was a key part of "The Karate Kid Part II" soundtrack.
Glory of Love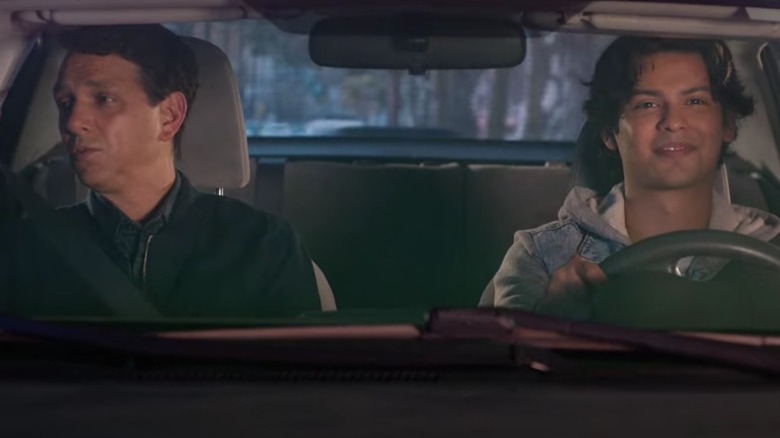 Netflix
In episode 4, Daniel is continuing his mentoring of his daughter's boyfriend Miguel (Xolo Maridueña) by helping him fix his mother's car and teaching him to drive. As they pass through the Encino Commons area of the Valley (an area in which I happen to live), the '80s song "Sailing" by Christopher Cross comes on the radio. Daniel is singing it — well, maybe I should put the word "singing" in quotation marks — and when Miguel asks what it is, Daniel tells him about soft rock songs from people like Michael McDonald, Billy Joel, and Chicago. When Miguel reveals that he's never heard of Chicago, Daniel says, "I'm going to pretend you didn't say that." 
For those of you who may not have been around in the '80s, Chicago was a hit band whose singer was a man named Peter Cetera. When Cetera left the band to go solo, his first big hit was "Glory of Love," which became the theme song for "The Karate Kid Part II." The song was written by Cetera, David Foster, and Diane Nini, who was Cetera's wife at the time. It was originally written for "Rocky IV," but the producers of that film didn't like it. In an interview by The Daily Telegraph, Cetera explained how it jumped from one movie to the other:
"About two weeks later the people from Karate Kid II were looking for a song, so they came to the studio where I was working and I played them Glory Of Love and they immediately loved it, so I changed a few words to make it even more fitting."
You're the Inspiration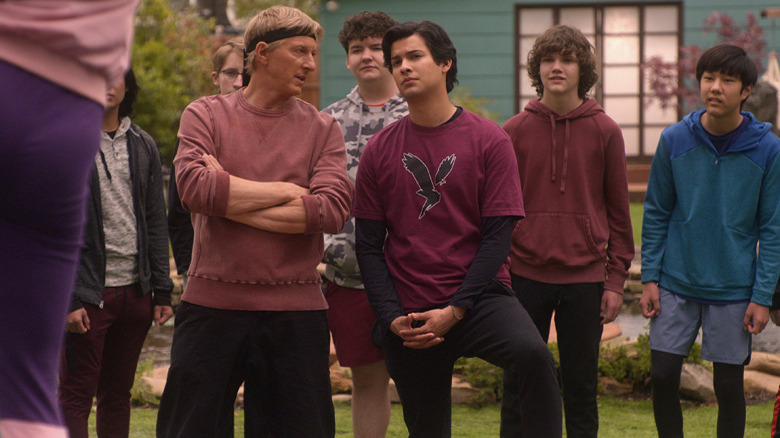 Netflix
When Miguel sees Johnny (William Zabka) back at their apartment complex, he says, "How come you haven't told me about Chicago?" Johnny looks horrified. As you know, he's an '80s hard rock guy through and through. Miguel mentions songs like "You're the Inspiration" and "Glory of Love" (so meta), and says, "Peter Cetera is badass." 
Of course, Johnny replies, "Peter Cetera is the opposite of badass. What happened to Scorpions? Slaughter?" Of course, the next episode does have Johnny training to Survivor's "Burning Heart," so what Miguel says does sort of take him out of his hard rock genre preferences.
Not that I don't truly appreciate Johnny's musical tastes, because I do, but you also have to love a little Peter Cetera once in a while. Give the official music video a watch, and I apologize in advance for the ear worm.