Easter Sunday Review: No Amount Of Prayer Could Save This Movie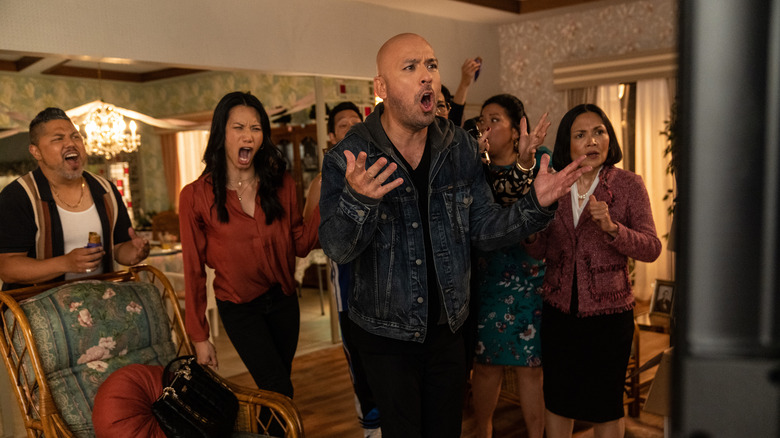 Universal Pictures
Imagine the worst party you've ever been to. Now imagine that the party host pulls out a home movie that they've made with their friends — one full of inside jokes and gags that are funny to maybe three people — straps you down to your chair, and starts making you watch it "A Clockwork Orange"-style. That's the closest equivalent to watching "Easter Sunday" an excruciatingly unfunny vanity project for comedian Jo Koy and director Jay Chandrasekhar that might just be one of the worst movies of the year. But then again, what do you expect from a movie starring an irritating stand-up comic and directed by the guy behind "Super Troopers 2"?
Jo Koy stars in "Easter Sunday" as Joe Valencia, a struggling comedian just trying to do the best by his family, even if that means missing his son's parent-teacher conferences so that he can go to a TV pilot audition. But to make his life even harder, his mom (Lydia Gaston) keeps calling to demand that he return home for Easter Sunday dinner, and he caves, bringing his resentful son (Brandon Wardell, the "d***s out for Harambe" guy, sleepwalking his way through playing a generic teen) with him.
To make things worse, his cousin (Eugene Cordero, extra dopey) has turned Joe's investment for a taco truck into a full-fledged Ponzi scheme, and has ripped off a dangerous gangster (Asif Ali, appalling) who wants his money back. Now Joe has to figure out how to win his son's respect back, get the part in the TV pilot, get his cousin's money, and make it home in time for Easter dinner. How will he do it?!
Yes, hijinks ensue, some involving a cop and former flame played by Tiffany Haddish (dutifully hamming it up but not even her sparkling personality can bring any laughs); some involving a shoe reseller played by Jimmy O. Yang (refreshingly, the least annoying of the stunt cast); some involving Broadway darling Eva Noblezada (sweet, and deserving of more than this for her major feature film debut); and some involving Lou Diamond Phillips playing himself. But tragically, most hijinks involve Ali's absurdly psychopathic gangster Dev Deluxe, whose gaudy fashion is only outmatched by his garish overacting. By the time Joe and co. have run into him for the third time, screaming and waving his embellished gun in their faces, you'll be begging for that gun to go off and end all of their misery.
Take me to church (and away from here)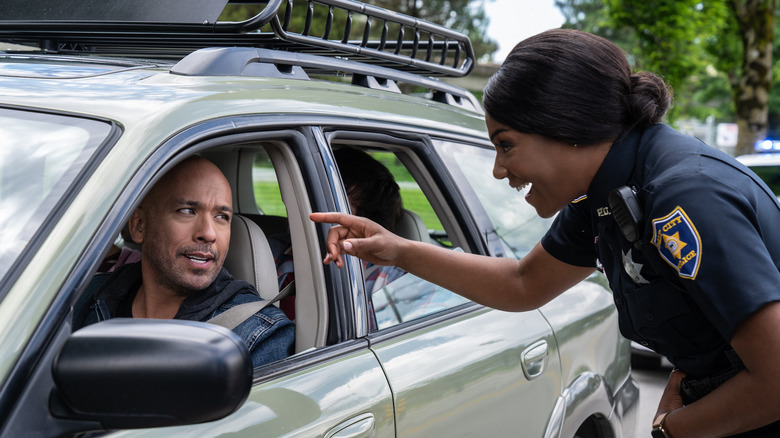 Universal Pictures
"Easter Sunday" might have been another drop in the destined-for-the-bargain-bin bucket if it weren't for the way it so proudly flaunts its Filipino culture. Much lip service is paid to Joe's childhood raised by an immigrant mom as well as various quirks of the Fil-Am community — rice cooker jokes, parental pressure jokes, clumsy metaphors involving the Filipino dessert drink Halo-Halo. And of course, a big emotional climax revolves around the family uniting to sing a karaoke rendition of the Black Eyed Peas' "I Got a Feeling," of all things. "Easter Sunday" clearly believes itself to be part of the Asian-American movie zeitgeist, but it feels almost deliberately self-sabotaging. It carries itself like it's the Filipino version of "Crazy Rich Asians," but it's more like a bizarro photo-negative version of that watershed movie — tedious and corny and unsympathetic where "Crazy Rich Asians" was surprisingly relatable and moving.
And for all the sweet nods to a culture that obviously mean a lot to everyone involved, "Easter Sunday" drowns it out with painfully unfunny bits and long segments of various comedians mugging to the camera. Several times throughout the movie, the plot is brought to a screeching halt just so Koy can do a stand-up routine in front of a church gathering or at a family lunch picnic — with the pretense of turning it into a heartwarming monologue. Only the punchline never lands, and the heart is no closer to getting warm than if it were sitting in a freezer alongside the bag of ice that Joe's mom keeps ordering him to fetch.
If Koy had some kind of charisma to keep this movie going, perhaps "Easter Sunday" could be salvaged. But the comedian barks his way through his lines half the time and mugs to the camera the other half. It's baffling that Koy gets this vehicle in the first place, especially since a large part of his character's conflict revolves around refusing to put on an offensive Tagalog accent for a TV show — a recurring bit that Koy is known for using in his own routines.
Every joke in "Easter Sunday" lands with a thud, every emotional beat falls flat. It has the sense of humor of a bad TikTok video, and the emotional resonance of that TikTok commercial playing right now where wide-eyed people declare, "I learned it from TikTok!" Visually, it looks like a network TV reject or that one Netflix movie that you put on in the background while doing laundry (ironic, considering it was destined for the streamer in the first place). "Easter Sunday" needs more than to be warmed over, it needs to be tossed in the trash and started over from scratch.
/Film Rating: 2 out of 10