'Crazy Rich Asians' Review: A Rom-Com Powered By Cultural Specificity And Pure Joy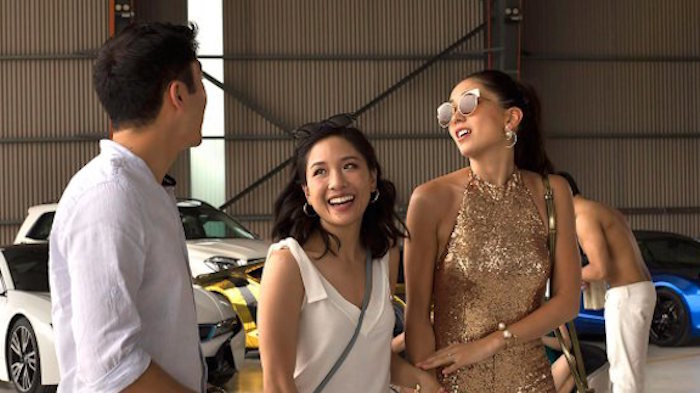 Early on in Crazy Rich Asians, one of the text messages that fly across the screen includes the slang term "lah." The discourse marker, primarily used in South-East Asia, doesn't have a specific meaning so much as it's used to indicate tone or emphasis. The Urban Dictionary definition of the term explains that it's used by those "who aren't too shy to let their Asian roots shine with pride." Though Urban Dictionary isn't a source I'd ordinarily cite, in this case, its definition seems almost too perfect not to mention.
Crazy Rich Asians has, of course, been hailed as something of a watershed moment as the first big studio movies in 25 years to feature an all-Asian cast, and as a tipping point for more stories to be told about Asian and Asian-American communities. While watching the film, directed by Jon M. Chu and adapted from the bestselling novel by Kevin Kwan, it's hard not to think about that expectation, largely because there's so much stuffed into the film's two-hour runtime that could easily be spun out into several other movies or TV series. And that's just in a story that focuses on the Singaporean elite.
The film stars Constance Wu as Rachel Chu, a Chinese-American economics professor. When her boyfriend Nick (Henry Golding) invites her to Singapore to meet his family, she's quickly thrust into a spin on the classic high society romantic comedy. Her Prince Charming might as well literally be a prince given his family's wealth and status in society. That Rachel was raised by a single parent — her mother, Kerry (Tan Kheng Hua) — and had to work for everything that she has immediately makes her an outsider to Nick's world. Add to that her identity as an Asian-American, and thus considered outright foreign by Nick's family, and her chances at making a good impression dissipate almost entirely.
Of those two marks against her, it's the latter that takes prominence in the story, as Rachel navigates a world that turns out to be largely foreign to her. Yes, some of that has to do with money, but it's more to do with cultural identity; as Rachel says at the beginning of the film, trying to project confidence about meeting her potential in-laws, "They're Chinese, I'm Chinese." Her mother knows better: "Chinese-American." And, true to form, it's a distinction that Nick's mother Eleanor (Michelle Yeoh) immediately makes clear.
In the end, the push and pull of Crazy Rich Asians isn't so much between Rachel and the other women vying for Nick's attention, but between Rachel and what, in broad strokes, Kerry and Eleanor represent. We know that Nick loves Rachel, but what's less clear is how Rachel will navigate what Eleanor frames as the pursuit of happiness versus responsibility and the greater good. It's telling that the final confrontation between Rachel and Eleanor plays out the way it does, though — at the risk of spoiling the film's ending — the film is back in safe, opulent waters by the end.
The film is at its most interesting when it's trying to parse out whether or not the poles between which Rachel is caught are mutually exclusive, and what kinds of compromises are made in the interests of moving forward, not least because the production is wrestling with that question, itself. That the film's ending is relatively saccharine means that some aspects of the story — in particular its willingness to indulge in the spectacle afforded by wealth — remain unaddressed, and it's certainly not representative of all Asians. But that term alone is deceptive, given the number of cultures lumped together within it. To think that Crazy Rich Asianscan cover all of that ground is a fallacy.
And so, taking the film for what it does manage to accomplish, I have no hesitation in calling it a joy. There are arguably too many characters, but each is so recognizable (Ronny Chieng's image-obsessed Eddie strikes a particularly familiar chord), and it's such a simple joy to see so many Asian actors, that it's not really worth complaining about. The cast is uniformly great, from Awkwafina as Peik Lin, Rachel's college best friend, to Gemma Chan as Astrid, Nick's sophisticated and sweet-hearted cousin.
The film is also chock-full of little details that may well fly over the heads of some viewers, but will vault the film into another stratosphere for others. The cultural specificity is more charming than the delirious displays of wealth by leaps and bounds, and ultimately what makes it impossible to say that Crazy Rich Asians is just a carbon copy of other meeting-the-in-laws comedies that have come before it.
It's also impossible to deny the power of seeing Asians on the big screen, in a Western production. From the film's first scene, in which a white hotel manager and his staff turn Eleanor and her family out onto the street because they're not white, themselves, before discovering that Eleanor's husband has just bought the establishment, it's a bit of a thrill ride. The important thing is not to forget that it's one step out of many that are necessary.
/Film Rating: 8 out of 10