Why Mia Goth Was Terrified To Shoot Pearl's Confession Scene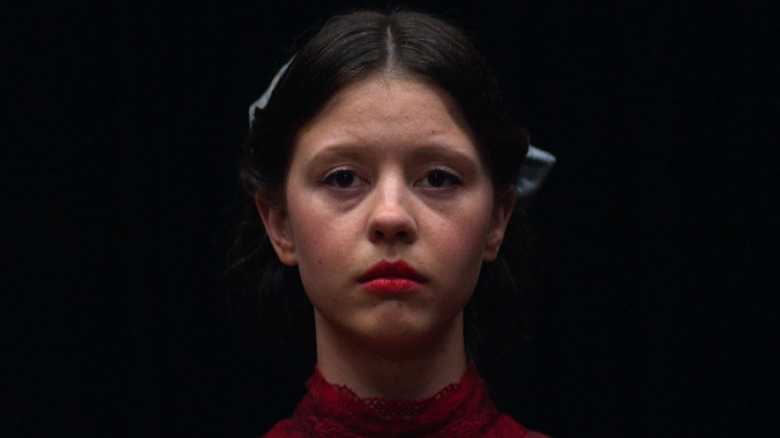 A24
This article contains major spoilers for "Pearl."
We may still have a few more months to go, but I think it's safe to say that director Ti West has pulled off what is possibly the greatest one-two punch of 2022. Folks like myself appreciated what the "House of the Devil" filmmaker did with "X," a gloriously smutty ode to '70s exploitation. To sweeten the deal even further, it turned out that West already had "Pearl," a colorful prequel about the bloody beginnings of the titular farm-bound slasher through the eyes of Golden Age Hollywood, ready for theatrical release less than six months later.
As if he wasn't already on fire, West has already been given the go-ahead by A24 to round out his "X" trilogy with the '80s-infused "MaXXXine," which has yet to secure a release date. While the "Innkeepers" filmmaker is certainly an important ingredient in bringing these films to the screen, the central figurehead that ties it all together is Mia Goth.
Who else can claim three separate roles in one year in the same manner Goth has accomplished? We've seen her play the titular character as an envious and sexually frustrated killer in her 80s, but here we get to see Goth show a vastly different side to the character.
"Pearl" is a frequently hilarious and uncomfortable Technicolor delirium that harkens back to movies like "The Wizard of Oz" in the same manner as "Psycho." With a combination like that, it only allowed Goth to go buck wild, whether she's riding a scarecrow to climax or frightfully grinning throughout the end credits.
But the scene that most folks will take away from this spirited performance, however, is one that Goth herself was anxious to film.
I didn't have any tools to gear myself up to something like that.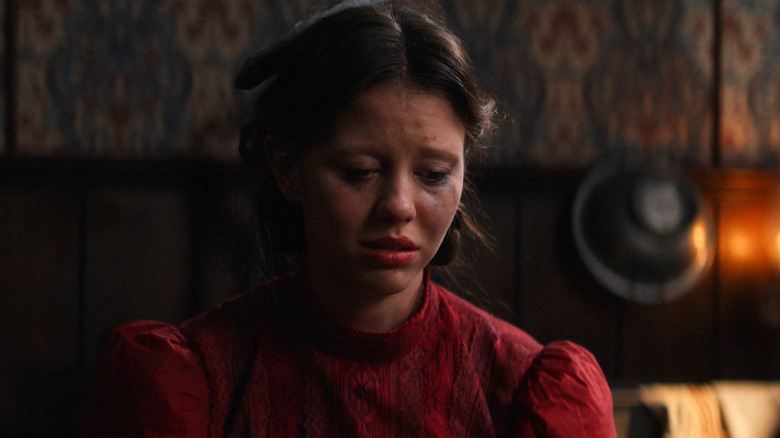 A24
The crown jewel of "Pearl" is the titular character's lengthy monologue, in which Goth absolutely eats up the screen. In a profile from W Magazine, Goth reveals that the riveting confession was born out of a conversation between her and West regarding Michael Fassbender's soul-bearing soliloquy in "Hunger."
We now know she did a magnificent job in showing Pearl with her guard down, but when it came time to shoot the scene, according to Goth, she had jitters. "I was really terrified to shoot that, because I never went to film school," says Goth.
In order to make it feel more real, given all that happens throughout "Pearl," West had decided to save the big show-stopper for the end of filming:
"That was a great move, because the emotional turbulence Pearl had gone through up until that point, and the intensity of what that shoot required from everyone, helped and informed the monologue that that came that day."
The majority of slasher antagonists either don't speak or toy around with you. With "Pearl," Goth got to try something a little different. The scene plays so well because, throughout the film, Goth plays the character with such gusto. There's hardly a moment where she isn't either chewing the scenery or hiding her true self.
Goth ultimately wanted to show a more exposed version of the character, as she finally feels free to unleash all of her dark secrets for the first time in her life, even if it is to her terrified sister-in-law Mitzy (Emma Jenkins-Purro) sitting on the other side of the table.
"Pearl" is now playing in theaters.