Cary Grant Considered Grace Kelly An Actress In A League Of Her Own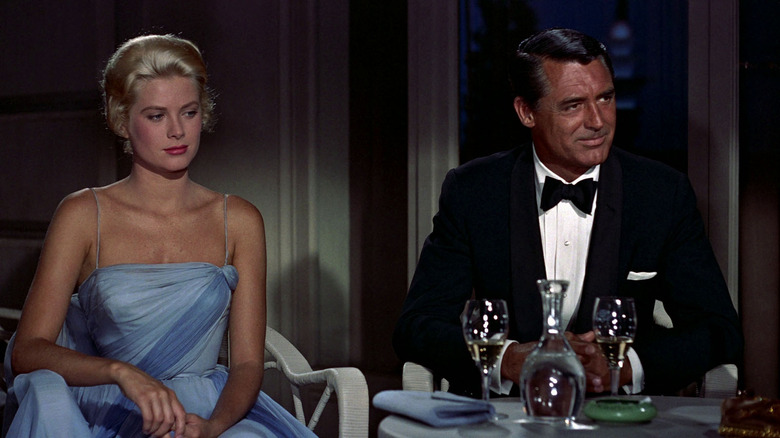 Paramount Pictures
Cary Grant and Grace Kelly were the two most iconic stars in old Hollywood, but they only co-starred in a single movie — Alfred Hitchcock's unforgettable 1955 mystery "To Catch a Thief." Unsurprisingly the film was instantly popular and has remained a classic, thanks largely to the charming performances from its two leads. It was one of Kelly's final films before she retired and started a family with Prince Rainier III of Monaco.
Grace Kelly famously lived up to her first name, having made an incredible impression not only on her audiences but on her fellow actors as well. Kelly starred opposite some of the most well-known leading men in old Hollywood, including Clark Gable and Jimmy Stewart. Stewart, her romantic interest in Hitchcock's "Rear Window," always spoke highly of Kelly. "Everybody just sat around and waited for her to come in the morning, so we could just look at her," he recalled (via Express). "She was kind to everybody, so considerate, just great, and so beautiful."
Stewart wasn't the only actor that was won over by Kelly's charm. Grant was similarly taken with the actress — in fact, she was his favorite co-star of all time. "I've worked with many fine actresses. But in my opinion, the best actress I ever worked with was Grace Kelly," he admitted to Interview. "Ingrid [Bergman], Audrey [Hepburn] and Deborah Kerr were splendid, splendid actresses, but Grace was utterly relaxed — the most extraordinary actress ever."
Kelly was the best actress he ever worked with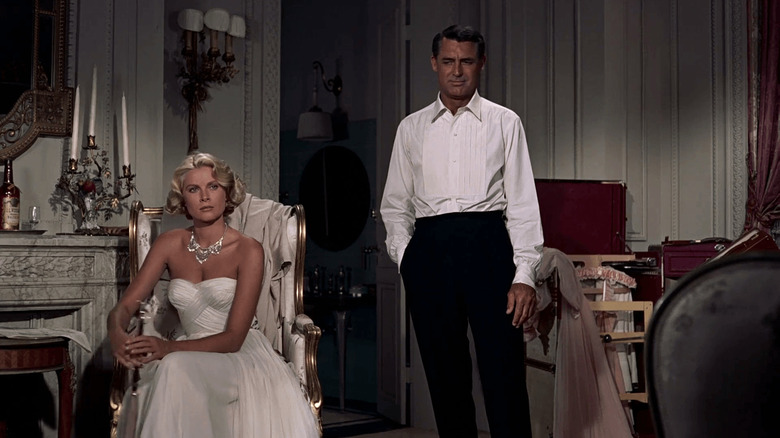 Paramount Pictures
Kelly's easy-going confidence earned her a stellar reputation in the industry. The actress had a "complete understanding of the way motion picture acting is carried out," her "Rear Window" co-star once said (via Express). Grant also appreciated Kelly's steady approach to acting. "Her mind was razor-keen, but she was relaxed while she was doing it. I appreciated that," he recounted to Interview. "It's not an easy profession, despite what most people think."
Grant worked with a lot of formidable actresses, but none that had quite the level of charisma and elegance of Kelly. "As far as we were concerned, she was a lady, number one, which is rare in our business," the actor explained. "Mostly we have manufactured ladies—with the exception of Ingrid, Deborah, and Audrey. Grace was of that ilk."
The actress left Hollywood a few years after shooting "To Catch a Thief," but her friendship with Grant endured. "She was incredibly good, a remarkable woman in every way. And when she quit, she quit because she wanted to," Grant insisted. The actor would even visit Kelly and her family in Monaco, her son Prince Albert told People (via Daily Mail). He remembered Grant's fondness for telling dirty jokes — "dirtier ones with Dad," Albert recalled. "But he was always a gentleman."
The life-long friendship between Grant and Kelly was heart-warming. It's unfortunate that their chemistry as scene partners was only explored in a single film. Luckily for us, it was one of the best films of all time.