It Took Three False Starts Before Cary Grant Would Get To Work With Audrey Hepburn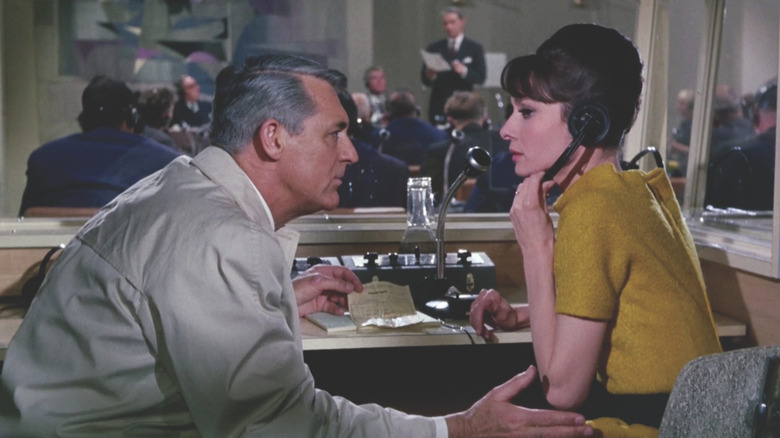 Universal Pictures
Cary Grant and Audrey Hepburn were two of the biggest movie stars of their day, bringing a delightful levity and emotional complexity to their roles that were seldom matched by their peers. It was only a matter of time before they would team up in "Charade," a romantic mystery that put their comedic charm on full display. As scene-partners, their on-screen chemistry was incredibly compatible, leaving fans wondering why they only co-starred in a single film. As it turns out, Grant was offered quite a few roles opposite Hepburn before "Charade," but turned them down for one very sensible reason.
"Charade" has all the ingredients that make a great Alfred Hitchcock movie — humor, intrigue, and his leading man of choice, Cary Grant — except for the director himself. This resemblance was no accident, according to Stanley Donan, the director of "Charade." "I always wanted to make a movie like one of my favorites, 'North by Northwest,'" the director explained to TCM. "I searched [for something with] the same idiom of adventure, suspense, and humor."
The 1959 thriller "North by Northwest" was Grant's fourth and final film under Hitchcock's direction. He was a major star in Hollywood for decades before being cast in "Charade." Hepburn was newer to Hollywood than Grant, but she was also a household name by 1963.
The actress had her breakout role in 1953 with "Roman Holiday," in which Grant himself was offered the part of the romantic lead. The actor reportedly turned the role down due to their 25-year age difference. Over the next few years, Grant would turn down parts in two more of Hepburn's most iconic films, "Sabrina" and "Love in the Afternoon," for the same reason.
Charade was their first and only collaboration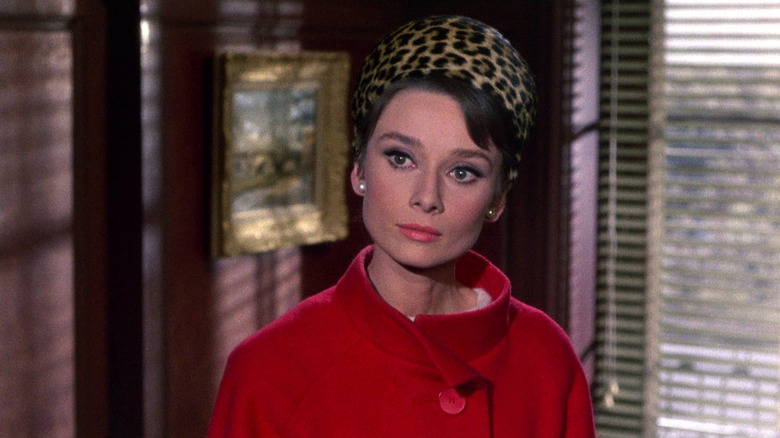 Universal Pictures
It didn't seem like Grant would join "Charade" at first. His hesitations about working with Hepburn aside, the actor also had a scheduling conflict. "Cary thought he was going to do a picture with Howard Hawks called 'Man's Favorite Sport,' [so he] said no to 'Charade,'" Donen explained. This initiated a budgeting battle with the production company:
"Columbia said get Paul Newman. Newman said yes, but Columbia wouldn't pay his going rate. Then they said get Warren Beatty and Natalie Wood. So I got them and Columbia decided they couldn't afford them or the picture. So I sold 'Charade' to Universal."
This bought Donen some time for Grant come around to "Charade." "In the meantime, Cary had read Hawks' script and didn't like it. So he called me and said he would like to do 'Charade,'" the director recalled. Though their age difference remained, Hepburn was a decade older than when Grant had first turned down "Roman Holiday." As the actress had matured, so had her stardom. In the twilight of his career, Grant undoubtedly knew that attaching his name to Hepburn would all but guarantee a major success.
Whatever his reason was for finally breaking his Hepburn strike, Grant did right by his career when he signed onto "Charade," his last memorable role before retiring in 1966. Grant and Hepburn each could have pulled in an enormous audience on their own, but seeing two great talents bounce off of each other is a cinephile's dream come true. Is it greedy to wish they had just one more film together?