How Ernest Hemingway Got Humphrey Bogart And Howard Hawks Together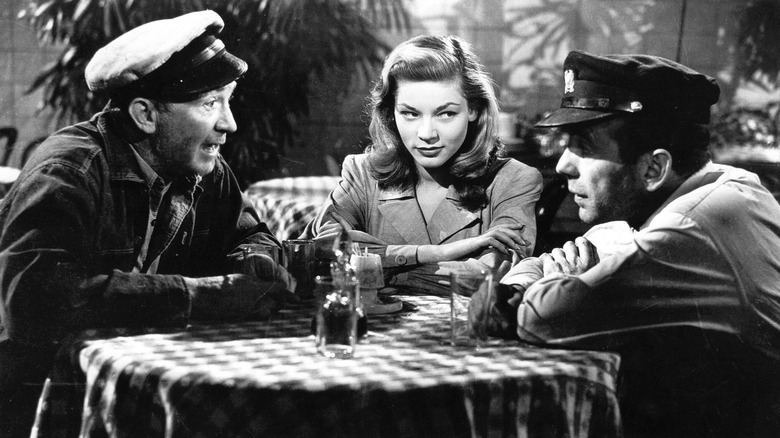 Ernest Hemingway changed the face of American literature forever, but he was also a considerable influence in Hollywood. The author actually introduced two of the biggest names on the silver screen, acclaimed director Howard Hawks and world-renowned actor Humphrey Bogart. Hemingway was a friend of Hawks, known for films like "The Big Sleep" starring Bogart and "Rio Bravo" starring John Wayne. Hemingway himself is remembered for classic American novels like "The Old Man and The Sea," "The Sun Also Rises," and countless other titles.
Bogart and Hawks first worked together on the 1944 film "To Have and Have Not." Bogart plays a boat captain who is forced to fight for the French Resistance. He stars opposite the woman that would later become his wife, Lauren Bacall. In her cinematic debut, Bacall plays an American girl fighting for the Resistance who works to get Bogart's character on their side. The film is chiefly a romance between the two, but it was adopted from a heavily political Hemingway novel of the same name.
Hawks chose to adopt the novel because of the author's skepticism toward Hollywood. Hemingway was heavily critical of cinematic attempts at his work, particularly Frank Borzage's 1932 take on "A Farewell to Arms," which featured Gary Cooper. Hawks was confident he could do justice to his friend's work and told him as much on a fishing trip in 1939. "I can make a picture out of your worst story," he told Hemingway, as quoted in Stefan Kanfer's book "Tough without a Gun: The Life and Extraordinary Afterlife of Humphrey Bogart." When Hemingway asked what his worst story was, Hawks was ready with an answer. "That God-damned piece of junk called 'To Have and Have Not,'" he replied.
To Have A Good Adaptation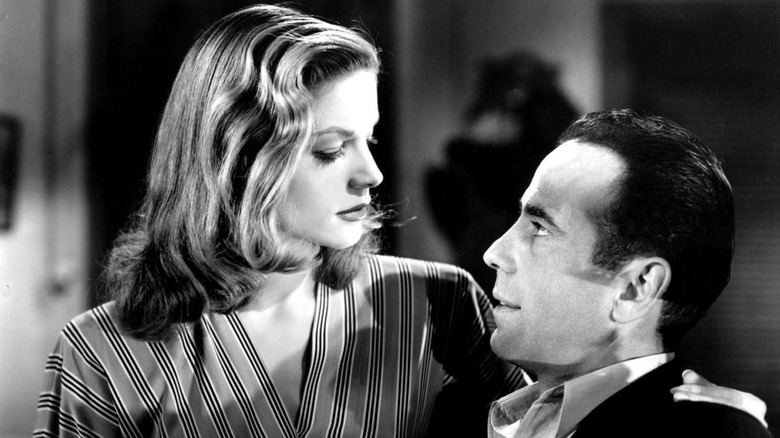 Warner Bros. Pictures
Ernest Hemingway's 1936 novel "To Have and Have Not" was met with lots of criticism and mediocre sales upon its release. If it was going to be turned into a successful screenplay, it would need a lot of work. Humphrey Bogart, fresh in the public mind from his role in "Casablanca," signed on to play the central character, Harry Morgan. The main character is one of the few elements from the novel that was not changed for the movie.
Hawks' longtime friend William Faulkner, remembered for influential novels like "The Sound and Fury" and "As I Lay Dying," was also brought on to help write the film. He and Hawks first became friends when Faulkner "was working as a clerk in Macy's basement in New York," the director told Sight and Sound. He would go on to help Hawks write "half a dozen pictures," including "To Have and Have Not." Some creative liberties include the famous line uttered by Bacall, the one that starts: "you know how to whistle, don't you?" The setting was also notably changed from an increasingly communist Cuba to the less politically ambiguous backdrop of Nazi-occupied France.
Through Hemingway's work, Hawks and Bogart were brought together in an unforgettable collaboration. They would go on to make "The Big Sleep" together several years later in 1946. Bogart would again play opposite his "To Have and Have Not" costar, Lauren Bacall. Having made two films with the legendary Hollywood couple, Hawks cemented himself as an American cultural icon as profoundly influential as Hemingway himself — all thanks to the author's worst piece of writing.