Alfred Hitchcock Gave Ingrid Bergman The Best Acting Advice Of Her Career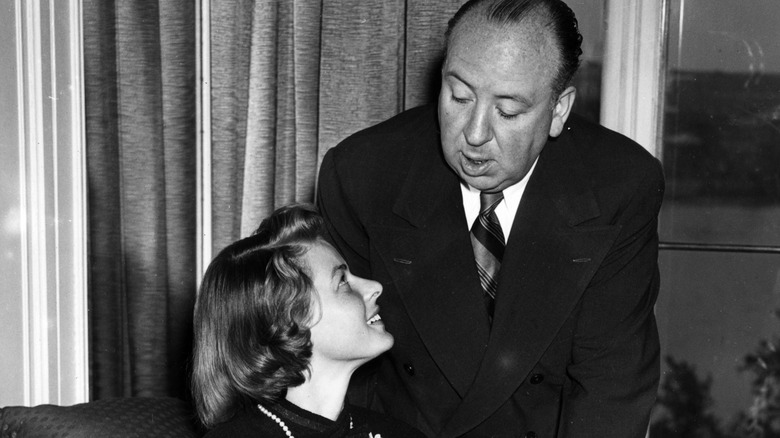 Central Press/Getty Images
Legendary director Alfred Hitchcock's controlling approach to filmmaking earned him the distinguished reputation as a master of suspense, but not without causing some controversy along the way. Hitchcock's harsh words for actors in particular have landed him in hot water, having famously called them "cows" and "stupid children" (via Hitchcock Interviews). Ultimately his work has proved that prodigious ends justify brusque means, given that his blunt and somewhat unforgiving directorial style ultimately assisted him in producing dozens of cinematic masterpieces.
Several stars of the silver screen worked with the acclaimed director on a number of unforgettable films — take, for example, Jimmy Stewart, who had several famous Hitchcock roles. These actors were able to appreciate the filmmaker's mechanical methods and give him the precise performance he was looking for. Hitchcock wasn't the perfect fit for some of the more inflated personalities of studio-era Hollywood, but he was good enough for the likes of Ingrid Bergman, star of "Notorious," "Under Capricorn," and "Spellbound."
In 1974, Bergman revealed in an interview with The New York Times that, far from being a hindrance, Hitchcock was truly influential in guiding her technique. One on-set interaction that started as a disagreement led to what Bergman would later refer to as the most influential direction of her decorated acting career.
Fake it 'til you make it
When she ran into some trouble performing a scene, Bergman once got into a brief argument with Hitchcock. She explained to the director that she "didn't think [she] could do it naturally," and he simply responded, "All right. Fake it."
This advice of course bears a stark contrast to the "Method" approach, which encourages actors to draw upon real-life experiences to produce emotions for a given scene. "Spellbound" leading man Gregory Peck pointed out the incompatibility this would pose with Method actors like Marlon Brando. "He never asks you to dredge up old emotions, he wants an effect," Peck explained, adding that, "Method actors might find his technique unsettling."
One of the golden era's most beloved leading ladies didn't achieve that recognition through a temperamental ego. Anyone who wanted to be successful in mid-century Hollywood had to sacrifice some level of control to make memorable work, and Bergman knew this better than anyone. The artificial atmosphere of the studio made an artificial performance a necessity of the job. "Everything in a movie is fake. The living room walls, the champagne you drink, the flowers," Bergman went on. It is perhaps for this reason that she says that "[Hitchcock's] acting advice was the best I ever had. It's lasted me all my life."
This ideology is precisely what enabled both actor and director to thrive in the synthetic environment of Hollywood's studio system, from its constructed sets to its set of industrial demands and limitations.