How Hollywood Saved Grace Kelly's Early Acting Career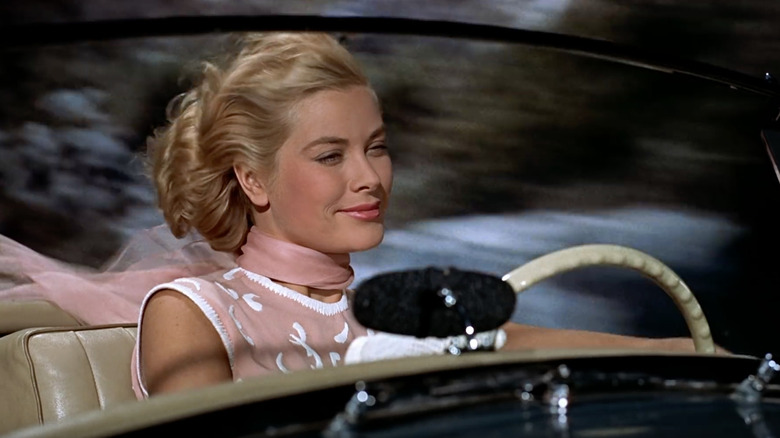 Paramount Pictures
Grace Kelly was a star the moment she set foot in Hollywood, but the silver screen wasn't always her dream. The actress began her career on the stage, where she always had theatrical ambitions, even after she found success in Tinseltown. Kelly struggled to make a name for herself in New York, but she was a natural in front of the camera. The actress starred in movies with some of the studio era's biggest names, and she even became one of them herself. But she always held a torch for Broadway.
Kelly began her career in Manhattan, fresh out of her small town high school. Her uncle George Kelly was an award-winning playwright and encouraged her to follow her dreams. His name reportedly helped her get into the American Academy of Dramatic Arts, according to Vanity Fair.
Despite her family connections, Kelly faced immense adversity in her early career. Her father disapproved of her aspirations and thought of acting as "a slim cut above streetwalker." To make matters worse, her director and teacher Don Richardson said that "she would never have had a career in the theater" because she had "no vocal horsepower." Kelly attempted to correct this problem by training her voice to drop several octaves and morphing her accent into a posh, almost British diction.
The actress made her Broadway debut at age 20 in Strindberg's "The Father," which was met with lukewarm reviews (via Variety). She filled out her resume over the next two years with several television spots, including a stand-out role in the on-screen adaptation of Ferenc Molnar's "The Swan." Kelly would appear on film for the first time in the 1951 noir "Fourteen Hours" as Louise Fuller, a small supporting role.
The camera loved her but Broadway never did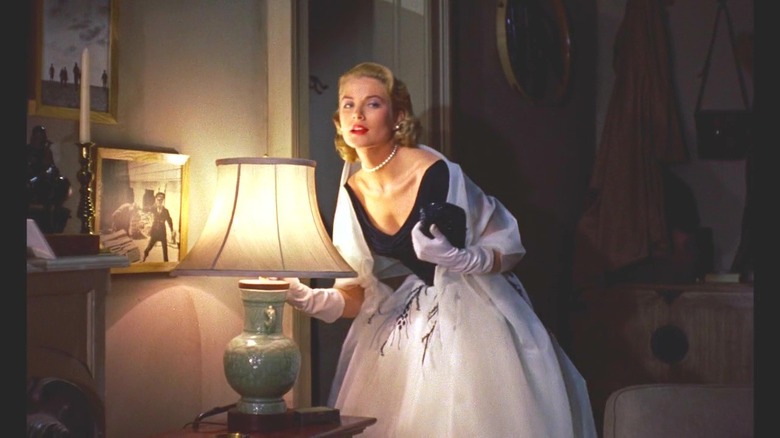 Paramount Pictures/Universal Pictures
The following year, Kelly snagged another supporting role in Gary Cooper's classic Western, "High Noon." Surprisingly, this was not the role that catapulted her into Hollywood fame. Instead, it was a screen test for the 1950 dramatic film "Taxi" that would catch the eye of director John Ford, as Vanity Fair recounted. Kelly didn't get the role, but the test was enough to impress the legendary filmmaker. "This dame has breeding, quality and class," Ford observed, and he cast her in a supporting role in his 1953 film "Mogambo."
Kelly would not earn a spot as a leading lady until that same "Taxi" screen test landed in the lap of the master of suspense, Alfred Hitchcock. "From the 'Taxi' test, you could see Grace's potential for restraint," the director explained. Hitchcock went on to cast her in his next two movies, "Dial M For Murder" and "Rear Window" (seen above), both of which were released in 1954.
From there, Kelly's notoriety sky-rocketed. Her role in "The Country Girl" earned her an Oscar in the same category as Judy Garland. Kelly starred in a musical adaptation of "The Philadelphia Story" with Frank Sinatra and worked with Hitchcock again in "To Catch a Thief," starring opposite Cary Grant. She scored a seven year contract with MGM that permitted her to live in Manhattan every other year so that she might continue pursuing her Broadway ambitions. Sadly, those dreams would never come to fruition.
Kelly married Prince Rainier III of Monaco in 1956, putting an abrupt end to her acting career. For the remaining years of her life, the Princess focused her efforts on philanthropy and raising her children. She may have never been the Broadway star she dreamed of becoming, but Hollywood made her an eternal household name.