Classic Western High Noon Is Becoming A Broadway Stage Play From Forrest Gump Writer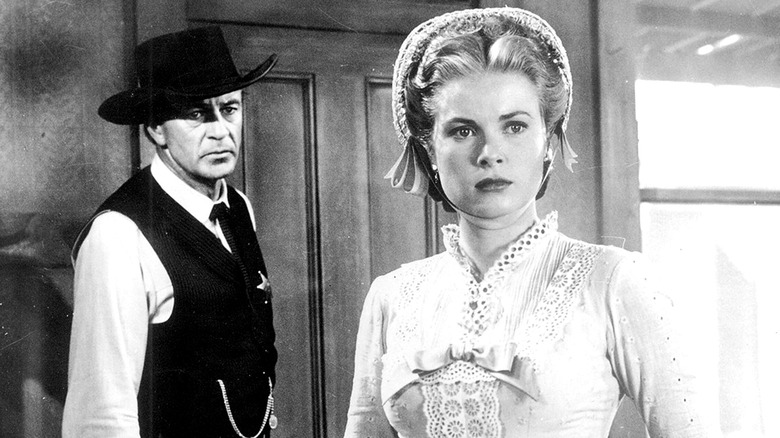 United Artists
The Western genre may not be as prolific as it was half a century ago, but "High Noon" continually remains one of the seminal pieces of American Western cinema. Directed by Fred Zinneman and starring Gary Cooper as Will Kane and Grace Kelly as his wife Amy, "High Noon" is about a former marshal preparing to leave his small New Mexico town with his new wife when he learns that a rough and tumble criminal Frank Miller, someone he put in jail, has been released and is looking for revenge. Kane tries his best to recruit other deputies to assist him in the inevitable showdown, but when everyone turns yellow-bellied, Kane must face down Miller and his motley crew on his own.
The story sounds as classic as any Western can get, but what made "High Noon" such a standout work is the way in which the story was told. Taking a page from Alfred Hitchcock's "Rope," the events in "High Noon" take place in real-time, with frequent shots and references to clocks shown to raise the stakes and emphasize the impending arrival of Frank Miller. Few films have ever been able to pull off the real-time thrills of "High Noon," especially in a story that is not locked to a singular location. As was announced today, "High Noon" is now getting the Broadway treatment, and will be adapted for the stage by "Forrest Gump" screenwriter Eric Roth. The storytelling technique makes "High Noon" a perfect candidate for theatrical adaptation, and given Broadway's current obsession with adapting popular films, it's a shock that "High Noon" hasn't already made the jump to the proscenium.
It's high time for a new High Noon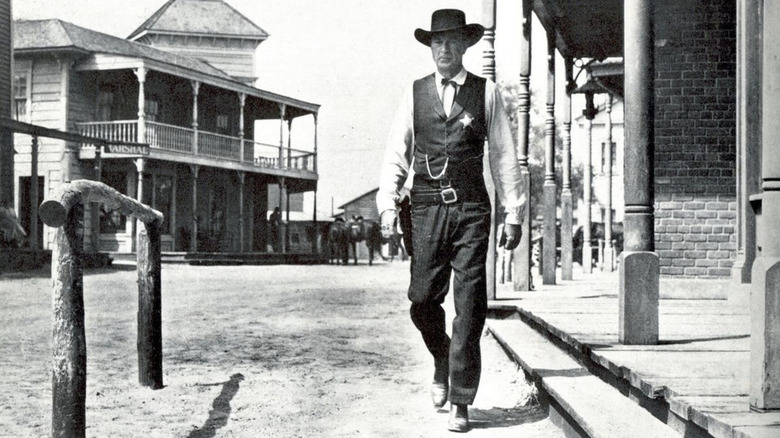 United Artists
The "High Noon" adaptation is just the latest high-profile project for Roth, following the announcement that he'd be collaborating once again with the "Forrest Gump" team of Robert Zemeckis and Tom Hanks on the adaption of the graphic novel "Here." Roth's take on "High Noon" will mark his Broadway debut, and Tony winner Michael Arden ("Spring Awakening," "Once on This Island") is set to direct the 2023 production. "When Eric Roth presented his vision for a stage adaptation of 'High Noon,' I immediately saw the potential for a theatrical presentation of the iconic story about doing the right thing in spite of public opinion and external pressure," said show producer Paula Wagner in a statement.
"Today, we see our Constitution being challenged unlike any time in our history," said consulting producer Karen S. Kramer. "The story of 'High Noon' reminds us of what we stand for–truth, justice and the hard-fought values of our democracy." Despite the film's legacy, "High Noon" was not universally loved at the time of its release, with Western icon John Wayne calling it, "the most un-American thing I've ever seen in my whole life." Why? Because "High Noon" was rooted in progressive, liberal politics that allowed men to be vulnerable and women to be strong. Given *gestures wildly* everything going on with our current climate, a revisit to "High Noon" is a brilliant idea.