A Modern 'High Noon' Remake Set On The U.S.-Mexican Border Is On The Way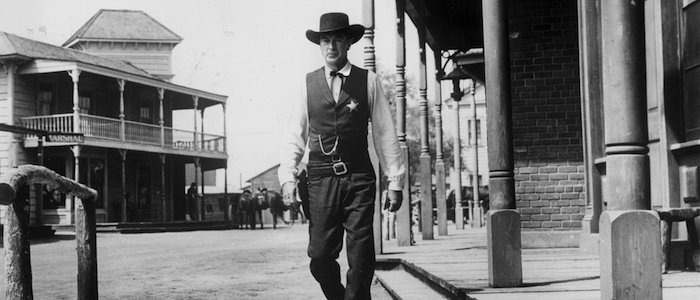 High Noon is a movie so famous and influential that it's pretty much impossible to tarnish its legacy. So while I could open this article about the new remake in the works over at Relativity Media by going "Ugh, how could they remake a bonafide classic like that?!", I will instead open it with "You want to try your hand at remaking one of the most beloved and iconic westerns of all time? Okay. Fine. Go for it."
The story comes our way via The Hollywood Reporter, who report that Relativity has acquired the rights to the film after studio president and producer Dana Brunetti personally negotiated with Karen Kramer, the widow of original producer Stanley Kramer. It doesn't feel like a coincidence that this deal came together a week before Antoine Fuqua's remake of The Magnificent Seven hits theaters. If that film does well – and it stars Denzel Washington and Chris Pratt, so it probably will – we can probably expect to see a number of other classic westerns picked up for potential remakes.
The original High Noon was released in 1952 and won four Academy Awards, including a Best Actor statuette for Gary Cooper. Even those who haven't seen the movie may be familiar with the plot through pure pop culture osmosis: Marshal Will Kane (Cooper) learns that a criminal he sent to jail is riding to town with a posse of armed men, ready to extract revenge. Over a nail-biting 85 minutes (the film seems to take place mostly in real time), Kane reaches out to his fellow townspeople to request their assistance in fighting off the men coming to kill him, only to learn that no one will help and he must stand alone. It's a deeply cynical movie, a story of a community failing to come together in the face of a threat. It's also still pretty damn good over sixty years later.
Specific details about the remake are not yet known (there are no writers or directors attached yet), but THR reports that it will be set in the modern day along the border between the United States and Mexico. That setting alone starts to paint a picture of what this new version could look like, especially since the brutal and never-ending conflict between law enforcement and drug cartels provides a backdrop that could approximate the lawless Wild West.
High Noon is Relativity's first project since emerging from bankruptcy and Brunetti has apparently made this project a priority. With credits that include The Social Network, House of Cards, and Captain Phillips, Brunetti is the kind of wily producer who could forge a new identity for this company. Remaking one of the most famous movies in Hollywood history is an interesting (albeit risky) start.