The 10 Best Stage Musicals Based On Movies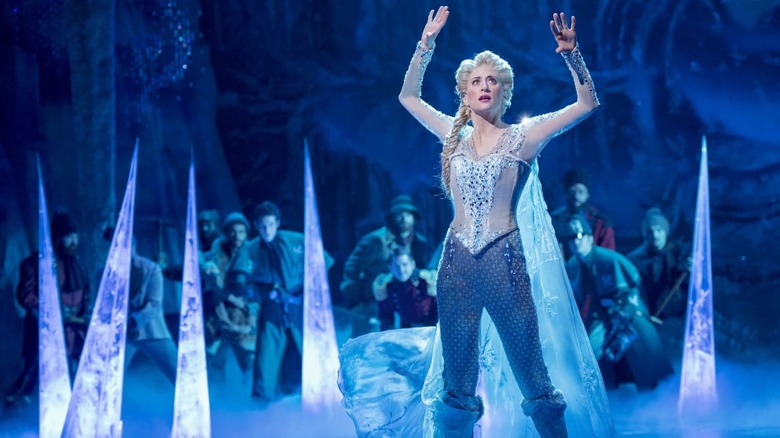 The majority of new Broadway productions seem to owe a lot to Hollywood. Much like popular theme park rides or film franchises these days, familiar IPs are where the money is at, and Broadway is no different. So when looking at the big sellers on The Great White Way are, we have to ask a big question about film-to-stage adaptations – do all movie-to-musical adaptations work, and which ones truly become greater than their silver screen counterpart?
Well, with the Broadway opening of Frozen and Mean Girls this season (and with Beetlejuice on the horizon), it seems only fitting to have a list that shows off the brightest stars of the movie-to-musical world. So grab your best outfit, don't forget your tickets, and make sure to unwrap your candy in advance. The curtain on this article is about to go up!
La Cage aux Folles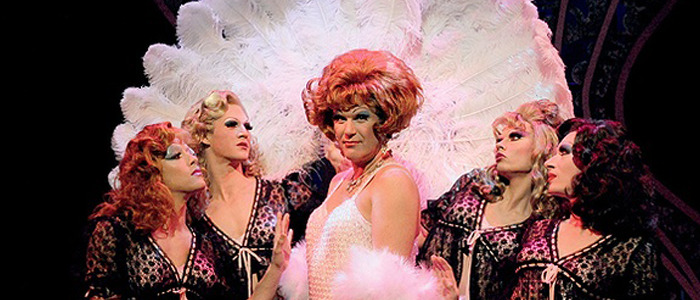 Stand-out Song: "I Am What I Am"
Based on the French comedy film of the same name, with a book written by Harvey Fierstein in 1983 and a score by the legendary Jerry Herman, La Cage tells the story of a happily married couple – Georges, the owner of the titular nightclub, and Albin, the club's main drag queen performer. Nothing could break the magic of their romance, until Georges' son (Jean-Michel) comes home with the news that he plans to marry the daughter of a very conservative political family. Now, the two men must figure out how to be themselves in an unaccepting environment, and keep the hope for their love alive and well amidst this new development in their lives.
At the 1984 Tony Awards, La Cage aux Folles took the top prize as the Best Musical that year. The original Albin, George Hearn, went on to perform "I Am What I Am" at the ceremony – a song that would later become an anthem for the LGBTQ community for decades to come. Simply, La Cage aux Folles makes this list not only because it is a near perfect show, but it also serves as a milestone in both musical theater and media that was made during the time of the AIDS Crisis. It proved that gay musicals could make money on The Great White Way, and showed a world terrified of gay men that their love was no different than anyone else's, and that is a lesson that never goes out of style even in 2018.
Disney's Beauty and the Beast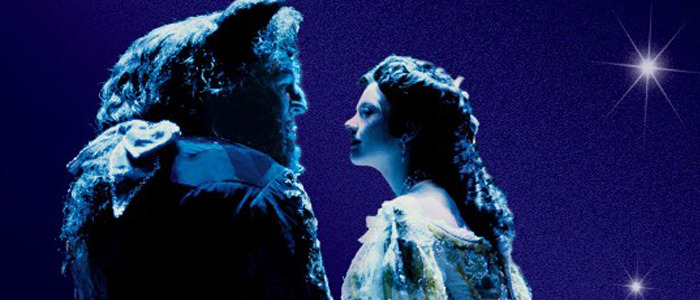 Stand-out Song: "If I Can't Love Her"
One of the first musicals I got to see on Broadway was Disney's first venture into the world of theater – Beauty and the Beast. Based on the 1991 Oscar nominated film from the House of Mouse, this was a movie destined to be brought to life on a theater stage, especially since critics already proclaimed it the best new musical not playing on Broadway when the animated project was released. And without its theatrical existence, Disney Theatrical wouldn't be what it is today.
Beauty and the Beast tells the classic tale of Belle, a young girl whose father, Maurice, becomes trapped in a mysterious Beast's castle. She asks the creature to let her father go in exchange for her capture. This choice leads her down a path of discovering both who she really is, while helping The Beast come to same realization, and also breaking the curse on him and his enchanted household staff. Plus, there's the evil Gaston, and all of the lovable characters and moments from the animated film you know and love.
But what makes the Broadway version of Beauty and the Beast the superior telling of Disney's take on the "tale as old as time" can be explained in one simple word: development. The original animated film was an example of a lightning in a bottle – due to the rushed production schedule forcing the team to make some risky decisions so that the project could be finished on time. But with the musical, things like Belle's relationship with her father, her inner struggles about living in the castle, along with giving Beast a few songs to express his feelings, fill in the gaps of a story that needed just the tiniest bit of fluffing here and there. It'll also make you love these characters and the story even more, and those are the best kind of musical adaptations.
Sunset Boulevard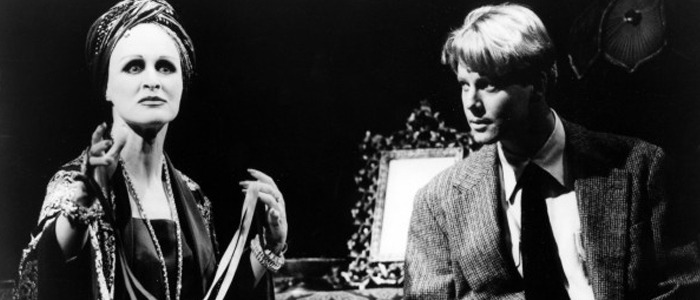 Stand-Out Song: "As If We Never Said Goodbye"
When most people ask me what is one of the best movies or musicals, there's a clear answer for both: Sunset Boulevard.  This is one of the rare cases where both versions are equally flawless in their execution, and translate to film and theater smoothly. And with the (arguably) best score of Andrew Lloyd Webber's career accompanying this theatrical adaptation, and the amazing talent that have performed the show around the world (including Oscar nominated Glenn Close in the lead role of Norma), there's a lot to back up how truly fantastic this piece of theater really is.
Based on the 1950 Billy Wilder film, Sunset begins its tragic story amidst the hustle and bustle of Hollywood. Joe Gillis, a down-on-his-luck screenwriter, is hoping to find his next paying gig so that he can survive, but no one will take his work. He is chased down by car repossession agents, and as his car breaks down, he stumbles into the parking lot of a mysterious mansion on Sunset. This home belongs to Norma Desmond, a middle-age actress from the silent film era, with her head stuck in the fantasies of her youth. This meeting will lead Joe down a dark path of love, betrayal, jealously, and murder...and the cards might not be in Mr. Gillis' favor.
I've always believed that the best musicals are the ones in which you never realize that it is indeed a musical to begin with – and Sunset is one of the best examples of this. Every song feels natural and organic, and never like a big moment for the show to pause the storytelling. The characters, of course, get their times to shine as the plot progresses, but even with Norma's two numbers, the energy and shadow of tension never loses its grip on the audience, which is why it has remained one of my favorite shows, period.
Heathers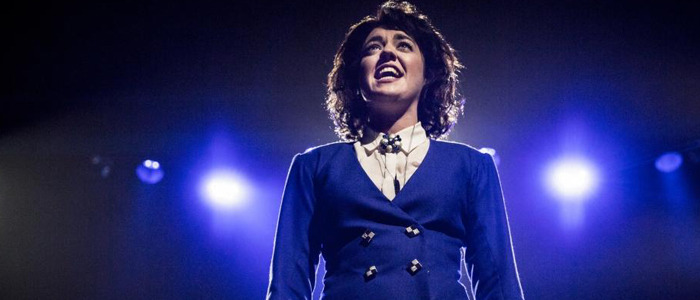 Stand-out Song: "Meant To Be Yours"
Some of the best movie-to-musical adaptations are the ones in which you are able to see the details of the film's story through a new set of eyes, which is very much the case with Heathers The Musical. Written by Laurence O'Keefe and Kevin Murphy, and based on the movie of the same name from 1988 (which starred Winona Ryder and Christian Slater), the musical version of this teen cult classic takes a much more sympathetic and dramatic turn to the more darkly comedic tones of the film its plot comes from – a lesson that the awful TV reboot could learn from.
Heathers tells the story of Veronica Sawyer, a very successful but pretty basic teenage girl, who wishes deep down she could be one of the popular girl's in her school, known as The Heathers. Eventually, her dream does indeed come true. But as time passes, Veronica begins to see that maybe being a part of this clique wasn't exactly all she had hoped. Enter J.D., the new mysterious boy in town, who enchants our female lead with ideas of slurpees and other rebellious things...such as helping her (by accident) kill the leader of The Heathers, Heather Chandler. This event (along with other murders) sets off a chain reaction of heartbreak, teenage greek choruses, and power red scrunchies.
Whether Off-Broadway or at a local production, Heathers The Musical retains a power that is hard to ignore. The script is as lightning sharp as the film's version, the songs are incredibly catchy, and the evolution of the characters (especially having certain ones appear in ghost form) sets a unique tone that is hard to match in most shows. It also contains a powerful perspective on the current climate of gun and teen-on-teen violence, that even though still taking place in the late '80s, feels more relevant today as a musical than it ever did as a movie. It can teach audiences what it really means to stop and look at bullying first hand, and how to make the world just a bit more "Beautiful" than it currently is.
Disney's The Hunchback of Notre Dame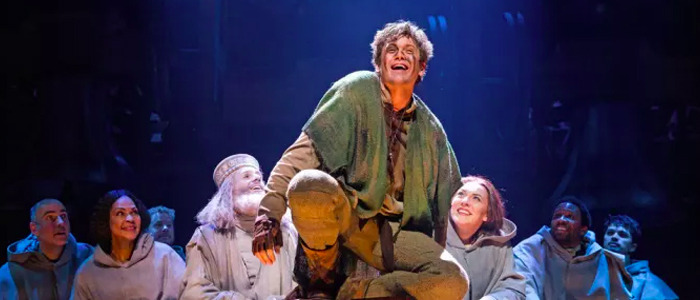 Stand-out Song: "Made of Stone"
Victor Hugo's novel The Hunchback of Notre Dame still remains one of his hardest stories to adapt in any form of media. Whether it be a serious take of the classic movie era, a TV film, or a Disney movie, no one has ever made a version that really gets the source material's story just right... or that was until Disney Theatrical decided to take what worked from their animated film, and shape it into a much more mature production than anything they've ever attempted prior. And though the English version of the show has never been produced on Broadway, it deserves to be recognized here as a work of art that needs to be seen by a much wider audience than its out of town try-outs allowed.
Hunchback (in Disney's musical form) doesn't begin with the villainous Claude Frollo going after the helpless gypsies, but rather gives us a much more well rounded backstory to the character. Performed in a style that is as if we (the audience) are transported to the Medieval era, we learn of Frollo's brother and a different take of how the hunchback Quasimodo is brought into the story. The actor who then plays the role of Quasi enters the stage, putting on a sack and tunic, along with black face paint to embody the character, allowing us to begin to journey into Hugo's world.
With the backing of a 32 person choir, an ensemble cast as the narrators and replacement for the animated gargoyle characters, and the lavish haunting melodies of Alan Menken and Stephen Schwartz, this version of Hunchback tends to leave audiences more shattered when being compared to the more uplifting finale of Disney's animated film. It also allows for elements from Hugo's novel (such as Quasimodo being hearing impaired and Phoebus having PTSD from the war) to be part of the story. But it is the evolution of the characters through the new songs that strengthens the flaws of the 1996 film, making the cast much more well rounded and organic than any other adaptation had made them before.
Anastasia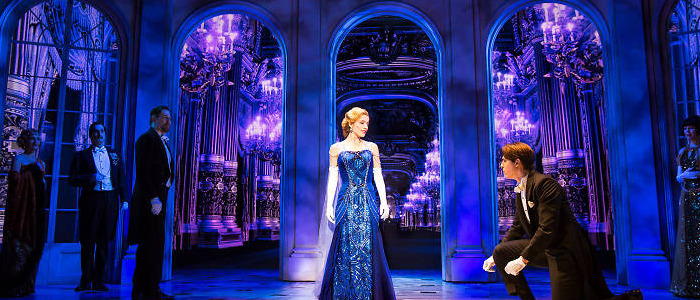 Stand-out song: "In a Crowd of Thousands"
I'll be honest: I never thought a Don Bluth animated movie was going to become a successful Broadway musical. But if any of his work was ever going to be adapted into such a form, Anastasia seemed like the obvious choice.
Inspired by both the above-mentioned animated movie and combined with elements of the 1956 Ingrid Bergman/Yule Brenner film, Anastasia (with music written by the animated film's team of Ahrens and Flaherty) tells the story of a young woman, Anya, who suffers from amnesia. Wandering the streets of a Bolshevik-run St.Petersburg, Anya continues to wonder where she comes from and what is her true purpose, and with the help of the charming Dmitry and his friend Vlad, our heroine might be able to find the answer. Is she the lost princess, Anastasia?
Though not featuring the typical magical bad guy that Don Bluth's film introduced, this adaptation of Anastasia instead grounds this fantasy in a bit more of reality – with a new "anti-hero" named Gleb (the son of a general who shot the Romanov royal family) who represents the pride of the new Russia, with Anaya being the embodiment of the paranoia running through it. The magic of the animated film is still there, but it has a new, more mature perspective, than it did before.
She Loves Me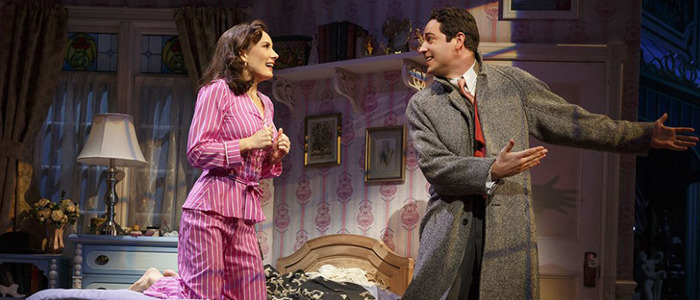 Stand-out Song: "Vanilla Ice Cream"
You might not recognize it by the title, but She Loves Me has quite the film pedigree. Based upon the Hungarian play (Parfumerie by Miklós László) that gave way to the Jimmy Stewart classic The Little Shop Around The Corner and the '90s rom com You've Got Mail, this is a love story you're going to be very familiar with.
The story revolves around the activity inside of a perfume shop in 1934 Budapest. Inside this pastel decorated store of floral and other exotic scents, you'll find the longtime worker Georg, who for many months has been corresponding with a mysterious pen pal via a Lonely Hearts Club. One day, a new sales assistant is hired in the form of Amalia, a sassy and smart young woman who Georg doesn't seem to like all that much. But as the two solve the dilemmas of their fellow co-workers, a strange transformation within their relationship starts to take place. Could Amalia be the pen pal Georg has been searching for? You know the answer, but their own discovery of it is adorable.
Out of any of the adaptations of this story, She Loves Me seems to have remained in the public's eye the most. From countless Broadway revivals (including a few Tony winning one in 2016), and so many other countless local productions, there's something about this show that never loses its charm. The music by Sheldon Harnick has a timeless quality that never goes out of style, and the chemistry between Amalia and Georg has yet to become boring, simply because we've all been in situations like this, where love (and a good musical) are right under our noses.
Kinky Boots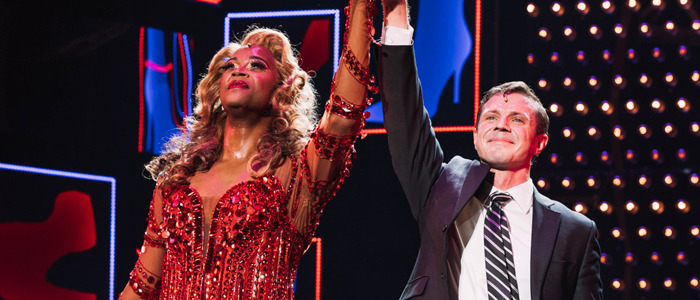 Stand-out Song: "Raise You Up/Just Be"
Not a lot of people ever thought that the cult classic film Kinky Boots from 2005 (starring a very young Joel Edgerton and Chiwetel Ejiofor) would become one of the most successful musicals on Broadway, but thanks to the help of Harvey Fierstein, Cyndi Lauper and Jerry Mitchell, that bizarre fever dream of an idea came true...and won a lot of Tony Awards!
The story revolves around the innocent young Charlie Price, who is the next in line to run his father's shoe factory, even though Charlie has no care in the world for them. But when his father suddenly dies, and the business falls on hard times, Charlie is forced to come up with a plan to save his father's work. Enter Lola, a drag queen that our lead character bumps into one night, who is having a problem with the uncomfortable boots she's wearing. This sparks an idea in Charlie to focus on designing beautiful shows that can be worn by drag queens. The rest is musical history.
Big Fish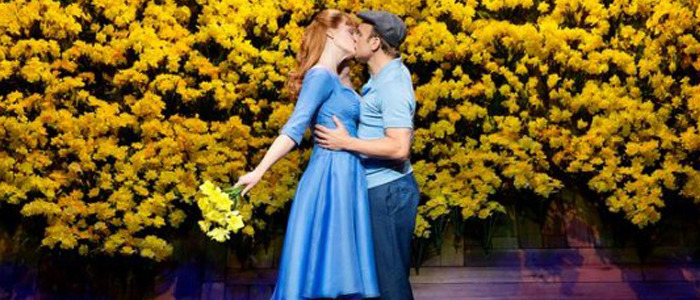 Stand-out Song: "Time Stops"
Much like Kinky Boots, no one ever really thought of Big Fish as a potential piece of musical theater. Yet in 2013, a big lavish Broadway adaptation of the beloved Tim Burton film (and novel) made its way to the stage. And though it sadly it didn't get the attention or box office returns it so much deserved, for those that did see it (including yours truly), it is one of those cases in which the music really aids in advancing of already great story.
With a book written by the movie's own screenwriter John August and lyrics by Andrew Lippa, this Susan Stroman-directed show told the unusual tales of Edward Bloom, and the complicated relationship he has with his son, Will, near the end of his extraordinary life. There's a circus, a witch, a mermaid, and giant rows of beautiful flowers. It's all in service of a beautiful, decades-long romance, and a unconventional love story between a boy and his mysterious "tall tale" telling father, all brought to life with whimsical visuals and some "ear worm" worthy musical numbers.
Unfortunately, Big Fish suffered from being a hard sell to tourists. It is a story that isn't the easiest one to explain in a single sentence on the streets of Time Square near a TKTs booth and nothing could have captured how grand and magical this musical really was. Sure, the pacing wasn't for the typical family-friendly crowd of visitors to New York, but the wonderful moments of both dramatic tension and humble, homegrown "mush" brought a tear to many adults in the small batch of performances that played.
Disney's The Lion King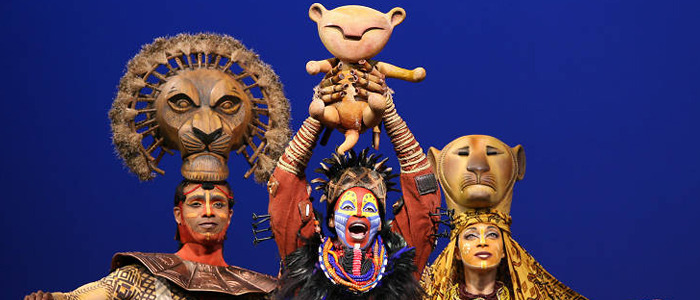 Stand-out Song; "Shadowland"
How can you make a list about movie-to-musical adaptations without talking about the reigning king of Broadway, Disney's The Lion King. Directed by Julie Taymor, and winner of so many Tony and other kinds of awards, this show has existed for 20-plus years and continues to rank in the big bucks. And unlike most other popular tourist shows, it deserves all of it.
The majority of the world knows the story of Lion King, but for the few of you that don't, its a tale of baby lion (Simba), who will be the eventually king of Pride Rock. His uncle Scar does not feel okay with this news, and is willing to do just about anything (including killing Simba's father, Mufasa) to take his place on the throne. Simba then must battle to protect his home, his family, and his friends – including the hilarious Timon and Pumba, and his best friend and love interest, Nala. And all of this is told on stage through humanoid African inspired costumes, incredible music, and visuals that will astound you.
In fact, that unique storytelling angle is what has made Lion King such a brilliant theatrical experience. Of course, Disney Theatrical could have gone along with the typical mascot look of the show, but Taymor really changed the game on what could be done with bringing a Disney movie to life on the stage, and it hasn't really been matched since in terms of artistic creativity and overall scope. And when you include the new songs by Elton John and Tim Rice (including new moments for Nala, Scar and other characters) you feel the weight of the story more than ever before.