Alfred Hitchcock Can't Take Credit For Grace Kelly's Rear Window Role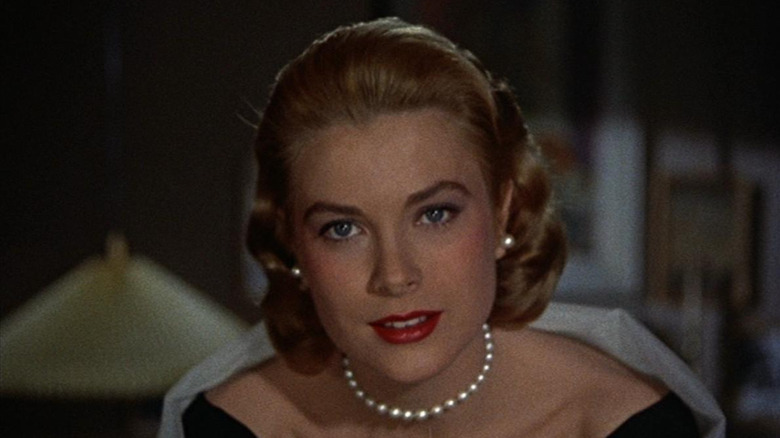 Paramount
We may receive a commission on purchases made from links.
"Rear Window," arguably Alfred Hitchcock's most sophisticated film, hinges on a simple plot: a wheelchair-using man obsessed with watching his neighbors becomes convinced that he has just witnessed a murder. Like its main character, L.B. Jeffries played by Jimmy Stewart, we're engrossed by the tenants living inside their apartments in "Rear Window." The movie frames each neighbor inside a neat diorama, each representing a slice of the various stages of urban life. There's the buxom dancer who entertains a rotating roster of beaus in her studio, a couple of fresh-faced newlyweds, a lonely old maid, and the possibly psychotic husband who may have killed his wife.
As amusing or chilling as these vignettes may be, none are as captivating as the woman inside Jeffries' own apartment, Lisa Fremont. Played by the gorgeous Grace Kelly, her blonde bob candescent even in the depressing light of Jeffries' studio, and her elegant figure draped in Edith Head ensembles, she lights up "Rear Window" with a cool sensuality. Though Kelly emerged as a Hitchcock muse, it wasn't the thriller maestro who brought her to the picture.
Fashioning Kelly's role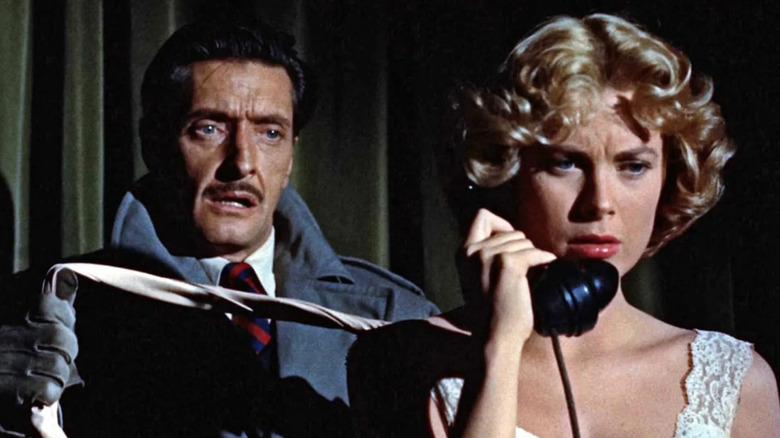 Warner Bros.
In an interview with Susan Green, "Rear Window" screenwriter John Michael Hayes recounted how he joined Hitchcock on the film. Hayes had an ear for dialogue after working on the radio shows "Suspense" and "The Adventures of Sam Spade." Hitchcock was a fan of both programs and was searching for someone who could craft a screenplay from Cornell Woolrich's short story, "It Had To Be a Murder." The story had almost all the elements of what would become "Rear Window": the voyeuristic protagonist, the murder, even the way the neighbors were framed by "windows square." What it was missing was a bit of romance. That's where Hayes interjected:
"There was no girl in the original. I created the part. Hitch had done 'Dial M for Murder' with Grace Kelly, and she was beautiful in that film; but there was no life, no sparkle there. He asked me what we should do with her for 'Rear Window,' so I spent time with her for about a week. My wife, Mel, was a successful fashion model, so I gave Grace my wife's occupation in the film. The way the character posed, the dialogue — it reflected actual incidents in our life."
An alive, vital girl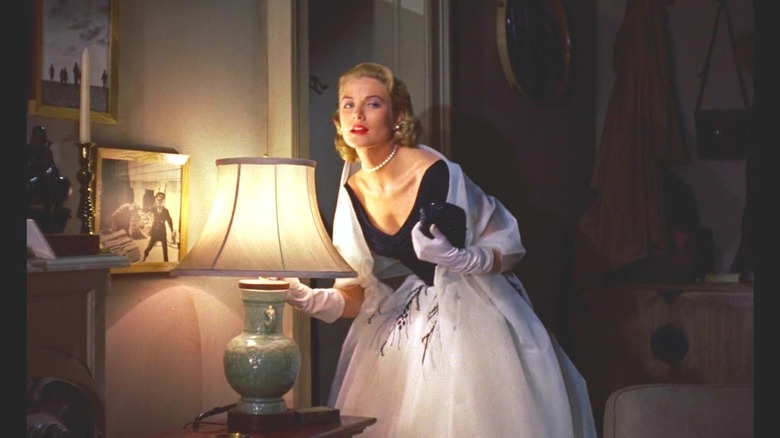 Paramount
Hayes' wife inspired the career for Kelly's character and his own humor informed her quips to Jeffries. But it was Kelly herself who gave her character, Lisa Fremont, her vivaciousness. Hayes spent a week and a half at Kelly's home to get to know her and write her character. In "The Life and Loves of Grace Kelly," Hayes says he discovered a woman who was more complex and lively than the one she played in "Dial M for Murder."
"I couldn't get over the difference between her personal animation and, if I may say so, her sexuality. There was an alive, vital girl underneath that demure quiet façade. She had an inner life aching to be expressed."
Hayes' decision to craft a part for Kelly proved ingenious. Although Kelly looms large in pop culture, she is, after all, the namesake behind Hermès' "Kelly bag," and she only starred in a few films for less than a decade before abandoning Hollywood for Monaco. Critics often regard "Rear Window" as her best role. Where she is beautiful but one-dimensional in "Dial M for Murder," she's a delight to watch alongside Stewart. Kelly's Fremont is poised yet adventurous, she scales an apartment wall in a full skirt and heels, refined yet brimming with sexuality. And in a departure from previous Kelly roles, she has a sense of humor and is not afraid to go head-to-head with Stewart's gruff character. She embodied Hitchcock's vision of the perfect woman and one that would become the foundation for "the cool girl" archetype: a woman possessing a rarified air that onlookers would never suspect wants sex but is paradoxically all about it. It's the kind of performance where you just don't want to look away.