Lord Of The Rings: The Rings Of Power Composer Bear McCreary Is Already Thinking About Music For Season 2 And Beyond [Exclusive]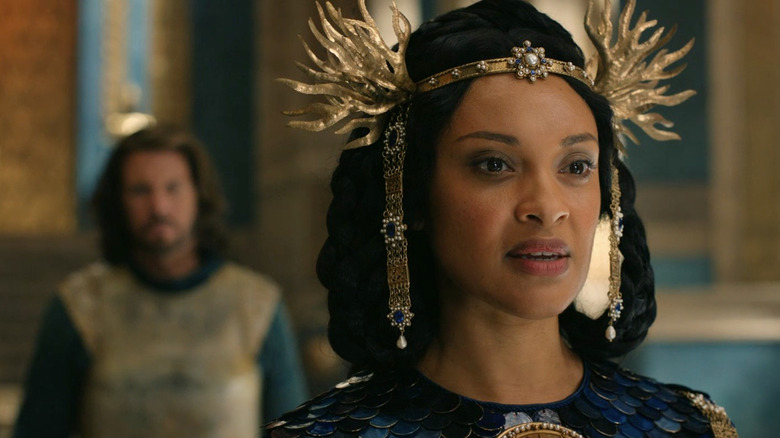 Prime Video
The Prime Video series "The Lord of the Rings: The Rings of Power" has already been renewed for a second season. Showrunners JD Payne and Patrick McKay reportedly already have five seasons of the series mapped out. Not only does that mean viewers will be spending a lot of time in J.R.R. Tolkien's Middle-earth and beyond, but it means a whole lot of lovely music. /Film's own Rafael Motamayor recently spoke with composer Bear McCreary, who has created scores for titles like "Battlestar Galactica," "Outlander," and "The Walking Dead," about the show, and how much work he's already put into seasons that we haven't even seen yet. 
Howard Shore, who composed the scores for both "The Lord of the Rings" and "The Hobbit" trilogies, wrote the main theme for the series. McCreary is responsible for the episode scores. He spoke about how much he knew in advance and how he's planning for what's to come if "The Rings of Power" continues to stay popular with audiences. 
'Essentially 50 hours'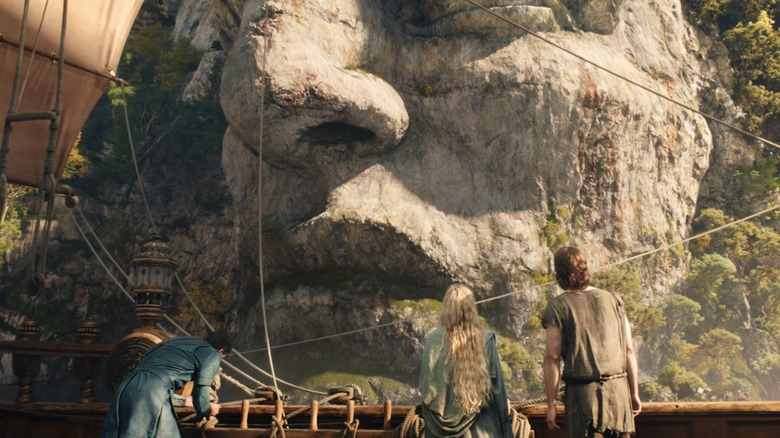 Prime Video
McCreary told /Film that he knew a lot of what was coming before he created the score for season 1, which consists of eight episodes. He said that he read scripts and spoke to the showrunners about the entire series, and "the vision is for where the entire show is going to go." He explained how that affected his thoughts on how things will change over the seasons. McCreary said:
" ... while I initially have been tasked with scoring eight hours of drama, I am thinking about essentially 50 hours. How are these themes that I might write going to evolve over that long run?"
While we don't know exactly where the series is going, we have some idea. "The Rings of Power" is based on the supplemental work from Tolkien, with a narrative created out of it. Still, specific markers in the author's timeline require a steadily increasing amount of drama. We may see the fall of the island nation of Númenor. We'll see how Sauron manipulated the elves into creating the rings of power and his one ring to rule them all. Fans of the books and the films know where that leads. That leaves a lot of room for the drama to get more and more intense. 
'This huge expansive canvas'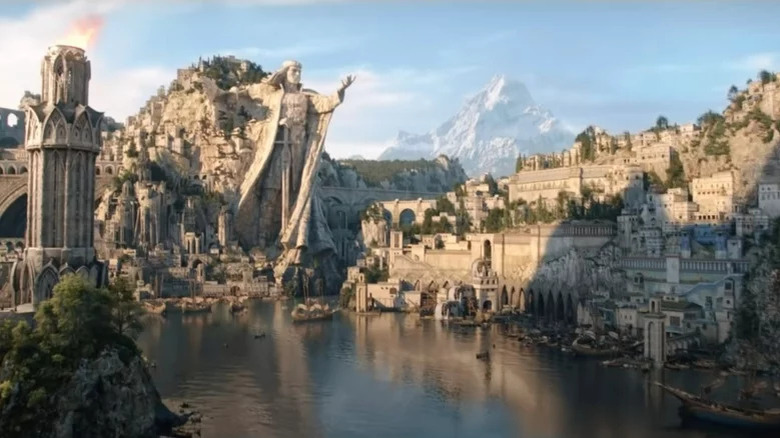 Prime Video
McCreary said that some of it is a little far off for "detailed conversations," but some characters have a clear path mapped out for them. McCreary talked about creating their themes. He said:
"When I'm thinking about themes for Elrond, Elendil, Isildur, these are characters that I think all fans have an idea where they're going to go. So I wanted to write a theme for them, and Sauron as well. Galadriel as well, that could evolve in ways that we all as fans want it to evolve.

That was a challenge, but it was also really fun because I was able to work with this huge expansive canvas, the likes of which come across in a composer's career very rarely."
That's intriguing, particularly the part about an evolving theme for Sauron. At the time of this writing, only three episodes have been released, and viewers aren't sure if Sauron has appeared yet. Could he be the Stranger? Maybe Adar, the one the orcs in the third episode seem to worship? Could we have seen him in another form and not even realized it? In the books, he appears as a fair elf named Annatar, convincing the elves that he's there to help. It's only later that he becomes the creature of nightmares that film fans are familiar with. It will be fun to go back and do a rewatch once we know who he's pretending to be, to see how his musical theme evolves over the series. 
"The Lord of the Rings: The Rings of Power" is streaming on Prime Video, with new episodes released on Fridays.